Boomershine breaks through for first win at 2023 USBC Queens
May 24, 2023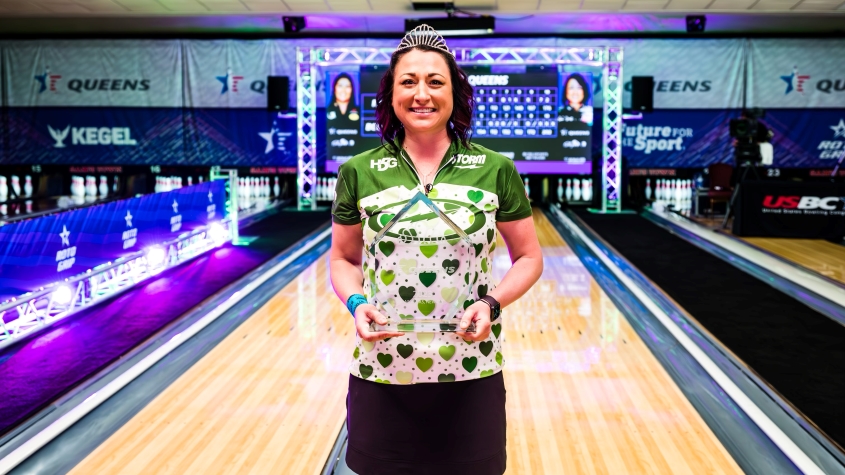 LAS VEGAS – Lindsay Boomershine of Brigham City, Utah, won the 2023 United States Bowling Congress Queens by defeating Colombia's Maria Jose Rodriguez, 202-176, at Sam's Town Bowling Center on Tuesday night.

The victory allowed Boomershine to walk away with the $60,000 first-place prize and coveted Queens tiara. Also, it earned her the right to never have to face the question "When are you finally going to win?" ever again.

That's because by taking down Rodriguez, Boomershine was able to collect her first Professional Women's Bowling Association Tour title, and a major at that.

Boomershine waited a long time and had to endure multiple setbacks before reaching the winner's circle. As such, hoisting the trophy and celebrating with family and friends meant a great to the 37-year-old right-hander.

"I've dreamt of this moment ever since my son was born, so I kept telling myself to keep working hard and putting myself in this position," Boomershine said. "I'm glad that my family got to experience this with me because I think it shows that you can have it all if you never give up on your dreams."

To secure the victory, Boomershine was forced to come through in the clutch in a fashion that many youngsters dream about and simulate on the practice lanes every day.

Just four pins separated Boomershine and Rodriguez with two frames to go in the title match.

Rodriguez, the 2014 Queens champion and one of Boomershine's best friends, applied the pressure by delivering a double in the eighth and ninth frames.

Nevertheless, Boomershine stepped up for her ninth and 10th frames with the opportunity to strike out to finish off Rodriguez.

Things wouldn't be that easy, however, as Boomershine's ball came in light to the 1-3 pocket during the ninth frame, leaving the 2-4 standing. Undaunted, she easily converted the spare.

Still, the advantage shifted sides at that point as no matter what Boomershine did in the 10th, Rodriguez would have a chance to top it.

But just as she had all week long, Boomershine refused to be distracted by what her opponent could or couldn't do; instead, she kept her focus solely on what she could control, making the best shots possible to finish her game.

That focus paid off in a major way as despite having only struck four times up to that point in the match, Boomershine delivered three clutch strikes in the 10th frame to post a score of 202.

Those strikes forced Rodriguez to throw a double of her own to start the 10th or else surrender the title to Boomershine.

Rodriguez has demonstrated the ability to perform under pressure many times during her PWBA career; that's part of the reason why she's a two-time major champion – she won the 2014 Queens and 2018 PWBA Tour Championship.

Nevertheless, this time it wasn't meant to be as her first shot in the 10th frame came in light, leaving the 2-4-10 to end the match and give Boomershine her first title in her seventh PWBA Tour stepladder finals appearance.

Rodriguez settled for second place and took home $30,000.

Sharing the lanes with such a good friend during the title match may have helped make Tuesday night's experience less nerve racking for Boomershine; then again, she was so focused that she may have felt that way no matter who she faced.

"For the first time, I really didn't feel like I was bowling anyone; I was bowling my game," Boomershine said. "All week long, I just kept treating it like I was back at the training center in Utah throwing shots like I normally do.

"I don't know if it's because I was bowling Maria or not, but I just felt really comfortable. Maybe it's because we were sort of doing it together, and one of us was going to win. I don't know, but I just felt really at ease the whole time; honestly, I completely forgot that we were even on TV."

Three people who will likely never forget that Boomershine was on TV were her parents Cheryl and Henry and her young son Aiden, who were all watching Tuesday night's stepladder finals with bated breath back home in Utah.

After her victory, Boomershine's husband Hank immediately started a video chat with Aiden so that he could watch his mother have the tiara placed upon her head and hold up the 2023 Queens trophy.

Understandably, that moment is one that Boomershine won't soon forget.

"He told me that he wanted me to bring home that crown, and he was in tears the whole time when he saw that I'd won it," Boomershine said. "I'm glad that he knows that the reason why I have to be gone so much at times is because I'm out trying to fulfill my dreams because I want him to fulfill his dreams no matter what he chooses to do."

Boomershine wasn't the only bowler who came to Sam's Town looking to fulfill her dreams on Tuesday night, however; No. 3 seed Carlene Beyer of Ogdensburg, Wisconsin; No. 4 seed Correen Acuff of Surprise, Arizona, and No. 5 seed Dasha Kovalova of Muskegon, Michigan, had big things on their minds as well.

Acuff kicked off the stepladder by taking down Kovalova, the 2019 Queens champion, by a final score of 215-190.

That's as far up the ladder as Acuff would climb, however, as she fell to Beyer, 202-170, in the Match 2 battle of PWBA Tour rookies.

Beyer would go on to put up a valiant fight against Rodriguez during the semifinals, but a costly 3-4-6-7 split and open frame by Beyer in the ninth allowed Rodriguez to emerge with a hard-fought 202-198 win that set up the title tilt with her close friend.

Beyer took home $22,500 for her third-place finish. Acuff earned $17,500 for finishing fourth, and Kovalova walked away with $12,500 for placing fifth.

As for Boomershine, she was obviously happy to have come out on top, but had she lost, she would've been very pleased to see Rodriguez reach the top of the mountain at the Queens once again.

"Maria is one of my best friends in the entire world," Boomershine said. "Sure, I would've been disappointed if I'd lost, but I would've been ecstatic to see her win her second Queens title. The great thing is that she isn't upset that I won just like I wouldn't have been upset if she won. I think we need more women supporting women in this day and age and in the bowling industry."

There are certainly plenty of other women bowlers out there to support.

The 2023 Queens started with 216 competitors. After 15 games of qualifying over three days, the top 63 players and Birgit Noreiks of Germany, who was guaranteed a spot in the bracket as the defending champion, advanced to match play.

The PWBA Tour season continues May 31-June 6 at the PWBA Classic Series – Grand Rapids in Wyoming, Michigan.