Bowler from Pacific Northwest has renewed passion, finds spotlight at 2022 USBC Open Championships
April 04, 2022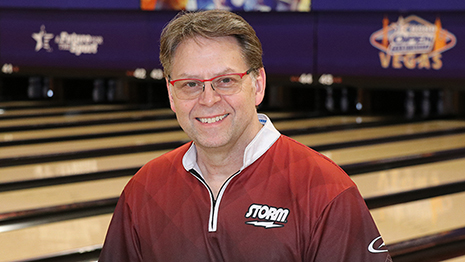 LAS VEGAS -
At 56 years old, Aaron Hendren of Vancouver, Washington, is rededicating himself to the game of bowling, and his return to the lanes has him feeling like a wide-eyed youngster again, both as a competitor and as a fan.
Because his trip to the 2022
United States Bowling Congress Open Championships
this week overlapped with the
USBC Masters
, he got to experience the sport from both perspectives, and he'll return home more motivated than ever.
Hendren started his Sunday with an in-person look at five of the best players in the world as they battled for the 2022 Masters title and $100,000 top prize live on FOX, and he ended the day with his own moment in the spotlight at the South Point Bowling Plaza.
Being at the Gold Coast Bowling Center as the championship round of the Masters unfolded allowed him to take in all the sights and sounds of the top-tier competition, and he was inspired by eventual third-place finisher, Brad Miller of Lee's Summit, Missouri.
Hendren was close enough to the action to hear the advice Miller was getting during his two matches under the TV lights. The dialogue was simple and familiar, but hearing it out loud was the reminder Hendren needed to help fuel his own success.
The results weren't immediate, but as he found his rhythm over his six games of doubles and singles at the Bowling Plaza, the strikes began to pile up.
Finally, everything clicked for Hendren, who closed his fifth game of the day with six consecutive strikes and then added 12 more to finish his third USBC Open Championships appearance with the third perfect game of the 2022 tournament.
He had games of 191, 236 and 300 for a 727 series, which is tied for 20th place in Regular Singles. Sam Cantrell of Roseville, California, leads with 777.
"I was at the Masters finals and was listening to the advice Brad was getting during the show, and then I was repeating it to myself over and over in my head during doubles and singles tonight," Hendren said. "It was simple, but it helped me settle in. I was telling myself to stay focused, breath, concentrate and follow the ball. The whole experience was extremely exciting."
Hendren's perfect game was the second in as many days, but it was the first one rolled in singles this year at the South Point Bowling Plaza.
James Zaharis, a 73-year-old right-hander from Apalachin, New York, was the first to break through, doing so during doubles on the 14th day of the 129-day event. William Young of Cortland, New York, added his name to the list during his team event Saturday.
Since 2013, the Open Championships has featured two oil patterns - one for team competition and another for doubles/singles.
"As soon as I hit the 300, it was like all the energy left me, and I could've fallen down right there," Hendren said. "Then, everyone came to congratulate me, and it all seemed so surreal. It's something I'll never forget."
One thing Hendren might like to forget about his 2022 Open Championships campaign is how it started.
The right-hander had trouble settling in and had six opens in his first seven frames, including four missed single pins, on the way to a 141 game.
"I had some mental issues in the first game," Hendren said. "I missed one spare, then I got a little too tight. That caused me to drop my shoulder and yank the shots. I missed five consecutive spares. I was out of sorts, and I knew I was out of brackets, so I just wanted to get through the best I could. Today, I was reminded to focus on myself and relax and breathe, all because of what I experienced and heard today at the Masters."
Hendren finished his team event Saturday with games of 191 and 190 for a 522 series, and he added 152, 169 and 204 for a 525 set in doubles Sunday, before things started falling into place. The late surge gave him a 1,774 all-events total.
Though he may not have been destined to compete on a Masters show himself, Hendren once was a successful competitor in the Professional Bowlers Association Northwest Region.
He joined the PBA in the late 1990s and spent a half-dozen years traveling to regional events with some of the area's best, including Russ Hunt and Craig Tuholski. Tuholski was among the competitors in Hendren's group this weekend at the Open Championships.
"I didn't make a lot of money, but I made enough to keep me bowling," Hendren said. "It was fun, and we had a lot of great stories and memories. I'm excited to be able to experience all that again during a different part of my life."
Hendren stepped away from the game completely in 2006 to focus on his son and daughter, Kyle and Natalie, who were involved in 4-H, soccer, baseball, softball, Boy Scouts, Girl Scouts and a plethora of other activities.
With his children now older and independent, Hendren was eager to start bowling again, only to have his progress derailed by COVID-19.
"I'm refocusing my life and trying again," said Hendren, whose daughter celebrated a birthday Sunday. "I love the competition and being competitive, and it's giving me something to look forward to each day. It's a good vice to have."
Finally, 23 years after his only other appearance at the Open Championships, Hendren returned to the tournament lanes in 2021, also at South Point, and had a memorable time, while shaking off some of the rust.
He was able to join a group with the help of Mark Hanken of Redmond, Oregon, and he's becoming more and more comfortable on the lanes and around his new teammates.
Michelle Smith of Bend, Oregon, was one of the members of the group this year, and she was on the same pair of lanes as Hendren for doubles and singles Sunday.
Smith was the first of the bunch to draw some attention, as she started her third game of doubles with eight consecutive strikes. A single pin ended her run.
Then, she matched Hendren strike for strike through nine frames in the final game of singles. After he finished off his 300, her run at perfect was stopped by a solid 8 pin on her 10th shot. She had games of 256, 177 and 277 for a 710 singles set.
She was looking to become the 11th woman in tournament history, and first since 2014, to shoot 300 at the Open Championships.
Hanken even got in on the fun, too, a few lanes away. He opened his final game with seven strikes, but a single pin ended his string. He had games of 269, 193 and 265 for a 727 series.
"Last year, I was just looking for the experience and getting comfortable again," Hendren said. "It was about having fun, and I was really relaxed. This year, I wanted to focus and do well. Obviously, I didn't do it yesterday, but today was a totally different mindset. I was able to block out all the things around me and make the best shots I could."
With a renewed outlook and time to commit to the sport, Hendren is looking forward to what's ahead. He'll continue to be a fan, too.
He said Kristopher Prather is his favorite bowler to watch, but he really enjoys the antics of Miller and Kyle Sherman, who simply are known as Brad and Kyle to their huge social media following.
Hendren's trip to the Masters also allowed him to meet Storm's Tim Mack, someone he has looked up to for many years.
Joining Miller on the Masters telecast Sunday were Shawn Maldonado of Sugarland, Texas, AJ Johnson of Oswego, Illinois, Norm Duke of Clermont, Florida, and Las Vegas' Anthony Simonsen.
Simonsen defeated Duke in the final, 219-216.
"I'm just really excited about bowling again, and I look forward to improving and doing more of it," Hendren said. "I still don't really know half the people I bowled with here, but I'm already looking forward to being back next year."
Visit us on Facebook at the
official USBC Open Championships page
.