Bowlers from Hawaii cruise into lead at 2022 USBC Open Championships
April 08, 2022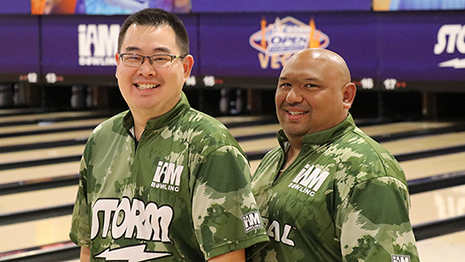 LAS VEGAS -
If you had to drive two hours each way to a get to a bowling center, there probably are worse places to hit the open road than under the blue skies of Hawaii.
This week, however, Arick Shibata of Hilo, Hawaii, and Ricky Torres Jr. of Kea'au, Hawaii, traded the sunshine of the Aloha State for the spotlight of the South Point Bowling Plaza, where they took the lead in Classified Doubles at the 2022
United States Bowling Congress Open Championships
.
The two right-handers combined for a 1,132 total Friday to surpass James Weder of Winchester, Illinois, and Kurtis Weber of Carrolton, Illinois, whose 1,113 total had held the top spot since March 18.
Shibata, 31, set the pace Friday with games of 188, 191 and 193 for a 572 series, and Torres, 38, was close behind with 197, 183 and 180 for a 560 set.
"We've been making the drive and practicing almost every weekend," Shibata said. "It's nice to see that work pay off. It feels amazing. We didn't think we'd get here, so this feels great."
There are only two bowling centers on the island of Hawaii - one is the 16-lane KBXtreme, while the other is a six-lane military installation used mostly for recreational bowling. There are 11 USBC-certified bowling centers in the state.
Shibata, Torres and the rest of their bowling friends travel to the larger center once each month for league play, and they also practice every chance they can.
Their entourage for the USBC Open Championships this year included two teams, and the group is familiar with success on the tournament lanes.
In 2017, Hilo's Michael Tengan took the lead in Classified Singles, before settling for a seventh-place finish.
"We all bowl with each other in the league, and we enjoy bowling together here," Torres said. "We're going to enjoy the moment all together and see what happens. We have a tight group and lift each other up. We're happy, and we know they're really excited for us."
Torres made his third Open Championships appearance this year, but it was his first time on the tournament lanes since 2007.
The reason for the hiatus was simple - life. He was in the military, started a family and bought a house. There also are travel costs to consider when you live in Hawaii.
His return to the event included sets of 581 in singles and 481 in team for a 1,622 all-events total.
Shibata competed for the second time this year, with his debut coming at the South Point Bowling Plaza in 2019.
This time, Shibata added 535 in team and 496 in singles for 1,603.
Classified Doubles includes teams with combined entering averages of 310 and below.
The new leaders also competed in the Classified Division for singles and all-events, which includes bowlers with entering averages of 155 and below.
Ronald Hilliard of Lancaster, California, leads Classified Singles and Classified All-Events with 665 and 1,824, respectively.
Visit us on Facebook at the
official USBC Open Championships page
.