Bowling's leading brands partner with USBC to create exclusive welcome package for new members
August 12, 2011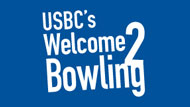 8/12/11

USBC Communications

ARLINGTON, Texas –
The leading brands in the bowling industry are teaming up with the United States Bowling Congress to create an aggressive new program designed to engage and retain first-time league bowlers. The new USBC Welcome to Bowling program is scheduled to launch in the fall and will include exclusive offers providing new league bowlers access to proper equipment and coaching.
"Our data shows that a 63 percent of first-year USBC bowlers do not come back to join a league the next year," USBC Executive Director Stu Upson said. "Industry research shows the primary reasons new bowlers quit the sport is they feel uncomfortable about their equipment and ability. A proper ball and some basic instruction appear to be the keys to reversing the trend."
The USBC Welcome to Bowling program will be offered exclusively to 2011-12 season USBC members who have not been members the last three years. These new USBC members will receive an invitation to take advantage of special offers designed to hook them on the sport. Key elements of the program include:
"USBC Welcome to Bowling" Ball Offer
The leading brands in bowling including Ebonite, Storm, Brunswick and 900 Global have each agreed to offer a select entry-level mid-priced ball to new bowlers at a promotional price of $59.95. Balls will be shipped by the manufacturer or distributors to the bowlers with instructions to visit their local pro shop for proper fitting, drilling and to purchase additional accessories. The shipment will also include information about the coaching components of the USBC Welcome to Bowling program.
"USBC Welcome to Bowling" Coaching Offer
USBC will soon contact certified coaches across the country and request they offer new bowlers an introductory half-hour lesson for $20. Participating coaches will be listed on BOWL.com so new bowlers can quickly find a qualified coach to teach the basics of the sport at a reasonable price.
"USBC Welcome to Bowling" Coaching Tips and Video Series
Led by USBC Director of Coaching Certification and Development Carolyn Dorin-Ballard, USBC is developing a series of tips and online instructional videos specifically for beginning bowlers. Tips and instructions on how to access the video series will be emailed regularly to first-year bowlers.
"This program is designed to develop and grow a new customer base we do not currently have and includes coaching to get them engaged, which is why all of the leading ball brands are behind the initiative," International Bowling Pro Shop and Instructors Association (IBPSIA) Managing Director Bill Supper said. "Many of these new bowlers are never stepping foot in pro shops and without action from the industry, they never will. This program creates a chance to build relationships with new customers, get people connected to the sport and grow sales for everyone in the retail chain over the long haul."
More specific details about the USBC Welcome to Bowling program will be available on
BOWL.com
in September. Bowlers can find IBPSIA pro shops on
Ibpsia.com
under the members tab.
"USBC and the bowling industry must act to address this key challenge of retaining first-year bowlers," Upson said. "Our goal is for this new initiative to become something the entire industry can benefit from."