Bowling Center Entertainment Magazine Celebrates 10th Anniversary in 2018
February 09, 2018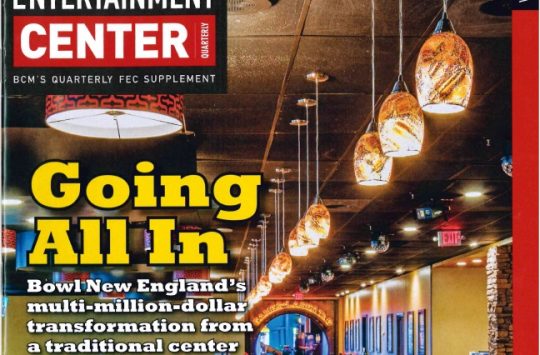 The Spring 2018 issue of Bowling Entertainment Center (BEC) magazine marks the 10th anniversary of the groundbreaking publication.
Launched by Luby Publishing Inc. in 2008, the quarterly publication has defied both small business and print media trends. According to the United States Bureau of Labor Statistics, 70 percent of all small businesses fail prior to their 10th year, while print media has taken a big hit in today's digital age.
However, BEC not only has survived; it has grown during its first decade of existence thanks to its laser-focused editorial mix for a unique niche market. Originally known as Entertainment Center News, the quarterly publication has become the go-to source for bowling center operators seeking to expand their entertainment mix, and for entrepreneurs who are thinking about including bowling among their family entertainment center offerings.
"BEC taps into the amusement industry to provide bowling center operators with a great resource to make their bowling centers complete family entertainment centers," says Associate Publisher Barbara Peltz. "The editorial mix has evolved over the years, and now includes detailed looks at specific types of entertainment choices, success stories of bowling entertainment center operators, trends in the industry, news and more. From amusements to games, insurance, redemption and more, BEC Quarterly is a must read for today's bowling center operator."
BEC today is edited by Bob Johnson, who also edits LPI's other business-to-business magazine, Bowling Center Management (BCM). Recipient of more national writing awards than any other writer in the bowling business, Johnson brings a unique perspective to his position.
"I grew up in the world of bowling," Johnson says. "My parents even owned a bowling center for a short time. Since the age of 10, I've seen bowling re-invent itself at least four times, and today's trend of developing bowling entertainment centers and other unique business models is something I enjoy covering and bringing to life for BEC readers. I'm honored to be BEC's editor during its 10th anniversary year."
Johnson served as editor of LPI's consumer bowling publication, Bowlers Journal International, during its 100th anniversary year in 2013 and edited the 300-page 100th Anniversary Issue of that magazine.
"I know I won't be around for BEC's 100th," Johnson says. "But as we enter our second decade, we're working hard to make every issue informative for readers and effective for advertisers."