Bowling Combine rolls on for seventh edition in 2017
August 11, 2017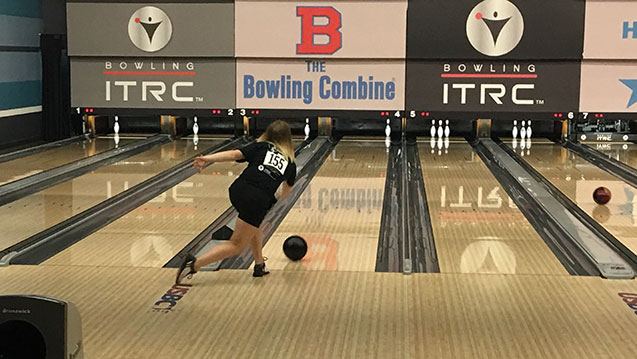 ARLINGTON, Texas
- For the seventh consecutive year, the
Bowling Combine for College Prospects
has welcomed student-athletes and collegiate coaches to the International Training and Research Center for a week of education and evaluation.
Nearly 100 student-athletes and more than two dozen collegiate coaches traveled to the ITRC this week to take advantage of the state-of-the-art facility, where student-athletes were tested through a variety of on- and off-lane drills.
The drills help to assess a student-athletes' strengths and weaknesses and provides them with an objective analysis of their abilities, including a Performance Evaluation Test (P.E.T.) score. The P.E.T. score can be used to compare not only those at this year's Bowling Combine, but to compare student-athletes from previous years.
The evaluation includes sport-specific skills, such as finding their release tilt and revolutions per minute, tracking spare proficiency and the ability to manage breakpoints, and repeating shots. Players also are put through activities such as the vertical jump and an endurance test to determine their overall athleticism.
Alyanna Brown of York, Pennsylvania, made her second visit to the Bowling Combine as she prepares for her senior year of high school.
The 17-year-old wanted to see how much she improved from her first trip to the ITRC as she gets closer to making a decision on where she'll further her education next fall.
"The technology available here is amazing, especially with all of the feedback I received last year," Brown said. "I've been working on those all year, and I'm excited to see how much I have improved over the course of the year. We don't have anything like this available at home, so being able to come back again will really help me looking ahead."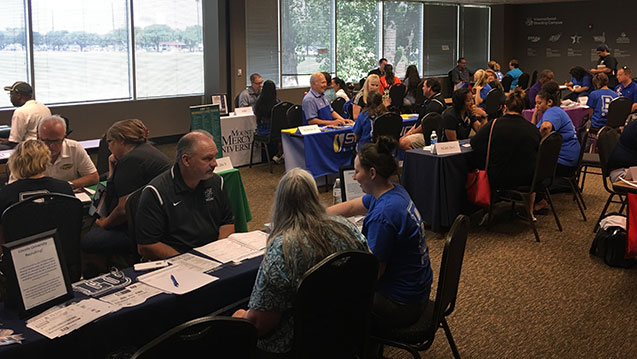 After the evaluation on the lanes and in the classroom is complete, the student-athletes and coaches have the opportunity to sit down to discuss how the coach's program and curriculum might fit into the student-athletes' future.
"I really like being able to have the one-on-one with the coaches to learn about their personalities, since that's a really big thing to me," Brown said. "I also like having the chance to see what they have to offer. My education is the top priority, so it's important to see that a program has my education in mind, and not just the athletics side."
This portion of the Bowling Combine also allows each parent in attendance the chance to move from the sidelines into the middle of the excitement and join in the discussion.
Brown's mother, Cathy Johnson, took the advice from her daughter's coach in Pennsylvania to look into the Bowling Combine last year, and she feels the experience already is benefiting Brown's future.
"Last year, I really was amazed to watch all of the different skill sets they were testing," Johnson said. "We were able to go back home and learn from it, and we wanted to come back this year to see how much she improved. It's great to see the interest from the different programs, too. It shows that all of her hard work is paying off."
Bill Holbrook is making his Bowling Combine debut this week as he prepares for his second season as head coach at Midland University. He believes the drills and structure of the event provide a great opportunity not only to examine a student-athletes' physical skills, but to also look at the mental aspect of their game.
"I really enjoy the format, and being able to see how a student-athlete moves through and manages the drills is really informative," Holbrook said. "When you have the chance to watch someone do the same drill over and over, they won't always find success. Getting to see how they react in those situations and how they bounce back and adjust is something you just won't normally find after watching a few shots."
Holbrook and the Warriors found success during the 2016-2017 United States Bowling Congress Collegiate season as both the men's and women's team advanced to the Intercollegiate Team Championships. Midland senior Nick Pate was named the 2016-2017 National Collegiate Bowling Coaches Association Most Valuable Player as he capped his collegiate career with a victory at the Intercollegiate Singles Championships.
Holbrook knows each student-athlete needs to find themselves in the right setting to grow as a competitor and a student, and he felt his time at the ITRC allowed him to connect with the bowlers, even if they're a year or two away from transitioning to college.
"I think this setting can really open their eyes to all of the possibilities out there," Holbrook said. "In the right environment, a student-athlete can really grow and continue to get better, and having the chance to sit and talk with them lets me see what they're hoping to get out of it and if we can find the right balance for them."
The Bowling Combine is open to domestic and international students who have collegiate eligibility remaining and have completed at least their freshman year in high school. Student-athletes must apply and get selected in order to attend the Bowling Combine, which has sold out in each of its seven years.
The week at the ITRC was split for the student-athletes. The girls completed their portion of the Bowling Combine from Tuesday through Thursday, while the boys put themselves to the test from Thursday until Saturday.