Bowling Combine rolls through ITRC for eighth consecutive year
August 06, 2018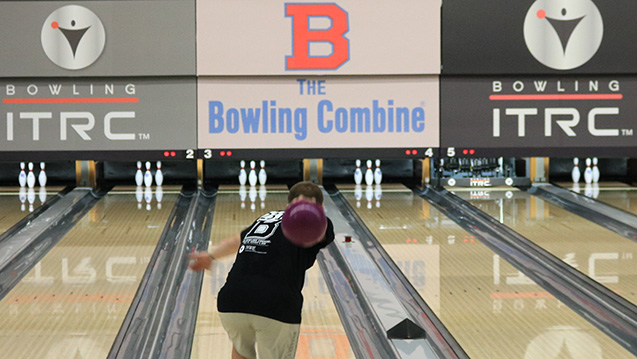 ARLINGTON, Texas
- The eighth edition of the
Bowling Combine for College Prospects
took place last week at the International Training and Research Center, providing an opportunity for evaluation and education for student-athletes preparing for the next step of their young careers.
The Bowling Combine welcomes student-athletes and collegiate coaches to the home of Team USA, testing the young competitors in a variety of on- and off-lane drills.
The drills help to assess a student-athletes' strengths and weaknesses and provides them with an objective analysis of their abilities, including a Performance Evaluation Test (P.E.T.) score. The P.E.T. score can be used to compare not only those at this year's Bowling Combine, but also compare student-athletes from previous years.
The evaluation includes sport-specific skills, such as finding their release tilt and revolutions per minute, tracking spare proficiency and the ability to manage breakpoints, and repeating shots. Players also are put through activities such as the vertical jump and an endurance test to determine their overall athleticism.
At the conclusion of the event, the student-athlete has the ability to sit down with the collegiate coaches in attendance and learn more about each program and school.
Morgan Nunn, 16, of Oklahoma City is used to making the four-hour trip to visit the ITRC, but this week was her first opportunity to be part of the Bowling Combine.
Nunn, who will be a junior in the fall, usually makes a trip each month to the ITRC to improve her game, and she came into the week with an open mind.
"I wanted to come in and just take it one shot at a time and try to not get overwhelmed about it, because at the end it will be a learning experience," Nunn said. "Going in as a junior, it gives me a little more time to prepare, so I'm pretty relaxed about it. It was a lot of fun."
Nunn also noticed some trends in her game highlighted during her time at the Bowling Combine, and she enjoyed the chance to meet people from across the country.
"I think I need to work on my baby splits and washouts, since those were a struggle, but everything else went pretty well," said Nunn, who recently finished in 88th place out of more than 850 competitors in the girls 20-and-under division at the 2018 Junior Gold Championships. "I really enjoyed being able to meet new people and put myself out there to show the coaches what I'm made of."
Nunn's mother, Shannon, also was in attendance this week at the ITRC. Getting to meet the coaches and discuss her daughter's future helped to ease some of the natural fears most parents experience as their children head away for college.
"When they're interested in a college that's eight or nine hours away, you have to feel really good about where they're going," Shannon said. "It doesn't always boil down to how much it will cost or what they'll be doing, but whether or not you're comfortable with letting them go. I know that she has a good head on her shoulders, but as a mom, I have to know that wherever she goes will take good care of her. Being able to be a part of that this week really eases it a bit."
Bill Holbrook of Midland University made his second stop to the Bowling Combine after a successful trip to the event in 2017.
Holbrook, who's in his third season as head coach of the men's and women's program, signed five players who attended last year's Bowling Combine. He made his initial contact with three of the five players at the ITRC and notes how important the first meeting can be for both the school and the student-athlete.
"Anytime you have a chance to sit down one-on-one with a student-athlete and get to know them, the first meeting is critical," Holbrook said. "It gives us a chance to establish a rapport and see what's important to them. We get to learn what their goals are and how it aligns to what we're doing at Midland, both academically and on the lanes."
Getting to watch the student-athletes go through the drills and receiving a copy of the P.E.T. results also gives Holbrook and his staff a head start before the players report to campus. All five players will be freshmen during the 2018-2019 season.
"They'll be reporting to campus in about three weeks, and they also came on campus for a recruit day," Holbrook said. "Having those numbers ahead of time gave us an opportunity to see their strengths and weaknesses as well as flexibility and knowledge. Even more importantly, since they all were seniors last year, we really were able to see where they've improved from last year's combine and see what we need to focus on once they arrive on campus."
The Bowling Combine is open to domestic and international students who have collegiate eligibility remaining and have completed at least their freshman year in high school. Student-athletes must apply and get selected in order to attend.
The 2018 event took place at the ITRC from July 31 - Aug. 4. The girls took to the lanes and classroom from July 31 - Aug. 2, while the boys received their assessments Aug. 2 - 4.