Bowling combine sells out for sixth time
August 12, 2016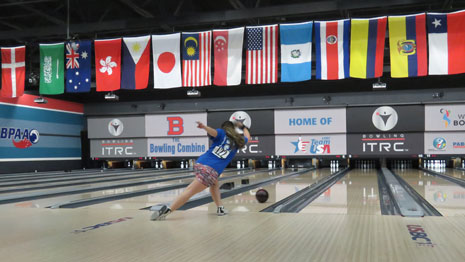 ARLINGTON, Texas -
More than 100 student-athletes and two dozen collegiate bowling coaches converged on the
International Training and Research Center
this week for the sixth annual
Bowling Combine for College Prospects
.
There are few opportunities for coaches to see such a wide range of talent in one location, and the environment and technology at the ITRC make it easy to test, measure, observe and rank each athlete.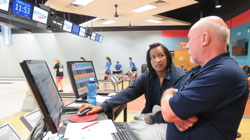 The 2016 Bowling Combine, which started Tuesday and will conclude Saturday, once again served as a chance for young bowlers to meet collegiate coaches from across the country, while also being compared with other competitors with similar goals. Returning participants have a chance to gauge their progress from last year or previous years.
Among those at the Combine was Canada's Dakota Faichnie, who made the 20-hour drive from Ontario, Canada, with her mother, Jennifer, for the third consecutive year.
Participating in the Combine throughout her high school career has allowed the 17-year-old to measure her progress and set fitness and bowling goals as she worked toward an eventual collegiate career on the lanes.
The information she obtained at the ITRC told her about her strengths and weaknesses and shaped her practice itinerary, so she could improve on her overall performance from year to year.
Now, as she enters her senior year of high school, Faichnie is about three months away from choosing the college and bowling program that best suit her, the realization of a plan set in motion a decade ago.
"It really has been a great experience coming back each year, especially because I can see and measure my progress and improvement," said Faichnie, who recently represented Canada at the 2016 Lee Evans Tournament of the Americas in Fort Lauderdale, Florida. "It helped me set goals and stay focused, and now, I'm getting ready to decide where I want to go to school, and it still is kind of nerve-racking."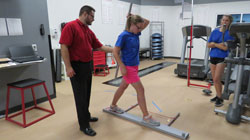 The Combine puts student-athletes through a variety of on- and off-lane drills to help assess their strengths and weaknesses and provide them with an objective analysis of their abilities, including a Performance Evaluation Test (P.E.T.) score. The P.E.T. score can be used to compare not only those at this year's Bowling Combine, but from previous years.
The evaluation includes sport-specific skills, such as finding their release tilt and revolutions per minute, tracking spare proficiency and the ability to manage breakpoints and repeating shots. Players also are put through activities like the vertical jump and an endurance test to determine their overall athleticism.
In five previous years, the Bowling Combine has matched many bowlers with their eventual college coaches, including three freshmen headed to McKendree University this fall to join the 2016 Intercollegiate Team Championships men's champion.
The McKendree men and women (who compete in USBC Collegiate and NCAA competition) compete under the watchful eyes of Bryan O'Keefe and his wife, Team USA member Shannon O'Keefe. The Bowling Combine is a great way for them to scout talent for both teams at once.
Heading into the 2016-17 season, the McKendree women are looking to improve on third-place finishes at both the 2016 NCAA Bowling Championship and the Intercollegiate Team Championships, while the McKendree men are hoping to continue the momentum from their win at the 2016 ITC.
And, even though the collegiate season is about to begin, being at the Combine shows the coaches also are already thinking about next season or beyond.
"While you do have to consider the bowlers are nervous, may be doing stuff they're not totally familiar with and are bowling in a foreign environment, it is incredibly helpful for coaches to have objective and measurable data when discussing and comparing potential players," Bryan O'Keefe said. "There are other events where you can see bowlers compete, but this is unique and valuable because you also get a chance to talk to the bowlers (when appropriate) and get a feel for their personalities and demeanor, or even compare video and results from past years, to see progress in the same environment."
The Bowling Combine is open to domestic and international students who have collegiate eligibility remaining and have completed at least their freshman year in high school. Student-athletes must apply and get selected in order to attend the Bowling Combine, which has sold out in each of its six years. This year's event includes bowlers from across the United States as well as participants from Canada, Costa Rica and Mexico.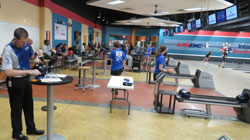 From Tuesday through Thursday of this week, the girls took to the lanes at the ITRC, while the boys will showcase their abilities from Thursday until Saturday.
For newer collegiate programs, at both the National Collegiate Athletic Association (NCAA) or USBC Collegiate level, the Combine is a great way to enhance the recruiting process or get the word out about the new programs.
One such coach at the ITRC this year is Edward Raven, who will lead the new women's bowling program (NCAA) at Long Island University Post in Brookville, New York.
The program will kick off its inaugural season this fall with six players, but Raven is in Arlington focused on future success, too. He recently found out about the combine from a local bowler who said she was planning to attend, and the school's athletic director agreed it would be a good idea for Raven to make the trip as well.
As his first foray into collegiate bowling, Raven has been welcomed by the other coaches of the East Coast Conference, who have offered advice about the endeavor, competition, scheduling and more, some of whom he got to meet in person this week at the Combine.
"This has been a great experience so far, and I've been able to see a lot of talented bowlers," said Raven, a longtime bowler and USBC-certified coach who also teaches at LIU Post. "The way I look at it, if I can recruit one or two bowlers from this week, it will be a success. This experience also will help me know what to expect and be more prepared for next year."