Bowling Combine taking place at ITRC for ninth consecutive year
August 08, 2019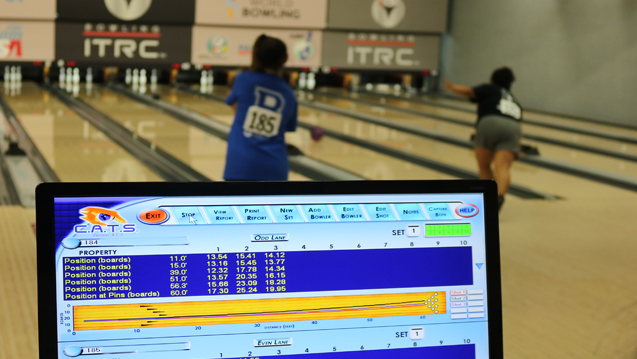 ARLINGTON, Texas –
For the ninth consecutive year, the International Training and Research Center is hosting the Bowling Combine for College Prospects, an evaluation and education program for student-athletes from throughout the country.
The 2019 Bowling Combine reached its halfway point Thursday, as the girls completed their evaluations, and the boys started the process, which will run through Saturday.
As part of the program, which has sold out each year, participants have the opportunity to meet college coaches in attendance and learn more about each school's program.
Kallista Fritts of Albuquerque, New Mexico, who has been to the Bowling Combine the last two years, said it helped show her the weaknesses in her game and also showed her the hard work she has put in is paying off.
But, as she enters her senior year of high school, she wants to bowl in college and appreciated the opportunity to talk to college coaches.
"For me, being able to talk to college coaches, is one of the most important parts," she said. "I feel just being able to talk to them, seeing what they have to offer, hearing what bowling means to them and if they feel as passionate as I do, are the most important parts – to see if you click with them."
Missouri Valley State College will have men's and women's bowling teams for the first time this year and head coach Stan LaBoube is at the Bowling Combine. He also attended the Junior Gold Championships in July for the first time, as he looks to build the school's program.
"Recruiting," said LaBoube about the toughest challenge he has faced in starting the program. "Coaching, to me, should be the easiest part of it, though I have a lot to learn. I'm confident in my ability to improve these kids, but the recruiting part will be a little bit of a challenge for a while."
LaBoube said making the trips to the Bowling Combine and Junior Gold were important as the program gets underway. He recruited in-state for the last several months and attended other events, such as the high school state championships in Illinois, as they continue to push outside the state to recruit bowlers.
Paige Herndon of Williamsburg, Virginia, made her first trip to the Bowling Combine. After reading about the program, she thought it would help her learn about her game and also allow her to meet college coaches.
"Practice makes perfect and to definitely work on my spares," Herndon said when asked what she learned during the Bowling Combine. "It was definitely a learning experience. It was fun and something I have never done before, and I would do it again."
Paige's mom, Lori, said her daughter, who is a triplet, has been bowling since she was young and that the Bowling Combine was all she has talked about.
"She loves bowling, has been doing it since she was very small and is the only one of the triplets that wants to continue bowl," Lori Herndon said. "It's been fun but a lot of work smashed into a few days. She has enjoyed it and given it her all. It showed her where she can improve, and it was definitely worth the experience."
Student-athletes who have collegiate eligibility remaining and have completed at least their freshman year in high school submitted applications for the opportunity to take part in the Bowling Combine, which puts participants through a series of drills to assess their strengths and weaknesses.
The evaluation includes sport-specific skills, such as tracking the ability to manage breakpoints and repeating shots, plus activities such as the vertical jump and endurance test to determine their overall athleticism.
Participants are provided with an objective analysis of their abilities, including a Performance Evaluation Test (P.E.T.) score that can be used to compare all student-athletes who have attended the Bowling Combine this year and previous years.
Visit
BOWL.com/Combine
to learn more about the program.