Bowling Loses Hall of Famers Bill Lillard and Mike McGrath
August 01, 2017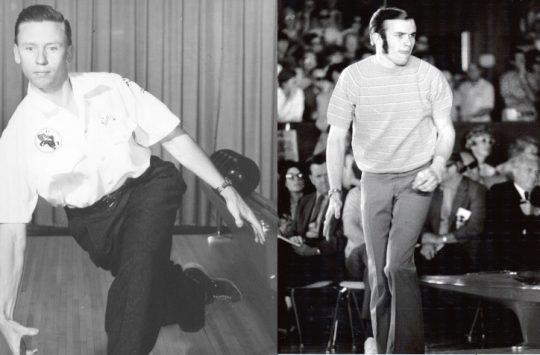 PETALUMA, Calif. – Mike McGrath, who stunned the Professional Bowlers Association when he won the 1965 Portland Open, the first PBA tournament he entered at age 19, died late Sunday in California. His death, at age 71, was confirmed by his daughter Jennifer. Details were not immediately available.
McGrath, a lanky left-hander, was inducted into the PBA Hall of Fame in 1988 and the United States Bowling Congress Hall of Fame in 1993 after a career that included back-to-back PBA National Championships in 1969 and 1970, when he was the tour's leading money winner. He recorded another major victory when he defeated fellow Hall of Famer Earl Anthony, 234-222, to become the first left-hander to win the U.S. Open in 1973 in Madison Square Garden in New York.
McGrath finished his career with 10 Tour titles and $238,305 in career earnings. During the PBA's 50th anniversary gala in 2009, he was ranked 39th on list of the PBA's 50 greatest players.
"Anyone who won 10 titles in that era had some ability," said PBA Hall of Famer Dick Ritger about McGrath's selection to the all-time top 50 list. "He was one of the top three or four left-handers alongside Bill Allen, Dave Davis and Earl Anthony."
"Today I lost one of my best friends, said close friend and fellow hall of famer Barry Asher. "Mike McGrath has passed."
"For those of you who didn't really know and understand him, you really missed something special. He was a Hall of Fame bowler as we all know. But in life he was a Hall of Fame person, friend and especially a father. I will miss him as long as I draw breath."
Details regarding memorial services will be published when they are available.
The PBA also has learned of the death Sunday of PBA pioneer Bill Lillard, one of the 33 founding members of the organization in 1958. A former member of the famous Budweisers of St. Louis, among other noted "beer teams" of the 1950s, Lillard won his only PBA Tour title in the 1966 Miller High Life Open. The Houston native would have celebrated his 90th birthday in October.
Lillard had his most visible success in the USBC Open Championships where he won eight titles and set the all-time pinfall list with 124,087 total pins throughout his career. Lillard also was owner of Bowl on Bellaire, the center that hosted the PBA-PWBA Xtra Frame Striking Against Breast Cancer Mixed Doubles event for several years before he sold the center last year.
USBC ON LOSS OF BILL LILLARD
By Matt Cannizzaro
ARLINGTON, Texas - Bill Lillard Sr. of Houston, a United States Bowling Congress Hall of Famer and the USBC Open Championships career pinfall leader, died Sunday following a battle with Leukemia. He was 89.
Lillard, elected to the USBC Hall of Fame in 1972, was an eight-time champion at the Open Championships, earning his first titles in team and Team All-Events as a member of Detroit's Pfeiffer Beer team in 1955.
The following year, he became the first of three bowlers in tournament history to claim four titles in the same year. Bowling with the Falstaffs team, he captured the team and Team All-Events titles, paired with Stan Gifford to win doubles and also took individual all-events. He would add Classic Team victories in 1962 and 1971.
In 2015, during his 68th consecutive tournament appearance, he became the Open Championships' career pinfall leader when he surpassed the mark set by late USBC Hall of Famer Joe Norris of San Diego.
Lillard, who was joined by his wife, Dorothy, for most of his appearances, had a career pinfall total of 124,087 at the Open Championships, an average of 196.
Lillard is one of 11 bowlers in 114 years of tournament history to reach 65 years of participation at the Open Championships. Norris, fellow hall of famer Bill Doehrman of Fort Wayne, Indiana, and Sylvester Thiel of Lake City, Minnesota, top the list with 71 years.
Lillard was voted the Bowling Writers Association of America's Bowler of the Year in 1956, and he earned Bowling Magazine's recognition for first-team All-American in 1956 and 1957.
Lillard was a charter member of the Professional Bowlers Association and claimed one title, the Miller High Life Open, in 1966. He was elected to the USBC Hall of Fame and the Texas Sports Hall of Fame in 1972, and the Texas State USBC Hall of Fame in 1979.
In December 1999, Bowlers Journal International had Lillard No. 15 on the list of the 100 greatest bowlers of the 20th century.
Of all his accomplishments, Lillard cited winning the four titles in one year (1956) and later finishing third in doubles with his son, Bill Jr., (Memphis, Tennessee, in 1981) as two of his top Open Championships memories. Bill Jr. now has 37 tournament appearances to his credit.
Funeral arrangements are pending.
USBC ON LOSS OF MIKE McGRATH
By Terry Bigham
ARLINGTON, Texas – Mike McGrath, a member of United States Bowling Congress and Professional Bowlers Association Halls of Fame, died Sunday in California at age 71. Details were not available.
Born May 13, 1946, in Berkeley, California, McGrath stormed onto the bowling scene at the age of 19 when he won the 1965 PBA Portland Open in his professional debut.
The left-hander would win 10 PBA Tour titles and was ranked 39th on the 2009 list of the 50 Greatest Players in PBA History.
He won the first of his three Classic Team titles at the American Bowling Congress (now USBC) Open Championships at the 1969 event in Madison, Wisconsin.
The 1970 event in Knoxville, Tennessee, saw the first Classic Team rolloff series at the Open Championships, and McGrath converted a 1-3-6-9 spare to give Merchant Enterprises the title by eight pins. That year he also took home his second consecutive PBA National Championship, made four consecutive PBA television finals and led the tour in money won.
He teamed with fellow left-handers Johnny Petraglia, Larry Lichstein, Dick Battista and Butch Gearhart for his third Classic Team title at the 1972 Open Championships in Long Beach, California.
In 1973, he became the first left-hander to win the U.S. Open when he beat fellow Hall of Famers Dick Ritger, Dave Davis, and, in the title match, Earl Anthony, in Madison Square Garden in New York.
Memorial services are pending.