Brummett leads after first day of 2022 PWBA Long Island Classic
June 07, 2022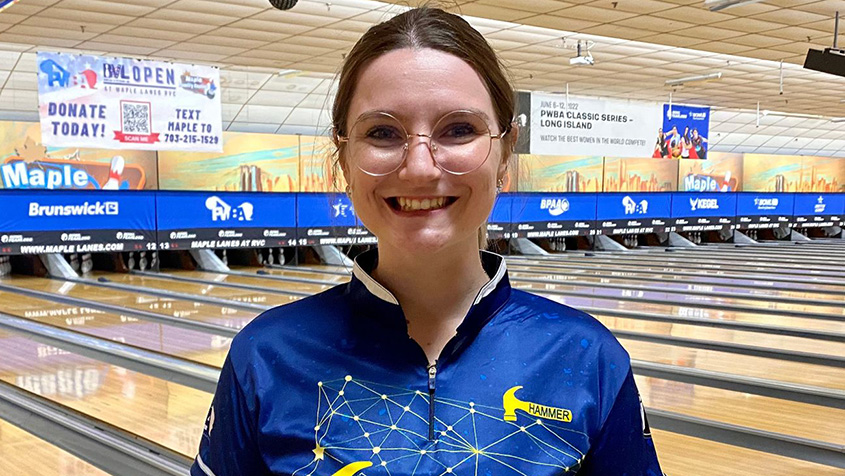 ROCKVILLE CENTRE, N.Y. - Sydney Brummett of Fort Wayne, Indiana, claimed the lead after the opening rounds of competition at the 2022 Professional Women's Bowling Association Long Island Classic.

Brummett fired a 1,323 six-game total Tuesday morning to claim the lead, and she managed to maintain it when she added a six-game block of 1,233 for a 12-game total of 2,556 (213 average).

Stefanie Johnson of McKinney, Texas, is second with 2,542, while Justyne Vukovich of New Stanton, Pennsylvania, is third with a 2,535 total. Latvia's Diana Zavjalova (2,533) and Shannon O'Keefe of Shiloh, Illinois (2,498), round out the top five.

The 81-player field was cut to the top 12 players after Tuesday's second round, with Liz Kuhlkin of Schenectady, New York, claiming the final spot for Wednesday's match-play rounds with a total of 2,433, an average of 202.75.

Despite a difficult and sometimes grueling 38-foot lane condition, Brummett simply tried to keep things as simple as possible, and as she described it, "play catch with her target."

"They were hard," said Brummett, a five-time Team USA member. "I tried to find a place where I felt like I was deep enough through the front part of the lane where I had hold. Then, I kept telling myself, 'Just play catch with your target and see what happens.' They were so hard that you couldn't control anything. I just wanted to hit what I was looking at, and if I did that, I would move based on what I saw. But really, it was play catch with the target, hit the 1-3 (pocket) and make the spare."

Wednesday's match-play rounds will consist of six games starting at 9 a.m. Eastern, and an additional six games of match play at 2 p.m. Eastern. Players will earn 30 bonus pins for each win, 15 bonus pins for a tie and zero bonus pins for a loss. The top five players, based on total pinfall for 24 games and bonus pins, will advance to the stepladder finals.

The stepladder will be Wednesday at 7 p.m. Eastern and broadcast live at BowlTV.com. The champion will earn $10,000.

The same format also will be used for the BowlTV Classic, which takes place Thursday and Friday.

The BVL Classic, the final tournament in the season's first Classic Series event, will feature the top 24 players from the Long Island Classic and BowlTV Classic, based on their 24-game qualifying totals. Total pinfall will drop at the start of the BVL Classic, and the 24 advancers will bowl 24 games of round-robin match play to determine the five bowlers for the stepladder finals, based on total pinfall and bonus pins.

All qualifying and match-play rounds, along with the finals for the BowlTV Classic will be streamed live at BowlTV.com. The finals will take place at 7 p.m. Eastern on June 10. Match play for the BVL Classic also will be streamed live on BowlTV, while the finals will be broadcast live June 12 at 5 p.m. Eastern on CBS Sports Network.