Busy Sunday results in big scores at 2022 USBC Women's Championships
June 12, 2022
By Justin Hauser and Aaron Smith
USBC Communications

ADDISON, Ill.
- The strikes were rolling in Sunday at the 2022
United States Bowling Congress Women's Championships
, highlighted by a historic performance from Jodi Sarney of Streamwood, Illinois.
Sarney became the third bowler in 102 years of competition to record both a 300 game and 800 series at the event on her way to taking over the lead in Diamond All-Events with a 2,194 total.
In addition to Sarney's strike-filled day at Stardust Bowl, three other bowlers moved into the top spot in their respective divisions.
Brandy Keller of Greenwood, Indiana, took over the lead in Sapphire Singles with a 600 series, while Melody Haggard of Prairieville, Louisiana, fired a 575 set move to the top of the standings in Amethyst Singles.
Samantha Isaacson of Lockport, Illinois, also finds her name at the top of the leaderboard after a strong showing in singles helped her to the lead in Ruby All-Events with a 1,867 total.
Sarney paired both the 300 and 800 during her doubles set Sunday, putting together games of 227, 300 and 279 for an 806 series. She struck on 26 of her final 27 deliveries in the set.
She added sets of 717 in team and 671 in singles to take over the lead from USBC Hall of Famer Liz Johnson of Niagara Falls, New York. Johnson, a six-time titlist at the USBC Women's Championships, previously led with 2,140.
Sarney joined USBC Hall of Famers Dede Davidson and Leanne Hulsenberg as the only bowlers to achieve both honor scores at the event.
She is the 36th bowler in tournament history with a perfect game at the Women's Championships and 11th to roll an 800 series.
Professional Women's Bowling Association Tour champion Verity Crawley of England is the only other bowler to connect for a 300 game at the 2022 event. She also achieved the feat during her doubles set.
Sarney, a 29-year-old right-hander, had no expectations as she made her debut this weekend at the Women's Championships.
Bowling with a group she normally does not bowl with, Sarney just wanted to bowl well, feed off the energy of her teammates and have some fun along the way. Working as a schoolteacher in nearby Streamwood, she found being so close to home to be the perfect opportunity to make her debut.
"Our main goal was to bowl well, but also to be supportive of each other for every shot and stay positive throughout all the events we bowled," said Sarney, who attributed her teammates - her sister, Nicole Powell, Marilyn Alaniz and Amanda Cortese - to bowling well in her first appearance at the Women's Championships.
While the team fared well Saturday, finishing with a 2,592 total to take over sixth place in Diamond Team, Sunday is when she really got dialed in.
Pairing with Alaniz, who added 614, they were able to take over fourth place in Diamond Doubles with a 1,420 total.
"Living only 30 minutes from here and being familiar with this center made it very comfortable for me," Sarney said. "Being comfortable is huge when trying to bowl your best in a tournament setting. My partner and myself were practicing multiple times a week leading up to this just to get in a groove."
Sarney not only has a history at Stardust Bowl, but some of it is shared with the hall of famer she passed for the top spot in Diamond All-Events.
She was making a run at the TV show at the 2016 U.S. Women's Open and found herself facing Johnson in the position round prior to determining the five athletes for the stepladder finals.
Sarney needed to win the match for the chance to go around Johnson to make the show, but Johnson was able to tie the game in the final frame and advance, while Sarney finished in sixth place.
Johnson went on to win the title that week at Stardust Bowl. It was her third of four consecutive wins at the U.S. Women's Open (2013-2017). Johnson has six wins overall at the event.
"She needed a strike on her last shot to go around me by one pin and make the TV show," Sarney said. "I couldn't even watch what was going to happen. I just heard the crowd's reaction with my eyes closed and knew. It was disappointing for sure, but that's bowling."
Although that moment did not go in her favor, Sarney was able to find some redemption of sorts at Stardust Bowl on Sunday with her performance.
She now has just three weeks to wait and see if her score is enough to take home a win in her first appearance at the Women's Championships. The 2022 event ends July 3.
"Winning a national title in my first appearance would be so surreal to me, especially when I had no expectations coming in other than having fun and bowling my best," Sarney said.
Diamond All-Events features bowlers with entering averages of 175 and above.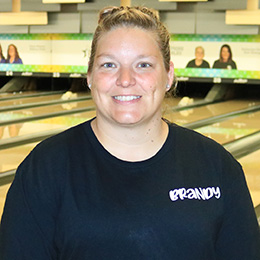 Keller also was competing at the Women's Championships for the first time in her career and will be making the drive home one to remember.
She put together games of 189, 222 and 189 for a 600 series to take the Sapphire Singles lead. Trysta Hopkins-Followell of Cheyenne, Wyoming, had held the lead with 589.
Keller does not participate in tournaments too often and was quite nervous coming into her appearance over the weekend. However, on Sunday morning, Keller looked like a veteran with great focus on the lanes with a little help from her husband, Robert.
"My husband also is a bowler, and he gave me some advice on keeping my nerves in check," Keller said. "He said to just go out there and do my best and have fun, and the rest will fall into place. This is my highest series ever, and to be able to do that in a tournament is so awesome."
Keller casually bowls with her family and friends on Wednesdays and Fridays in the Indianapolis area and just likes to go out and have fun in league. She just started getting into bowling tournaments, such as state and nationals this year.
"I didn't even know that there was a women's national tournament like this," Keller said. "My friends let me know that they needed a bowler for nationals in Chicago, and I said let's go for it."
She added sets for 516 in team and 486 in doubles to also move into second place in Sapphire All-Events with a 1,602 total. Hopkins-Followell leads with 1,655.
With just a couple weeks left to go in the 2022 tournament, Keller will get to watch the leaderboard with her family back home in hopes of winning a title.
"This would mean a lot to me and my family," she said. "My family is filled with bowlers, and this would make them so proud if I was able to win this event."
Sapphire Singles and Sapphire All-Events features bowlers with entering averages of 138-148.
Haggard started her singles set with a 216 game to set the pace, and she followed with games of 178 and 181 to get to the top spot in Amethyst Singles.
Jennell Shelton of Manitowoc, Wisconsin, was leading with 548.
Amethyst Singles is for bowlers with entering averages of 125-137.
Isaacson started strong in her appearance at Stardust Bowl, rolling 686 in team. Her performance in doubles momentarily slowed her down, as she finished with 518. She was able to bounce back in singles with games of 203, 224 and 236 for a 663 set to get to the lead in Ruby All-Events.
Amy Jo Schmit of Random Lake, Wisconsin, previously held the all-events lead with 1,832.
Isaacson's 663 also moved her into second place in Ruby Singles. Cheryl Pederson of West Allis, Wisconsin, leads with 680.
Ruby Singles and Ruby All-Events includes competitors with entering averages of 161-174.