Butturff, McCarthy Healed Up and Ready for World Cup
November 03, 2017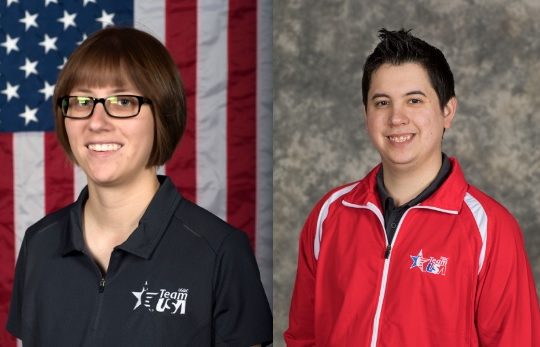 HERMOSILLO, Mexico - Team USA's Jakob Butturff of Tempe, Arizona, and Erin McCarthy of Omaha, Nebraska, both battled serious injuries over the summer, but they now are mended and ready to represent the United States at the 2017 QubicaAMF Bowling World Cup.
The two earned their spots at the QubicaAMF World Cup with wins at the United States Bowling Congress Team USA Trials in January, and they will share the lanes in Mexico with bowlers from more than 70 countries.
The 53rd edition of the prestigious event will head to Hermosillo for a record third time, and qualifying at the 32-lane Bol 300 will get underway Nov. 6.
"It's going to be an amazing experience, but I have no doubt there's going to be some nerves going out there," said Butturff, who will be making his international debut with Team USA. "I just have to remember how I got to this point and that I executed when I needed to in order to earn this opportunity, and my main goal is to go out and prove that I'm one of the best."
Butturff is recently recovered from a bowling-related fractured finger on his bowling hand that forced him to delay his Team USA debut.
The 23-year-old left-hander was scheduled to compete in the World Games in Wroclaw, Poland, in July, and while the break was disappointing, it gave him a chance to spend time working on his game.
His return to the lanes was noteworthy, however, with a pair of Professional Bowlers Association regional titles and a runner-up finish at the U.S. Open this week, where he earned the No. 1 seed for TV by a margin of more than 600 pins, before falling to former Team USA member Rhino Page in the championship match, 256-222.
"The injury caused me to miss bowling the World Games, but the setback gave me time re-evaluate my game and go out and learn more about myself as a bowler," Butturff said. "Even with all the success I had, I felt like I still was missing some pieces. I used the time to watch bowling and see things a different way mentally. I examined everything I do when I bowl. I also made a couple pitch changes on my equipment to avoid having the same issue."
Since joining the PBA in 2015, Butturff has garnered attention for his unique technique and dominant performances on the lanes.
He was named the PBA West Region Rookie of the Year for 2015 then returned in 2016 with a record nine PBA regional titles on the way to PBA West Region and Northwest Region Player of the Year honors. He now has 13 regional victories and two PBA national titles.
Though the trip only is about 350 miles from his Arizona hometown, the 2017 World Cup also will offer Butturff the first stamp in his passport, and a first-time experience he'll share with McCarthy and Team USA head coach Rod Ross.
McCarthy, who first represented Team USA at the 2015 Lee Evans Tournament of the Americas, had a successful run this year as a top-20 performer on the Professional Women's Bowling Association Tour, but while her season ended on the CBS Sports Network finals of the U.S. Women's Open, the scenario wasn't ideal.
The 27-year-old right-hander and registered nurse endured nagging back pain late in the PWBA Tour season, which at its worst, resulted in intense spasms. It left her unable to sit down between frames during her stepladder match at the U.S. Women's Open in August.
"This opportunity means everything to me, but I don't think it even has completely set in yet," said McCarthy, who finished third at the 2017 U.S. Women's Open. "I don't think that will happen until we get there. To be able to represent my country is not something everyone can say, and to know I have the support of my teammates and coaches makes this once-in-a-lifetime opportunity that much more special."
Following the conclusion of the 2017 PWBA Tour season, McCarthy took almost a month and a half off from bowling to focus on her recovery, which included a combination of rest, ice, heat, medications, chiropractor appointments and physical therapy.
"I've had back problems before, but nothing that has lasted more than a couple of days," McCarthy said. "I did everything I could to make sure I would get better and maybe even build up some strength along the way. I'm doing a lot better since the U.S. Open. It was tough not bowling, but I wanted to make sure I was ready for Team USA camp and the World Cup."
Once healed, McCarthy turned up the intensity on her preparation for Hermosillo, which will included practicing several times a week, narrowing down equipment and getting sharper, hoping to regain her form from the U.S. Women's Open, a performance she considers among her best mentally and physically.
More than 70 men and nearly 60 women are expected to compete at the World Cup this year, and the women's field includes defending champion Jenny Wegner of Sweden. The 2017 men's winner, Wang Hongbo of China, will not be in attendance.
At last year's event in Shanghai, Hongbo became the second bowler in history to win the World Cup on his home soil, defeating Ireland's Christopher Sloan in the final, while Wegner topped Team USA's Danielle McEwan to become the first Swedish woman since 1991 to hoist the trophy.
The World Cup first was contested in 1965, and the tournament now is considered one of the sport's most prestigious singles titles. It also is recognized as the largest event in the sport in terms of number of countries competing.
Competitors this year will bowl 24 games over four days, beginning Nov. 6, before the field is cut to the top 24 men and top 24 women for eight additional games. After 32 games, total pinfall will determine the eight bowlers in each division for eight games of round-robin match play.
The top four men and top four women after 40 games, including bonus pins, will advance to the knockout-style semifinals Nov. 11, where the No. 1 seed will face the No. 4 qualifier and No. 2 and No. 3 will do battle. The winners of each match will earn a spot in the championship game.
For more information about the 2017 QubicaAMF World Cup, visit QubicaAMF.com.