Butturff Enters Player of Year Conversation with Fourth PBA Tour Title
August 27, 2018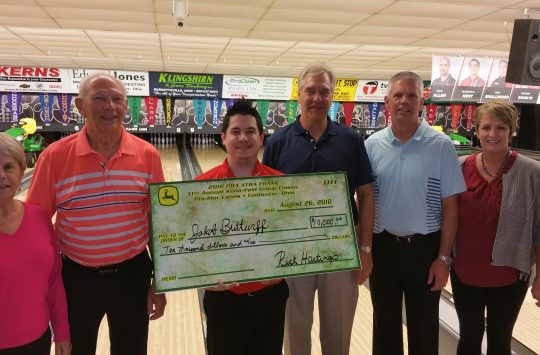 COLDWATER, Ohio (Aug. 26, 2018) – Jakob Butturff, an unorthodox 24-year-old left-hander from Tempe, Ariz., inserted himself into the Professional Bowlers Association Player of the Year conversation Sunday when he defeated Tom Daugherty of Riverview, Fla., 217-182, to win the PBA Xtra Frame Kenn-Feld Group Classic at Pla-Mor Lanes.
Butturff, who won the Go Bowling! PBA 60th Anniversary Classic earlier in the year in Indianapolis, joins Australia's Jason Belmonte; EJ Tackett of Huntington, Ind., and Andrew Anderson of Holly, Mich., as the Go Bowling! PBA Tour's fourth two-time titlist in 2018.
Butturff, who uses a quirky double-jointed delivery, entered the finals as the top qualifier after overtaking Daugherty in the final game of qualifying earlier in the day. He then started the title match with four strikes, but surrendered the lead when he left and failed to convert the 1-3-7-9 in the seventh frame. Daugherty, who had a clean game including a turkey through seven frames, lost his edge when he failed to convert the 2-4-5-8 in the eighth frame and then missed a 5 pin in the ninth.
"This win means everything," Butturff, now a four-time title winner, said before turning his praise to the fans of Coldwater, a rural community of just over 4,000 residents who turned out in droves to support the 11th annual tournament. "Every time I come in here, it's amazing. The fans want to see us bowl and they give us their all. They're what keeps our sport going."
In the first match of the four-man stepladder final, PBA Tour veteran Brad Angelo of Lockport, N.Y., bowled an error-free game, rolling a key strike in the ninth frame and striking out in the 10th for a dramatic win after defending champion Rhino Page recovered from failing to convert the 2-4-7-10 split in his fourth frame, finishing with six strikes to force Angelo's hand. Angelo won, 228-225.
In the semifinal match, Daugherty got some help when Angelo had three open frames, throwing his own decisive string of four strikes in a 226-188 victory to advance to the championship match.
The 2018 Go Bowling! PBA Tour will complete its domestic schedule with the three-event FloBowling PBA Fall Swing in suburban Tulsa, Okla., Oct. 14-20, followed by the U.S. Open Oct. 24-31 in Wichita, Kan. The Fall Swing will award titles in the Wolf, Bear and Tulsa Opens, all of which will be live streamed from start to finish on FloBowling. For subscription information, visit FloBowling.com.
Prior to the Fall Swing, PBA Tour players will have an opportunity to bowl for PBA International-World Bowling Tour titles in the Storm Lucky Larsen Open that is currently underway in Malmo, Sweden, concluding Sept. 9, and the WBT Thailand in Bangkok, Sept. 22-28.
PBA XTRA FRAME KENN-FELD GROUP CLASSIC
(A part of the 2018 Go Bowling! PBA Tour)
Pla-Mor Lanes, Coldwater, Ohio, Sunday
Final Standings:
1, Jakob Butturff, Tempe, Ariz., $10,000.
2, Tom Daugherty, Riverview, Fla., $5,000.
3, Brad Angelo, Lockport, N.Y., $2,500.
4, Rhino Page, Orlando, $2,250.
Stepladder Results:
Match One – Angelo def. Page, 228-225.
Semifinal Match – Daugherty def. Angelo, 226-188.
Championship – Butturff def. Daugherty, 217-182.
Round of 8 (after 17 games):
1, Butturff, 3,709.
2, Daugherty, 3,703.
3, Page, 3,587.
4, Angelo, 3,569.
5, Dick Allen, Lexington, S.C., 3,554, $2,000.
6, Ryan Ciminelli, Clarence, N.Y., 3,542, $1,750.
7, Jason Lundquist, Columbus, Ohio, 3,540, $1,500.
8, Andrew Anderson, Holly, Mich., 3,378, $1,250.
Round of 16 Cashers (did not advance, after 15 games):
9, Connor Pickford, Charlotte, N.C., 3,036, $1,100.
10, Francois Louw, South Africa, 3,001, $1,000.
11, Darren Tang, San Francisco, 2,989, $950.
12, Richie Teece, England, 2,977, $900.
13, Brandon Novak, Chillicothe, Ohio, 2,973, $875.
14, Kamron Doyle, Brentwood, Tenn., 2,971, $850.
15, Anthony Simonsen, Austin, Texas, 2,955, $825.
16, Joe Bailey, Wooster, Ohio, 2,918, $800.
Cashers Round Cashers (did not advance, after 12 games):
17, Chris Colella, Indianapolis, Ind., 2,381, $775.
18, Tom Smallwood, Saginaw, Mich., 2,376, $775.
19, Chris Via, Springfield, Ohio, 2,375, $775.
20, Marshall Kent, Yakima, Wash., 2,369, $775.
21, Kurt Pilon, Warren, Mich., 2,361, $750.
22, Matt O'Grady, Rahway, N.J., 2,335, $750.
23, n-Chad Roberts, Reynoldsburg, Ohio, 2,327, $750.
24, Tom Hess, Urbandale, Iowa, 2,323, $750.
25, Sean Rash, Montgomery, Ill., 2,317, $725.
26, AJ Chapman, St. Paul, Minn., 2,311, $725.
27, JR Raymond, Clinton Twp., Mich., 2,301, $725.
28, Graham Fach, Canada, 2,300, $725.
29, Kyle Troup, Taylorsville, N.C., 2,296, $700.
30, Chris Loschetter, Avon, Ohio, 2,295, $700.
31, Michael Clark Jr., Cleveland, Ohio, 2,289, $700.
32, Michael Tang, San Francisco, 2,288, $700.
n-denotes non-PBA member.