California bowler oldest to roll certified 800 series
March 30, 2016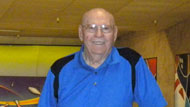 ARLINGTON, Texas -
Even at 85 years old, William Lautenschlager of Stockton, California, still is working on his bowling game, and changes made earlier this year helped land him in the United States Bowling Congress record books as the oldest bowler to roll a USBC-certified 800 series.
Lautenschlager put together games of 226, 279 and 300 for an 805 set Jan. 14 at Stockton's West Lane Bowl, and he claimed the record at 85 years and 9 days old.
Chuck Foudray of Green Bay, Wisconsin, set the bar in December 2015, when he rolled an 810 series at 84 years, 3 months and 28 days old.
This was the third 800 series of Lautenschlager's career, and first since 1996, and he didn't even realize he'd done it.
"I don't like to look at the numbers or what I have after two games, and I never have, because I think it adds unneeded pressure," said Lautenschlager, who bowls in three leagues and still averages in the 220s. "I didn't even know I shot 800. I thought everyone was congratulating me for the 300. I really felt like my 800 days were over, and I feel extremely fortunate to have been able to do this."
The performance came in the Thursday Senior A league, one of three leagues Lautenschlager participates in and serves as president. He also is a part-time car hobbyist, and the combination keeps him active and feeling young.
However, it was minor arthritis that prompted him to shorten his span, change his thumb pitch and try some new grips, which has him bowling as comfortably as ever, and has allowed him to continue doing something he's done since the 1940s. It's also a passion he shares with his wife, Kathleen.
Lautenschlager, a Stockton USBC Hall of Famer, got his start in bowling as a pin boy in Nebraska during World War II, and he picked it back up after his own service in Korea as a U.S. Marine.
"After I got back from Korea, I bowled as a social thing, but I didn't do much until I started bowling in Stockton in the 1980s and started taking it seriously," Lautenschlager said. "I've been fortunate to meet some great people through bowling. It's also rewarding and competitive and keeps your juices flowing."
For more information on USBC records, visit
BOWL.com/Records
.