California bowler rolls 300 in debut at 2022 USBC Open Championships
May 31, 2022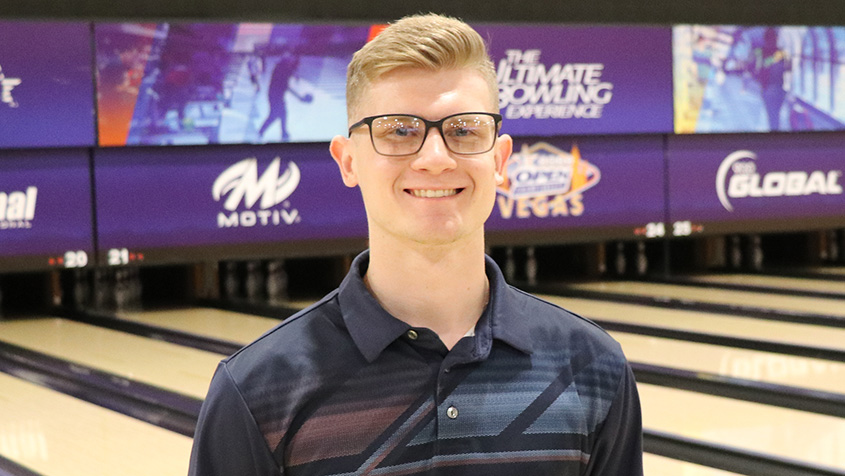 By Nick Bonsanto
USBC Communications

LAS VEGAS
- The 2022
United States Bowling Congress Open Championships
is one that 20-year-old Tyler Betz of Roseville, California, will never forget.
Betz rolled a perfect game in his first USBC Open Championships appearance, connecting for 300 during his third game of doubles Monday at the South Point Bowling Plaza.
The two-handed right-hander rolled a 719 series during doubles on games of 225, 194 and 300. Betz paired with James Yannaras of Waukesha, Wisconsin, in Regular Doubles for a total score of 1,275.
Nick Powanda of San Diego and Tony Odom of Palm Springs, California, lead Regular Doubles at the 2022 Open Championships with 1,518.
Like many who bowl a perfect game at the Open Championships, nerves do manage to bubble up. For a first-time participant, it's even more.
"To say I was nervous is an understatement," Betz said. "I shot a 300 at the (USBC) Team USA Trials this year, but this was a much bigger crowd."
Betz just finished his junior year at the University of Tennessee Southern, where he is a member of the bowling team. His coach is five-time Professional Bowlers Association title winner and recent USBC Hall of Fame inductee Bob Learn Jr., who was bowling on the pair to the left of Betz when he rolled his 300. Learn was very proud of Betz.
"Honestly, I am like a proud father, if you will," Learn said. "To be your first time at the Open Championships and throw a 300 - that's special."
For Betz, having his coach there was very special.
"To have Bob there is like a layer of security," Betz said. "Knowing that he knows so much about the sport and being able to trust the decisions we make means a lot."
Betz's decision to go from California to Tennessee for college had a lot to do with Learn being the bowling coach of the program.
"To say Bob is a big reason I am there is an understatement," Betz continued. "Bob found me in California, and I didn't know the school existed till I met him."
Another reason Betz is happy at Tennessee Southern is it had his desired major. Betz is majoring in Homeland Security and hopes to work in the field of anti-terrorism or human trafficking.
Betz completed his first Open Championships appearance with an all-events total of 1,989 in the Regular Division. He added 657 in team and 613 in singles.
Brian Waliczek of Frankenmuth, Michigan, leads Regular All-Events with 2,241.
Reflecting on his first appearance, Betz said, "I'm pretty comfortable with how I started my career at the Open."
Learn agreed and said, "I'm excited for his future."
Regular Doubles features bowlers with combined entering averages of 351 and above. Regular Singles and Regular All-Events includes participants with entering averages of 176 and above.
Visit us on Facebook at the
official USBC Open Championships page
.