California pair rolls to Classified Doubles lead at 2022 USBC Open Championships
May 08, 2022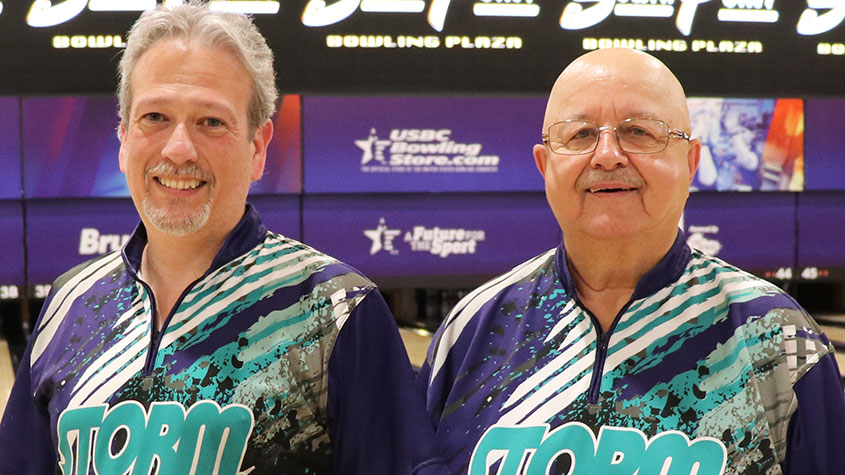 LAS VEGAS
- Being part of a strong doubles team is all about working together and picking each other up when the moment calls for it.
John Brazzillo of Los Banos, California, admitted he's used to his longtime teammate Anthony Carvalho of Morgan Hill, California, doing most of the work when they bowl doubles together, but he was ecstatic to save his biggest contribution for bowling's biggest stage Saturday at the 2022
United States Bowling Congress Open Championships.
Brazzillo and Carvalho combined for a 1,153 total at the South Point Bowling Plaza to take the lead in Classified Doubles, surpassing the 1,138 score posted by the husband-and-wife team of Nathan and Betsy Nigh of Rushville, Indiana.
Brazzillo, a 72-year-old right-hander, rolled his highest set in five USBC Open Championships appearances with games of 214, 215 and 191 for a 620 series. Carvalho, a 54-year-old right-hander, bounced back after a 150 start to finish with 201 and 182 for a 533 total.
"For once, I was able to help him," Brazzillo said. "Usually, it's 100 percent the opposite, so it feels gratifying that I could help him. We've been doubles partners for years, and he's helped and taught me a ton."
Carvalho quickly recognized Brazzillo's strong start put them in position to make a run at the top spot, and he referenced the champion banners hanging from the rafters at the Bowling Plaza to see the score that won Classified Doubles in 2021 - 1,211 by Sonia and Thomas Holguin of Northlake, Texas.
Although they fell short of last year's winning total, Carvalho was happy to see Brazzillo's performance come together at the right time.
"I give him all the credit on this one," said Carvalho, who made his sixth Open Championships appearance. "I've never seen him shoot like this before. John was bowling out of his mind, and I kind of just jumped on his back on the way to the top."
Brazzillo's big day turned out to be a result of an injury to one of his fingers. It altered his ball roll and plan of attack for his doubles set and gave him the right look.
"I actually hurt my finger in practice," Brazzillo said. "I was trying to turn the ball with my hand, and it just started ripping my finger. I switched to my weakest ball and didn't even turn my hand. I changed my whole game, and it was right ... and highly unexpected."
Carvalho and Brazzillo enjoy competing with their group at the Open Championships and know they're going to have a good time in the host city, regardless of where the final scores end up in the standings.
Being able to hold on to a winning score at the event, however, would be incredibly special.
"We love coming out here but don't really have any expectations," Carvalho said. "We come out here to have some fun, bowl with our friends and whatever happens, happens. We bowl together a lot, and when we can pick each other up and bowl like this, it's very exciting."
Brazzillo echoed Carvalho's feelings on the thought of winning together at the Open Championships.
"If something happens like this, it's a plus," Brazzillo said. "We come out to have a good time. We make a plan to put together the trip every year, but we didn't plan to do this. To win this thing, I can't even imagine."
Carvalho finished his 2022 appearance with sets of 519 in singles and 508 in team for a 1,560 all-events total. Brazzillo added 492 in singles and 437 in team for a 1,549 all-events tally.
Classified Doubles features bowlers with combined entering averages of 310 and below.
Visit us on Facebook at the official
USBC Open Championships page
.