California team takes U12 title at 2017 USA Bowling National Championships
August 15, 2017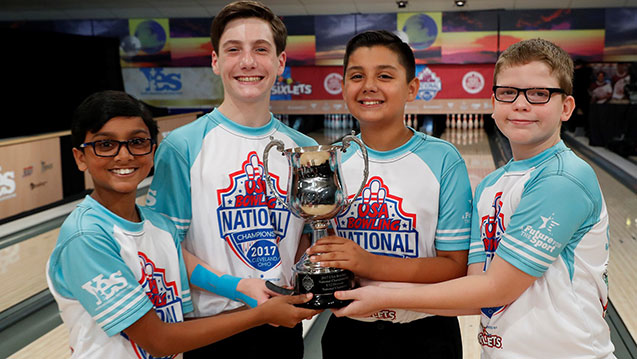 WICKLIFFE, Ohio -
Four young friends from California put together a bowling team because they wanted to hang out and have fun doing something they all enjoyed.
Now, they are national champions after capturing the 12-and-under title at the 2017
USA Bowling National Championships presented by Sixlets
.
The title match aired Tuesday night on CBS Sports Network.
A combination of hard work, good chemistry, the support of their coaches and local bowling community and a little extra time together on the lanes gave the members of Cloverleaf Strikers the tools they needed to defeat Georgia All Stars, 3-1, in the best-of-five modified Baker finals at Game of Wickliffe.
In the unique format, the first two bowlers in the lineup each bowl three frames per game (1-5-9 and 2-6-10, respectively), while the other two team members bowl two frames each (3-7 and 4-8).
The winning team included 2016 NorCal Bowling Centers Youth Bowling Association All-Stars Nihal Mareedu and Diego Jara, Harley Shene and Joey Irvin.
Cloverleaf Strikers, representing the Pacific Southwest, squeaked out a 169-167 win in the opening game under the CBS Sports Network lights, when Georgia All Stars anchor Jacob Ballenger failed to convert a 10 pin in the final frame.
The Strikers managed just one strike in a 206-174 loss to the All Stars in Game 2 but rallied with wins of 204-147 and 192-185.
In the finale, the Atlantic East champion All Stars closed with four strikes, leaving Cloverleaf anchor Harley Shene needing a mark and three pins to secure the title. He struck on his first shot and got nine on his second to seal it.
"This really is amazing because we haven't had a chance to bowl together all that much as a team, so coming away with the win was something we didn't expect," Harley said. "I knew I needed a mark. I just wanted to strike, so I didn't end up leaving something I could miss."
All four members of Cloverleaf Strikers regularly test their skills on the Youth Bowlers Tour, a tournament group in Northern California, co-founded by United States Bowling Congress Hall of Famer Leanne Hulsenberg and Cloverleaf Family Bowl co-proprietor Mike Hillman.
Bowling in top-tier events on challenging lane conditions has helped the teammates sharpen their skills, but a few extra practices together at Cloverleaf Family Bowl in Fresno, California, helped the group with its cohesiveness.
"It has been a great week with the kids, but, from the start, we tried to remind them that we were here to have fun above all else," said Christine Shene, who coaches the team with Michael Ascunsion. "The boys get along really well, and they all work hard to get better by practicing and bowling in tournaments on tougher patterns. They've also had a chance to practice together a few times as a team, and it really helped."
This year's TV appearance for Georgia All Stars offered coaches Bill and Ellen Johnson the opportunity to win titles in both editions of the USA Bowling National Championships, which debuted in 2016.
A victory also would've meant redemption for two Georgia All Stars bowlers, Ballenger and Bryant Griffith, who were runners-up in the U12 division in 2016, while the Johnsons helped the South region's The Strikers to the U15 championship.
Ballenger and Griffith were joined in this year's second-place finish by James Armendariz and Riley Stewart.
"We were just incredibly grateful to be coming back again because that in itself was an accomplishment to be proud of, since this program is growing and the competition in each region is getting stronger," Bill Johnson said. "Anytime you lose, it's hard, but we try to emphasize the importance of sportsmanship and learning from each loss, along with the wins. That's part of what USA Bowling is about. We love all the kids, and we'll keep doing everything we can to help this great program grow and succeed."
The 2017 USA Bowling National Championships included two divisions - 12-and-under and 15-and-under - each with its own TV show.
Both shows were taped July 22 in conjunction with the 2017 Junior Gold Championships for broadcast on CBS Sports Network. This year's U15 final of the USA Bowling National Championships will air Aug. 22 at 7 p.m. Eastern.
The 2017 USA Bowling National Championships started with 32 teams - 16 in the 12-and-under division and 16 in the 15-and-under division - which bowled five and six one-game Baker matches, respectively, at Yorktown Lanes in Parma Heights, Ohio, on July 19, with their win-loss records determining the seeding for their respective double-elimination match-play brackets.
The schedule originally called for 15 matches, but a citywide power shortage forced the day to be cut short. Ties were broken by total pinfall.
Match play took place July 20 at nearby Freeway Lanes of Parma and featured best-of-three Baker matches to see who advanced.
CBS Sports Network is televising the final of both divisions for the second consecutive year.
On the way to the TV show, Cloverleaf Strikers averaged 205 en route to a 5-0 record and earned the top seed for match play. They rolled through the bracket with a 4-0 mark. Georgia All Stars was 2-3 during qualifying, earning the No. 10 seed for match play but reached the final unscathed.
All rounds of qualifying and match play leading up to the televised finals were broadcast on BowlTV.
The USA Bowling program was introduced at the regional level in 2013 and grew to include the first USA Bowling National Championships last year in Indianapolis.
The 32 teams competing in the Cleveland area all earned their spots at the national event by winning one of 16 regional tournaments held across the country throughout the end of 2016 and beginning of 2017.
USA Bowling is a product of the Youth Education Services (YES) Fund, a joint initiative of the Bowling Proprietors' Association of America and United States Bowling Congress supported by top bowling brands including Bowling.com, Columbia 300, Ebonite, Hammer, QubicaAMF, Roto Grip, Storm and Track.