Can-Do Kid takes on 2022 USBC Open Championships, brings inspiration to South Point Bowling Plaza
April 26, 2022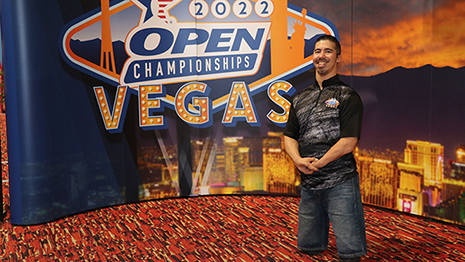 Click
here
to see Raymond in action at the 2022 #USBCOpenLAS VEGAS -
Raymond Kawasaki of Colorado Springs, Colorado, has been bowling regularly for about six years, and his passion and dedication for the sport continue to grow and evolve.
Due to some physical limitations, he has developed a one-of-a-kind style, but finding ways to participate in his favorite activities is something the 37-year-old has done all his life.
Along the way, he also has enjoyed participating in baseball, football, karate, wrestling - or just about any sport he could - making friends and inspiring countless others.
A newspaper article about him nearly three decades ago showcased his skills as a karate-kicking, pin-toppling youngster and dubbed him the Can-Do Kid. The name stuck.
But what is it that set Kawasaki apart from other young athletes trying to find their niches and warranted his story appearing in the local paper?
He is a double above-the-knee-amputee with missing digits on both hands, something that resulted from a hereditary condition, but he never has let his disabilities slow him down.
"In elementary school, junior high and high school, I tried every sport I could," Kawasaki said. "I bowled for fun, but it wasn't until a few years ago that my mother and I decided to pick up bowling more seriously."
Bowling always was part of Kawasaki's life and lineage, and the third-generation kegler finally brought his skills to the sport's biggest stage this week, as he made his debut at the
United States Bowling Congress Open Championships
.
Despite consistently averaging in the 180s and 190s in league, his first appearance at the premier event for USBC members was delayed, not because of his skills, but because of his confidence, something he was able to overcome thanks to the support of friends and teammates.
"I've been bowling consistently for about six years, but I never believed in myself," Kawasaki said. "Every time I go to a new environment or tournament, I always let the nerves get the best of me. Again, when you have a good group and good friends who believe in you, that's sometimes all the encouragement you need to come out and give it a try."
Kawasaki's first taste of top-tier competition outside of Colorado came recently at The Southwest Tournament in Wichita, Kansas, an event with nearly a century of tradition that runs each year for multiple months. The 2022 edition ran from mid-February through mid-April.
It's understandable that with each level of competition comes some uncertainty and anxiety, but it didn't take Kawasaki long to put his thoughts into a manageable perspective.
"Bowling in a lot of local tournaments in Colorado, to coming to a big-time out-of-state event, is intimidating, but now that I've done it, I realize it's just bowling," Kawasaki said. "Nothing really changes, if you think about it, except the title or the name of the event, and I tried to keep that mindset throughout. This definitely is the biggest event I've experienced, but it's still just bowling."
The enormity of the venue, heart-pounding march-out music, bright lights of the scoreboards and two challenging oil patterns are things that create both excitement and nerves in newcomers to the Open Championships.
On Kawasaki's team squad Friday, three bowlers were recognized for their longevity on the lanes, each celebrating 50 years of participation. That was an instant lesson about the rich history of the event for Kawasaki and any other newcomers on the lanes.
Then, the lights came on. It did not take him long to "get it."
"My favorite part of the Open Championships, regardless of how I bowled was just being here," Kawasaki said. "Throwing that first ball during team, even during practice, is when it really hit that I was here on this stage. I'm already looking forward to next year's event in Reno (Nevada)."
The bowlers who shared the lanes with Kawasaki over the weekend at the South Point Bowling Plaza had nothing but kind words about him as a person, admiration for his dedication and worth ethic, and respect for the effort he put into his bowling game.
Onlookers and fellow competitors from across the country were in awe of his composure and skill.
Kawasaki's debut came in the Standard Division, for bowlers with entering averages of 156-175. He rolled sets of 574 in singles, 535 in team and 398 in doubles for a 1,507 all-events total.
Much like many of his bowling experiences, one of the best parts of his time on the championship lanes was the people. Their friendliness and the smiles they smiled while competing put him at ease.
"Because I can do it, I'm going to keep doing it," Kawasaki said about bowling and continuing to develop his game. "I enjoy it. The bowling community is such a huge and welcoming place. This is my passion, and I'm going to keep doing it until I can't anymore."
Kawasaki said bowling tops the list of all the sports he has tried, with wrestling coming in second place, but tomahawking 10 pins has become more than just a favorite activity for him.
He also has gotten involved in the service side of the sport as a member of the Pikes Peak USBC Board of Directors. It has helped him understand so much more about bowling and the relationships and teamwork that help it thrive.
The timing of Kawasaki's trip to Las Vegas also will allow him to attend the 2022 USBC Convention, taking place across town at The Orleans Hotel & Casino, where he will represent Pikes Peak USBC and meet other official and delegates from across the country.
The impact he has had locally, and now nationally, is was summed up well by someone who has been around since Kawasaki first immersed himself in bowling - USBC Hall of Famer Tish Johnson, a pro shop operator in the Colorado Springs area, who has helped Kawasaki develop as a competitor.
"I just think it's amazing how Ray is willing to try anything, and it has been really cool to see how far he has come in just a few years on the lanes," Johnson said. "It's uplifting to watch him and hear him talk about each event and how he did and how he hopes to do even better the next time out. He's always trying to learn more, and I've never seen him get down on himself. He's always positive, and that translates to others."
Beyond the lanes and the bowling board room, Kawasaki continues to use his experiences and perseverance as a way to inspire others.
During the global slowdown forced by COVID-19, he had an opportunity to join forces with an old college friend, Samantha Lee, for a children's book she envisioned based on his life and successes.
He served as the inspiration, and she did the illustrations. The book came out in December 2020. It's simple, but impactful.
"We wanted to keep it simple for the younger children and simply spread a message of always trying things and never giving up," Kawasaki said. "It's about spreading positivity and motivating others. I've always had friends and family in my life who were big motivators for me, and being able to turn that around and be the one helping others has been special. If I can do it, they can do it, too."
As his game continues to develop, Kawasaki will seek more opportunities to compete and inspire, and that includes inquiring about the new Para Team USA, which debuted in 2021 and sent four athletes from the United States to the inaugural International Bowling Federation Para World Championships in Dubai, United Arab Emirates.
Visit us on Facebook at the
official USBC Open Championships page
.