Castillo continues to set the pace after two rounds of the 2023 USBC Senior Masters
June 08, 2023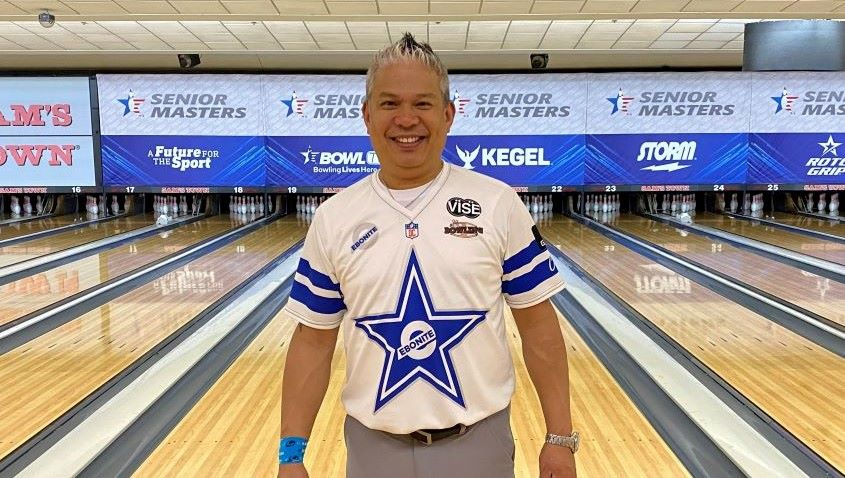 LAS VEGAS –
Defending champion Dino Castillo of Highland Village, Texas, remains at the top of the leaderboard after two rounds of qualifying at the 2023 United States Bowling Congress Senior Masters.
Bowling on the last of three qualifying squads Wednesday at Sam's Town Bowling Center, Castillo put together games of 258, 225, 190, 265 and 176. He has 2,379 for his 10 games of qualifying, good for a 237.9 average. Castillo will take a 58-pin lead into Thursday's final round of qualifying.
"The double-burn is usually the squad that I feel is my strength," said Castillo, referring to the term used for the final squad of the day since the lanes are not reoiled in between squads. "I use a lot of power and I have a lot of loft, so the double-burn is usually good for me. I started off pretty good, then I caught a tricky pair and shot 190. The last game was just a bad pair for me, but I felt the squad went about as I expected it would."
Castillo defeated Chris Warren in the championship match of last year's event to earn his first title on the Professional Bowlers Association 50 Tour. So far, his title defense is going well and he feels he's in a good spot, but he understands this event is a grind.
"Physically I feel fine, even though I wasn't able to bowl a lot coming into this event," said Castillo. "Mentally I feel good as well. The difference is this year, as I mentioned previously, I've got a target on my back and everyone is after me. So, I just have to remember that."
Holding down second place for the second consecutive round is USBC and PBA Hall of Famer Lennie Boresch Jr. of Kenosha, Wisconsin. Boresch, bowling on the same squad as Castillo, had a high game of 279 Wednesday night and checks in with 2,321.
Chris Barnes of Denton, Texas, moved into third place with 2,316. Barnes, also a USBC and PBA Hall of Famer, was 17th after Tuesday's first round. He averaged 234.8 over his second round of qualifying to move up 14 spots. Barnes is seeking his fifth PBA50 Tour title and his first win in this event.
Rounding out the top five are John Verbich of Griffith, Indiana, and Walt Blackston of Hawthorne, California. Verbich, who was sixth after the first round, has 2,307. Blackston had a 300 game, the only one of the event so far, during his second round to help him claim fifth place with 2,297.
All 309 competitors at the 2023 USBC Senior Masters will bowl three five-game blocks over three days, culminating on Thursday, and the top 63 will join Castillo in the tournament's double-elimination bracket after 15 games.
Castillo is guaranteed a spot in the bracket as the defending champion and can improve his seeding through qualifying. If he qualifies outside of the top 63, he will enter the bracket as the No. 64 seed.
Bracket matches will be contested on Friday and Saturday in a three-game total-pinfall format, until the field is cut to the top five for the stepladder finals June 11 at 1 p.m. Eastern on BowlTV.
Since the stepladder will be broadcast on BowlTV, the top seed will have to be defeated twice in the true double-elimination format. The winner of the 2023 USBC Senior Masters will take home a major championship on the PBA50 schedule and the first-place prize of $20,000.
For scores and information about the 2023 USBC Senior Masters, visit BOWL.com/SeniorMasters.