Castillo heads into match play as No. 1 seed at 2023 USBC Senior Masters
June 09, 2023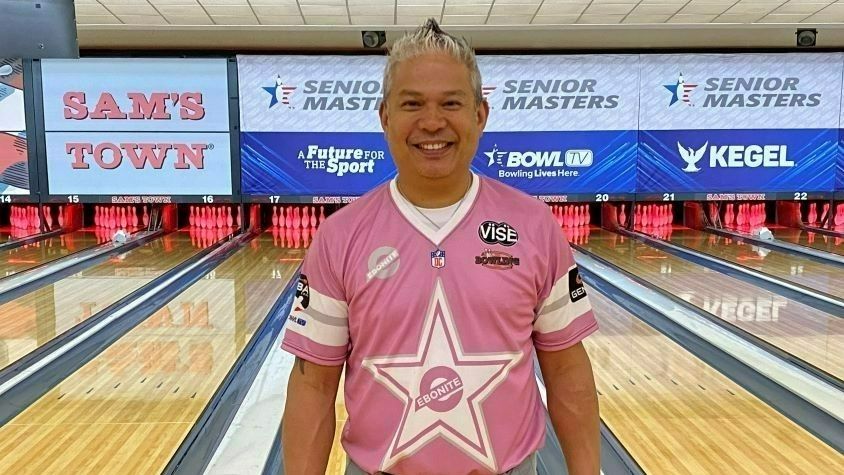 LAS VEGAS –
It was a new day Thursday at the 2023 United States Bowling Congress Senior Masters, but all that seemed to change for defending champion Dino Castillo was the color of his Dallas Cowboys-themed bowling jersey.
Castillo, of Highland Village, Texas, led for the third consecutive round in the major championship and first event of the season on the Professional Bowlers Association 50 Tour. Castillo put together a 15-game total of 3,621, good for a 241.4 average. He finished strong by averaging 248.4 over his final five-game block with games of 269, 258, 233, 258 and 224.
Castillo finished 129 pins ahead of second place, but understands things will change as the event shifts into the double-elimination three-game total-pinfall match play format.
"Today was as comfortable as I've felt all week," Castillo said. "I had a good game plan and I stuck with it. I was able to use one ball for all five games and just made minor adjustments. But now I know I have to start from zero. It doesn't matter how good or bad I've bowled, now it's head-to-head competition. So, whoever I bowl I know I've got to beat that guy. I know they're going to throw everything at me, so I've got to be ready for it."
USBC and PBA Hall of Famer Parker Bohn III of Jackson, New Jersey, had the best block in the third round of qualifying and moved from 15th to second with 3,492. Bohn was three pins better than Castillo in Round 3 (1,245 to 1,242), averaging 249.0 for the block.
"I actually had pretty good control of the lanes the first two days," Bohn said. "Today, I came out with a new ball that I hadn't used yet just to see what it might do. Well, my goodness, 250 over for five games, I think it was seeing the lane pretty good. It gave me a little bit more than what I had before, and what I had before was pretty decent. But now I feel like I've got even a notch better than that."
In third place is Walt Blackston of Hawthorne, California. Blackston had a 799 series in the first round of qualifying and a 300 game in the second round, but managed to have an even better third round with 1,190 for his five games. Blackston posted games of 236, 289, 248, 212 and 205 to get to 3,487 overall.
After a lackluster performance in the USBC Super Senior Classic, the event that immediately preceded the USBC Senior Masters at Sam's Town, Blackston decided to make a radical change that is now paying dividends.
"After the Super Senior event, my ball rep, Tony Johnson, changed my whole hand and that changed everything," said Blackston. "He changed all my pitches, my span, just everything. Once he did that, it made a world of difference. I didn't even get a chance to practice with the changes during practice session; I just started with it during the first block on Tuesday."
Rounding out the top five are Gary Reh of Jasper, Indiana, and another USBC and PBA Hall of Famer, Jason Couch of Clermont, Florida. Reh finished at 3,456 with Couch 10 pins behind him.
With the entire field having completed 15 games of qualifying, the top 64 now advance to double-elimination bracket match play beginning Friday morning. At the end of qualifying, Andrew Lomuscio of Gilbert, Arizona, and Mike Hanson of Spokane, Washington, were tied for 64th at 3,154. Lomuscio doubled in the 10th frame to win the one-game roll-off, 212-207, and claim the final spot in match play.
Bracket matches will be contested on Friday and Saturday in a three-game total-pinfall format, until the field is cut to the top five for the stepladder finals June 11 at 1 p.m. Eastern on
BowlTV
.
Since the stepladder will be broadcast on BowlTV, the top seed will have to be defeated twice in the true double-elimination format. The winner of the 2023 USBC Senior Masters will take home a major championship on the PBA50 schedule and the first-place prize of $20,000.
For scores and information about the 2023 USBC Senior Masters, visit BOWL.com/SeniorMasters.