Castillo takes lead after Round 2 at 2022 USBC Senior Masters
June 08, 2022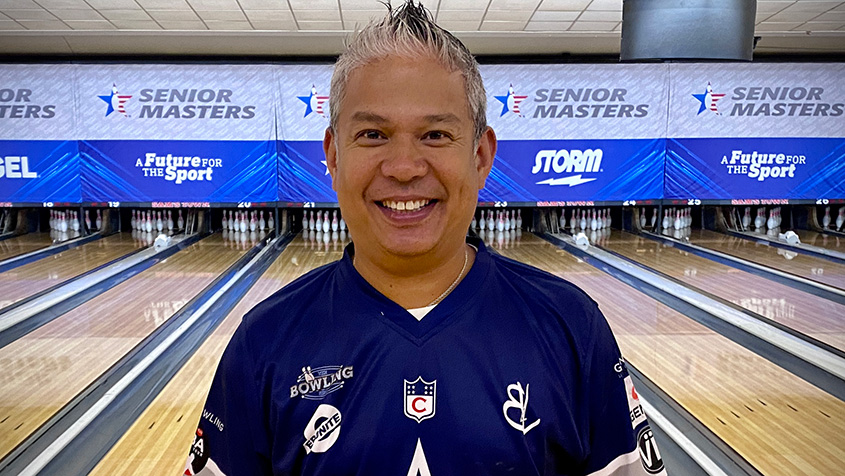 QUALIFYING - RD. 2

LAS VEGAS
- Dino Castillo of Highland Village, Texas, started his second round at the 2022
United States Bowling Congress Senior Masters
with a 300 game and 801 series to vault to the top of the standings Wednesday at the Sam's Town Bowling Center.
After rolling a 1,108 five-game block Tuesday, Castillo put together games of 300, 249, 252, 224 and 258 for a 1,283 set to bring his 10-game total to 2,391, a 239.1 average. The 50-year-old right-hander is the only competitor at the 2022 USBC Senior Masters to connect for a perfect game through two rounds on the 40-foot oil pattern.
USBC Hall of Famer Lennie Boresch Jr. of Kenosha, Wisconsin, remains in second place with a 2,357 total, and USBC and Professional Bowlers Association Hall of Famer Parker Bohn III of Jackson, New Jersey, maintained his position in third with 2,350.
Brad Angelo of Lockport, New York, is fourth with 2,331, and opening-round leader Richard Benard of Rio Rancho, New Mexico, is fifth with 2,323.
Defending champion Tom Hess of Granger, Iowa, moved into the top 64 after a 1,158 block Wednesday and now is in 23rd place with a 2,164 total.
With one round of qualifying left to go, Brian LeClair of Delmar, New York, sits in 64th place with a 2,059 total, a 205.9 average.
All competitors at the 2022 Senior Masters will bowl three five-game blocks over three days, with the final round starting Thursday at 11 a.m. Eastern. The top 63 bowlers will join Hess in the tournament's double-elimination bracket after 15 games.
Hess is guaranteed a spot in the bracket as the defending champion and can improve his seeding through qualifying. If he qualifies outside of the top 63, he will enter the bracket as the No. 64 seed.
Bracket matches will be contested in a three-game total-pinfall format, until the field is cut to the top five for the stepladder finals Sunday at 1 p.m. Eastern on
BowlTV
.
Since the stepladder will be broadcast on BowlTV, the top seed will have to be defeated twice in the true double-elimination format. The winner of the 2022 Senior Masters will take home a major championship on the PBA50 schedule and first-place prize of $20,000.