Maryland bowler celebrates 50 years with family at Open Championships
July 08, 2022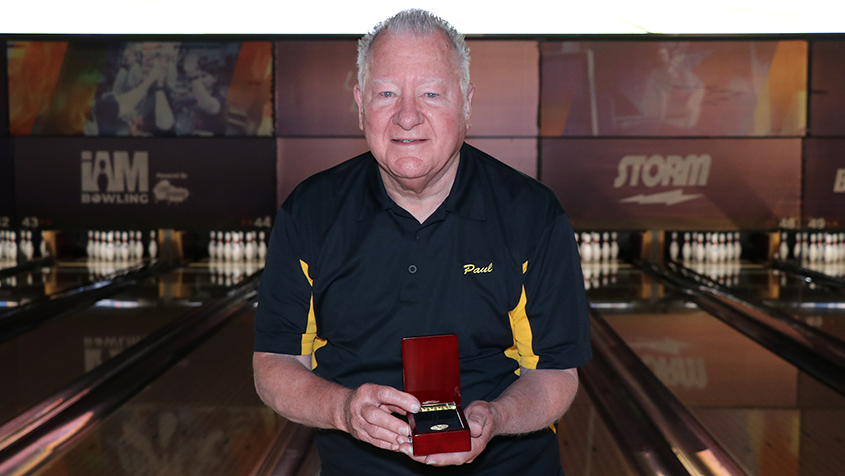 LAS VEGAS
- For Paul Yost Jr. of Prince Frederick, Maryland, bowling with family for his 50th year at the
United States Bowling Congress Open Championships
meant the world to him.
The importance of family to Yost was on display for all to see as he entered the 50-Year Club at the South Point Bowling Plaza on Tuesday. He was escorted for his milestone march to the lanes by his sons, Paul and Martin, grandson, Joshua, and companion, Judy Fisiorek.
He received a warm welcome from all the competitors and fans, which was special for Yost.
"I'm very touched that so many people cared about me and congratulated me on this accomplishment," said Yost, who received a chevron, plaque and diamond lapel pin for reaching the milestone. "It's a very special day for me."
If you know the tale of Yost, you would know that competing in his 50th USBC Open Championships at 84 years old was not an easy task. He has overcome two knee surgeries in the past few years as well as a stroke just 18 months ago.
Joshua Yost was competing in his first Open Championships this year with his grandfather, and he was grateful to do so.
"I'm super proud of my grandfather," said Joshua, who at 27 years old knows he has a long way to reach 50 for himself but also will be teaching his soon-to-be-born son the family tradition of bowling.
The most memorable moment that Yost has had for his 50 years of bowling at the Open Championships was in 2006. He was able to bowl with his father, who was 92 years old and competing in his 45th tournament at the time. That also was the last Open Championships appearance for his father.
In his 50th appearance, Yost rolled games of 138, 146 and 123 for a 407 series in the team event, bringing his pinfall total at the tournament to 72,413 for a lifetime average of 165.3.
Yost began his run at the Open Championships in Detroit in 1961. Whether he will get to bowl in his 51st tournament next year in Reno will depend on his health. If Yost cannot take to the lanes, he still expects to be there to support his family, who will carry on the Yost tradition on the lanes.
"Even if I can't bowl, I'll probably be with them," Yost said. "This is really important to the family."
The next member of the Yost family who has his eye on reaching 50 years is his son, Martin, who completed his 36th appearance in 2022.
The Open Championships truly is a family affair for the Yost family, and it's one they plan to continue for years to come.
Visit us on Facebook at the
official USBC Open Championships page
.