Chamberlain adds to legacy with 100,000 pins at USBC Open Championships
March 16, 2023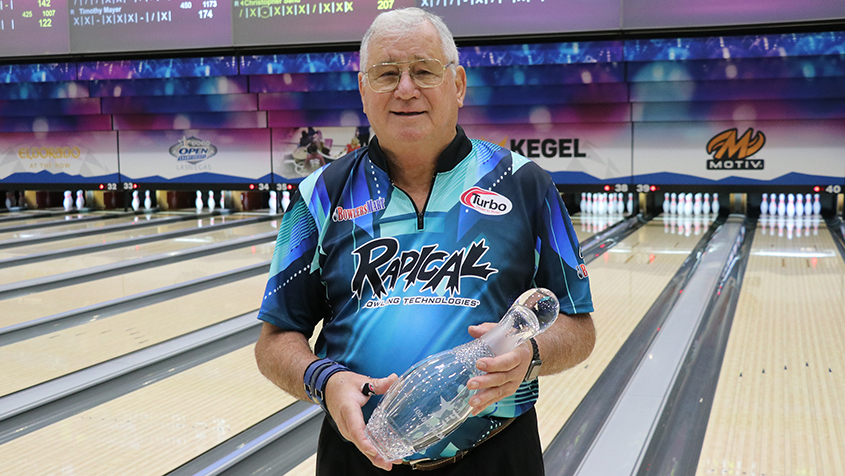 RENO, Nev. –
Surrounded by family and friends at the National Bowling Stadium, Bob Chamberlain Sr. of The Villages, Florida, was able to reflect on his journey as he became the 26th bowler to join the 100,000-Pin Club at the
United States Bowling Congress Open Championships
.
The USBC Hall of Famer passed the pinfall milestone in his third game of doubles Wednesday as he delivered a pocket shot in the ninth frame, leaving a 10 pin. After accepting a few quick congratulations to take in the moment, the 74-year-old right-hander covered the spare and was presented with the crystal pin awarded to the members of one of the tournament's most renowned clubs.
Chamberlain entered the 2023 event having toppled 98,938 pins over his first 54 appearances. After rolling sets of 553 in doubles, 550 in team and 513 in singles this week for a 1,616 all-events total, he now sits at 100,554 pins for a lifetime average of 201.1 at the Open Championships.
"My son told me what I needed before I got up there," said Chamberlain, a 1980 Regular Team champion. "When I left the 10 pin, I thought I threw it well enough to strike, but when you take a pause like that, it makes it a little tougher to make the spare. It was a big relief to make that spare.
"Coming here for 100,000 pins was something I thought was attainable a few years ago. I was just hoping I could keep bowling well enough to get there. I didn't sleep very well last night thinking about that. It's something very special, and I can't even put it into words. It's a milestone I never would have dreamed about getting a long time ago, but now, it's a reality."
Chamberlain was able to enjoy the moment on the lanes alongside his son, Robert Chamberlain Jr., and with his wife, Mary, supporting from the stands at the NBS.
A group of friends from The Villages made their way to Reno to bowl on the same squad to take part in the celebration, and Chamberlain also was surrounded by his usual teammates at the Open Championships, including longtime friend and 1992 Regular Doubles champion Dave Bernhardt Sr.
He started his career at the Open Championships during the 1968 event in Cincinnati and has made his annual appearance each year since his debut. Prior to his team event Tuesday, he was recognized for competing in his 55th consecutive tournament and received a chevron, plaque and watch to commemorate his longevity.
"I came out here with a group from Pontiac, Michigan, my first year," Chamberlain said. "I shot 1,890 at 18 or 19 years old and just fell in love with it. I knew it was going to be something I was going to try and do for as long as I could, and I think being able to bowl for 55 consecutive years is a tremendous achievement. It's very special, and I'll be doing this as long as I can stand up and throw a bowling ball."
His success at the event also includes a 300 game during singles competition in 2011, which also was contested at the NBS.
On the professional level, he claimed a pair of titles on the Professional Bowlers Association Tour, four wins on the PBA50 Tour and was named the PBA50 Player of the Year during the 2003 season.
Chamberlain was inducted to the USBC Hall of Fame in 2005 in the Veterans category.
When Chamberlain returns to the Open Championships next year in Las Vegas, he'll see his name alongside many of those he got to know throughout his bowling career. It's a spot he appreciates, and he's enjoyed the trip to earn his place among the sport's most decorated competitors.
"It's a milestone I never really expected, but now that I'm there, I can't think of anything more special in this game," Chamberlain said. "To be enshrined with some of the greatest bowlers in the world means a lot to me."
Visit us on Facebook at the
official USBC Open Championships page
.