Champions crowned at 2014 USBC Senior Championships
July 09, 2014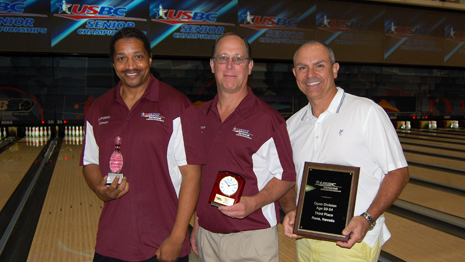 2014 USBC Senior Championships: Photos | Results

RENO, Nev. -
Herman Ferguson of Los Angeles was one of 12 champions crowned at the 2014
United States Bowling Congress Senior Championships
, and he earned his title with a clutch performance in his final frames at the National Bowling Stadium.
Ferguson qualified for the medal round of the Open Division's 50-54 category on top of the standings with a 1,441 total for six qualifying games, and he found himself in good position to retain the top spot after firing a 270 in his second game Wednesday night.
Don Griffin of St. Louis, who started the three-game medal round in fourth place, made a late charge and finished with a 290 game for a 732 series. The effort forced Ferguson to strike on his final four deliveries to secure the victory. He finished with a 687 series and 2,128 total for his nine games, just 10 pins ahead of Griffin (2,118).
"I missed a bunch of 10 pins and put myself in a situation I shouldn't have been in," said Ferguson, a 51-year-old right-hander making his USBC Senior Championships debut. "Don bowled great, and I had to refocus and move up a little on the lane to cut down on the corner pins. It was a great experience. I got to meet a lot of good people and made a lot of friends. That's what it's all about. This is a great tournament, and it means a lot to win. I would be honored if I made it back next year."
The 2014 Senior Championships featured two divisions - Open and Women's - with six age classifications (50-54, 55-59, 60-64, 65-69, 70-74, 75 and Above).
All competitors bowled six qualifying games over two days, after which the field in each category was cut to the top six bowlers, who returned to the NBS on Wednesday evening for the medal round. All pinfall carried over, and winners were determined by their nine-game totals, which included handicap.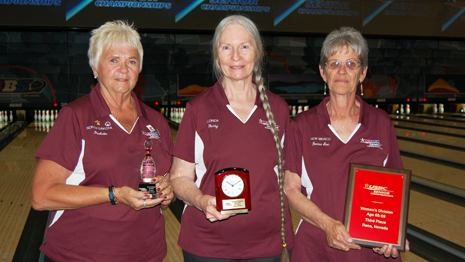 In the 65-69 classification of the Women's Division, Paulette Swartz of Grand Forks, N.D., turned her fourth Senior Championships appearance into her most memorable as she captured her first title at the event.
The 70-year-old right-hander, who qualified for the 2014 event while she was 69 years old, finished second in Division C in 2008 and entered Wednesday's medal round at the top of the standings.
The momentum carried into her final three games, and she finished with a nine-game scratch total of 1,576. She received 63 pins of handicap per game and topped the field with 2,143.
"I'm so excited," Swartz said. "How do you explain winning first place at a national tournament? It's absolutely wonderful. I really felt good today and worked really hard."
Other winners in the Open Division include: Ages 55-59 - Patrick Foley, Sparks, Nev.; Ages 60-64 - Alex Inglet, Preston, Idaho; Ages 65-69 - Randall Morgan, Burkesville, Ky.; Ages 70-74 - Rick Aldous, Winnipeg, Manitoba, Canada; Ages 75 and Above - George Vice, Turner, Ore., 2,358.
Additional titles in the Women's Division went to: Ages 50-54 - Amy Neron, New West, British Columbia, Canada; Ages 55-59 - Clarita Laje, Milpitas, Calif.; Ages 60-64 - Jennie Nubie, Daly City, Calif.; Ages 70-74 - Marilyn Marshall, Deatsville, Ala.; Ages 75 and Above - Jackie McLellan, Sarnia, Ontario, Canada.
Top prizes ranged from $900-$1,150. Each winner received a crystal bowling pin, runners-up earned commemorative clocks and third-place finishers received plaques.
The 2014 Senior Championships is a national event for bowlers who qualified through their state's senior tournament. This year's event featured more than 400 participants from across the United States and Canada vying for a share of a prize fund of more than $40,000.