Champions crowned at 2014 XBowling ISC
April 18, 2014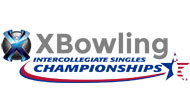 RENO, Nev. -
Webber International's Diana Zavjalova and Wichita State's Francois Lavoie took home individual titles at the
2014 XBowling Intercollegiate Singles Championships
on Friday.
Zavjalova, the 2013 United States Bowling Congress Queens champion, defeated Wichita State's Tannya Roumimper, 290-247, to claim the women's title at the Reno-Sparks Convention Center, while Lavoie outlasted Midland's Perry Crowell, 217-188, to take home the hardware on the men's side.
CBS Sports Network will air the semifinals and finals for the women on May 6 at 8 p.m. Eastern, while the men's broadcast will be on May 13 at 8 p.m. Eastern.
Zavjalova nearly put on a perfect performance in the semifinals, starting with the first 10 strikes before leaving a 10 pin in her victory over Nebraska's Elise Bolton, 289-153. In the finals, the strikes kept coming for Zavjalova as she fired the last 11 strikes to claim the title over Roumimper.
The Webber International senior was inspired by her teammates after a disappointing showing at the XBowling Intercollegiate Team Championships on Wednesday.
"Two days ago I was very disappointed because we struggled as a team," said Zavjalova, who was part of Webber International's championship team in 2012. "That motivated me to bowl well here. I wanted to win for my team, because I knew they were behind me all the way. I heard them cheering after every shot. It was a great way to end my college career."
Lavoie stayed clean for both of his matches, which included split conversions in the seventh and ninth frames of the championship match. Crowell got back in the match after two early opens, but a 4 pin in the ninth frame ended his run at the title.
After just missing the finals of the ITC on Thursday night, Lavoie was happy to share the title with his teammates.
"We took about half an hour to deal with what happened yesterday," said Lavoie, a junior who made his third ISC appearance. "We just had to accept it and move on. That's all you can do. It means a lot to bring the title back to Wichita State. Every title is a team title. We do everything as a team, so this isn't just for me. This is for the whole team. "
In the other women's semifinal, Roumimper defeated teammate Heather Melvin, 203-184, to advance to the finals for the second consecutive year. On the men's side, Lavoie eliminated Webber International's Gabriel Garcia-Rinelli, 244-206, while Crowell struck on his first shot in the 10th to advance past Notre Dame-Ohio's Chris Via, 201-183.
XBowling is the title sponsor of the collegiate national championships. XBowling is a first-of-its-kind bowling app that empowers bowlers to connect and compete using their smart phone or tablet devices while bowling within XBowling enabled centers locally, across the country and around the world.  The XBowling platform allows bowlers to enter challenges, view live scoring, and compete remotely while bowling.
2014 XBOWLING INTERCOLLEGIATE SINGLES CHAMPIONSHIPS
Friday's results
At Reno-Sparks Convention Center, Reno, Nev.MEN

Semifinals
Francois Lavoie, Wichita State def. Gabriel Garcia-Rinelli, Webber International, 244-206
Perry Crowell, Midland def. Chris Via, Notre Dame-Ohio, 201-183
Final
Lavoie def. Crowell, 217-188
WOMEN

Semifinals
Tannya Roumimper, Wichita State def. Heather Melvin, Wichita State, 203-184
Diana Zavjalova, Webber International def. Elise Bolton, Nebraska, 289-153
Final
Zavjalova def. Roumimper, 290-247