Champions crowned at 2016 ISC
April 23, 2016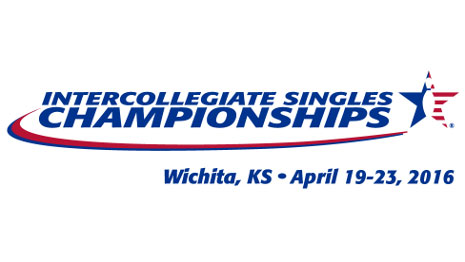 WICHITA, Kan. -
Hastings junior Emily Eckhoff and Robert Morris-Illinois freshman Daniel Hanson captured individual titles Saturday at the
2016 Intercollegiate Singles Championships
.
Eckhoff defeated Fairleigh Dickinson's Morgan Brown, 227-222, at Northrock Lanes to become the first player in ISC history to repeat as champion, while Hanson defeated San Jose State's Darren Tang, 203-174, to garner the men's title.
CBS Sports Network will air the semifinals and finals for the women May 10 at 9 p.m. Eastern, while the men's broadcast will be May 17 at 9 p.m. Eastern.
In contrast to last year's victory, Eckhoff had to come from behind to repeat.
Brown could have doubled in the 10th frame to shut out Eckhoff, but she only was able to strike on her first offering. Eckhoff, who made a ball change earlier in the game, calmly doubled in the final stanza to capture her second consecutive ISC crown.
"This is the greatest feeling ever," said Eckhoff, who was selected as a National Collegiate Bowling Coaches Association Second Team All-American. "I knew I needed to come out aggressive, especially after making a ball change. Once I made that ball change, I knew I needed to throw the best shots of my life. And, I accomplished it this time. This is the greatest feeling ever, and I'm still shocked by it."
Eckhoff earned her spot in the finals by defeating Webber International's Tawni Vollmer, 208-188, in the semifinals, while Brown bested Stephen F. Austin's Stephanie Schwartz in the other semifinal, 210-162.
In the men's title match, Hanson struggled early with opens in two of the first three frames, but a timely ball change, and back-to-back opens from Tang in frames eight and nine, provided Hanson the chance to shut out Tang for the win. Hanson delivered two strikes in the 10th frame to seal the ISC victory.
"I just tried to stay as calm as I could," said Hanson, who rolled a 300 game during ISC Sectional qualifying to earn his spot in Wichita. "Obviously, you look up at the scoreboard when you're in that situation, and I saw I could get the ninth, and two in the 10th (frame), to pretty much lock it up as long as I stayed behind the line on the third one. So, I just said 'calm down and throw the best shots of your life.'"
Hanson defeated UNLV's Dallas Leong in his semifinal match, 212-180, opening the contest with four strikes in the first five frames to set the tone. In the other men's semifinal match, Tang survived a late scare from Robert Morris-Illinois' Kenny Ryan to advance, 218-205.
2016 INTERCOLLEGIATE SINGLES CHAMPIONSHIPS
Saturday's results
At Northrock Lanes, Wichita, Kan.

MEN

Semifinals
Darren Tang, San Jose State def. Kenneth Ryan, Robert Morris-Illinois, 218-205
Daniel Hanson, Robert Morris-Illinois def. Dallas Leong, UNLV, 212-180
Final
Hanson def. Tang, 203-174
WOMENSemifinals
Emily Eckhoff, Hastings def. Tawni Vollmer, Webber International, 208-188
Morgan Brown, Fairleigh Dickinson def. Stephanie Schwartz, Stephen F. Austin, 210-162
Final
Eckhoff def. Brown, 227-222