Champions crowned at 2017 Intercollegiate Singles Championships
April 22, 2017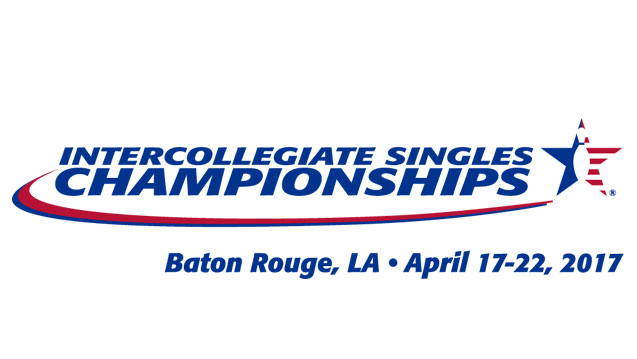 RESULTS

BATON ROUGE, La. -
Just days after being named National Collegiate Bowling Coaches Association (NCBCA) Most Valuable Players for the 2016-2017 season, Midland's Nick Pate and Wichita State's Sydney Brummett capped their impressive seasons with wins in their respective divisions at the
2017 Intercollegiate Singles Championships
.
Pate recorded the win at the Raising Cane's River Center on Saturday with a 214-199 victory over Lindenwood's Bryan Dragotta, and Brummett delivered a 225-170 win in the title match against Webber International's Taylor Bulthuis.
Both shows were taped for broadcast and will air in May on CBS Sports Network. The women's singles show will be broadcast May 2 and 8 p.m. Eastern, and the men's championship round will air May 9 at 8 p.m. Eastern.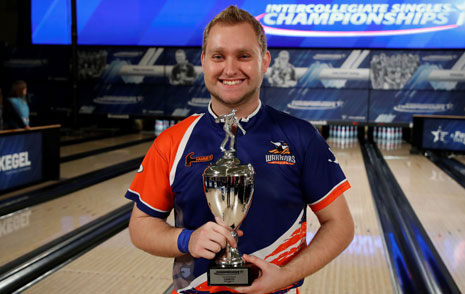 The men's championship match came down to the final frame as Pate had the opportunity to shut out Dragotta with a mark after delivering three consecutive strikes leading into the 10th, including a ball change on the left lane in the eighth frame.
Pate's first offering in the 10th frame resulted in a 4-6-7 split, which he was unable to convert, giving Dragotta the opportunity to double for the win.
"I thought the two shots prior on the left lane weren't that bad, and they hooked early," said Pate, a senior and two-time NCBCA First Team All-American. "I decided I needed more length, trusted my equipment and tried to make a good shot, which happened in the eighth. I need to be sharper when I have the chance to close things out, which comes with experience."
Dragotta's first shot sailed right of target, resulting in a 1-2-4-8 combination, as Pate collected the first title for the Midland men's program. He helped Midland to a runner-up finish at the 2015 Intercollegiate Team Championships.
"It's been a great week, and I really owe this win to my teammates," said Pate, who was named the most valuable player at the 2015 ITC. "They've trusted in me, supported me and believed in me. Without them, none of this would have been possible."
In the men's semifinals, Pate started with six strikes in his first seven frames on his way to a 232-201 victory over Fresno State's Joshua Taylor. Dragotta, the top qualifier in the men's field, earned his spot in the finals by defeating teammate and 2015-2016 NCBCA Most Valuable Player Michael Coffey, 213-165.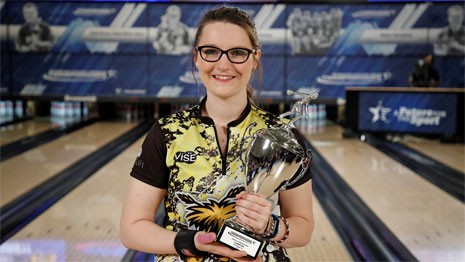 Brummett gained an early lead in the women's championship match after a second-frame open from Bulthuis, and Brummett added four consecutive strikes in frames five through eight to build her lead and collect a fourth ISC title for the Wichita women's program.
"On this pattern, it was very important for me to control the pocket and get my ball to face up the right way in the midlane," said Brummett, a junior and three-time NCBCA All-American. "I saw my ball face up the wrong way (to start the semifinals), so I switched to a different ball with a smoother shape, and it worked out."
After a runner-up finish at the 2016 ITC, the Wichita State women fell short of a return to the championship round. Brummett quickly thanked her teammates, while claiming the individual win for them.
"This means the world," Brummett said. "I really wanted this for my teammates. We go to practice every day and work for the Helmer Cup, but we didn't get to take that home this year, so I feel that taking home this win is for all of them. We push each other every single day, and it's great to share it with them."
Brummett defeated Stephen F. Austin's Stephanie Schwartz to advance to the championship match, 206-196. Schwartz also made it to the semifinals of the 2016 ISC.
Bulthuis fired five consecutive strikes in the middle of her semifinal match against top seed Jacqueline Rhoda of Maryland Eastern Shore to advance, 233-213.
The 2017 ISC featured 24 men and 24 women who earned their spots in the field by qualifying through one of four sectional events held throughout the country in March.
Competition at the River Center this week consisted of six qualifying games to determine seeding for the single-elimination match-play bracket. Bracket matches featured three games with total pinfall determining the winner leading up to the semifinals.
BOWL.com's
BowlTV
provided live coverage of the event leading up to the televised finals.