Champions decided at 2016 ITC
April 23, 2016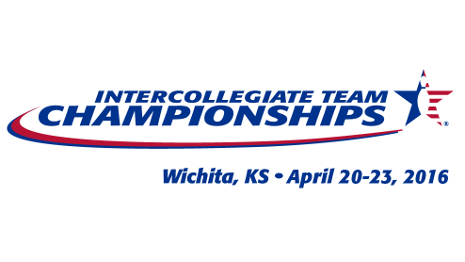 WICHITA, Kan. -
The McKendree men and the Webber International women claimed titles Saturday at the
Intercollegiate Team Championships
.
McKendree defeated William Paterson, 3-2, in the best-of-five title match to capture the program's first Intercollegiate Team Championships title. On the women's side, Webber International knocked off Wichita State, 3-1, to raise the Kerm Helmer Cup.
CBS Sports Network will air the women's championship match May 24 at 10 p.m. Eastern, while the men's final will be shown June 4 at noon EDT.
William Paterson jumped out to an early 2-0 lead and found itself one game away from earning the school's second national title, and first since 1992. But, McKendree seized the momentum in the third and fourth games, capturing 213-152 and 225-190 victories, respectively.
"Being down 0-2 was no different than what we experienced during the entire tournament," said senior Riley Smith, who was a member of the 2013 ITC runner-up team. "In match play, you're going to win games, and you're going to lose games, but it just matters when it is. We happened to lose the first two games, but we win the next three. We happened to lose the first two against Webber (yesterday), but that's OK, we can win games, too. That's the mindset we have, and we understand that."
In Game 5, McKendree held a 24-pin lead after five frames, before William Paterson threw three consecutive strikes in frames six, seven and eight. The Bearcats countered with four strikes of their own before an open in the ninth frame gave the Pioneers a slim chance at victory.
William Paterson sophomore Jake Rollins needed to strike out in the 10th frame to force McKendree to strike or spare in the final frame to claim victory. Rollins left a 2 pin on the first offering, which he spared and followed with a strike on the fill shot. McKendree needed just nine pins in the 10th frame from sophomore Greg Young to secure the program's first national championship, and Young delivered a strike to record the win.
"This means everything," said head coach Dennis Knepper, who is in his eighth season at the helm. "They were getting up and going to workouts at 6 a.m., having practice until 6 p.m. and keeping their grades up. They committed to what we were looking for. This is a great group of kids. Plus, it's been a blessing having Bryan and Shannon (O'Keefe) onboard because they want the same thing I want."
The McKendree team featured Smith, Young, Shawn Bibee, Billy Goodman, Alex Martin, Ryan Mooney, Ryan Patterson and James Stanley.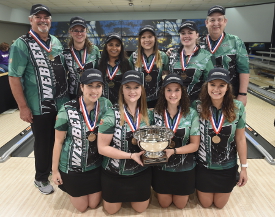 In the women's final, Webber International struggled out of the gate, dropping the opening game to Wichita State, 207-177, but evened the match in Game 2, 230-215. Game 3 would prove to be the difference as Webber's Tawni Vollmer stepped up in the 10th frame and tossed a double to seal a victory, 203-196.
"I think team-wise that was the definitely the momentum we needed," said Vollmer, who claimed her first ITC title with Robert Morris-Illinois in 2014. "I think, personally for me, doing that, and knowing I could do it for my team, was really what I needed to do. So, I think just being together as one, and obviously the momentum going into that game, was what did it for us.
"It's just unreal. Truly a team effort. I'm so proud to be able to call these girls my teammates. I'm so proud I could step up and be there for them just as much as they've been there for me throughout the entire season."
The Shockers, looking for their 10th ITC title and first since 2009, began Game 4 with hopes of extending the match, struck in four of their first five frames. But, Webber had other plans. Despite an open in the first frame, the Warriors struck in seven of the next eight frames on the way to a 238-213 victory and their third ITC title.
"It's a great feeling of accomplishment and hard to express into words," head coach Randy Stoughton said. "They work so hard to do what they came here to do, and to see them perform when it means the most, as a coach, is the most rewarding thing. I can't tell you what this group means to me. I just love them. They've worked so hard, they're good people and great bowlers."
The Webber team included Vollmer, Taylor Bulthuis, Verity Crawley, Rebecca Czlapinski, Desiree Negron, Daria Pajak, Kelly Skalacki and Tania Yusaf. 
Jessica Mellott of McKendree and Jake Rollins of William Paterson were the tournament's most valuable players.
Joining Mellott on the women's all-tournament team were Crawley, Thashaina Seraus of Maryland Eastern Shore, Daria Kovalova and Laura Plazas of Wichita State.
Joining Rollins on the men's all-tournament team were McKendree's Smith and Young, followed by AJ Chapman of Wichita State and Nick Pate of Midland.
2016 INTERCOLLEGIATE TEAM CHAMPIONSHIPS
Saturday's results
At Northrock Lanes, Wichita, Kan.

MEN'S CHAMPIONSHIP
McKendree def. William Paterson, 3-2 (138-223, 181-202, 213-152, 225-190, 200-188)
WOMEN'S CHAMPIONSHIP
Webber International def. Wichita State, 3-1 (177-207, 230-215, 203-196, 238-213)