Champions determined at 2014 XBowling ITC
April 18, 2014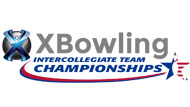 RENO, Nev. -
The Robert Morris-Illinois women and Lindenwood men captured national titles at the
2014 XBowling Intercollegiate Team Championships
on Friday.
Robert Morris-Illinois swept Pikeville, 3-0, to claim its first Kerm Helmer Cup, while Lindenwood eliminated Urbana, 3-0. CBS Sports Network will air the women's championship match May 20 at 8 p.m. Eastern, while the men's final will be shown May 27 at 8 p.m. Eastern.
Despite an ominous pocket 7-10 to start the finals, the Robert Morris-Illinois women battled back in the opener to even the match going into the 10th frame. Robert Morris-Illinois senior Samantha Kelly delivered two strikes to clinch the first game, 196-184.
"I trusted my line and my shot and knew I had eight girls behind me," Kelly said. "So no matter what I did, they would have my back the next game."
Robert Morris-Illinois cruised to victories of 192-167 and 213-163 in the best-of-five format to claim its first ITC title.
"We trusted ourselves, made our shots and filled frames," Robert Morris-Illinois graduate student Lori Hanken said. "This is a dream come true. When we got on this stage, it was our time and this is what we were waiting for. We were going to go and take it, and that's exactly what these girls did."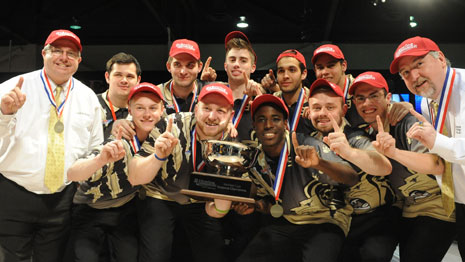 The Lindenwood men edged out the first two games against Urbana in the 10th frame, with victories of 204-202 and 200-195. In game three, Lindenwood got out to an early lead and never looked back in a 201-167 win as they claimed their second ITC title.
"Getting through the first two games was all about covering our spares," Lindenwood senior Joey Petzoldt said. "It was a huge team effort on our part, and we bowled the best that we could, especially today. The feeling of being a national champion is unbelievable, especially in your senior year. We couldn't ask for anything else."
Lindenwood avoided mistakes on its way to its first men's ITC title since 2005, only opening two frames over the course of the finals. Several close calls in previous ITC appearances made the victory Friday for Lindenwood extra special.
"It is sweeter the second time around," Lindenwood head coach Randy Lightfoot said. "We won in 2005, but since then we've been third four times. We were that close to making the TV show, so this is extra sweet. They're a really unselfish group who showed a lot of maturity and started coming around at the right time. I'm just so happy we could bring it back home."
Pikeville's Katelyn Simpson and Urbana's Graham Fach were named the tournament's most valuable players.
Joining Simpson on the women's all-tournament team was Kelly, Hanken, Brittany Smith of Grand View and Brianna Larson of Pikeville. Fach was joined by Perry Crowell of Midland, Darren Tang of San Jose State, Kyle Sherman of Lindenwood and 2014 ISC champion Francois Lavoie of Wichita State.
The XBowling Intercollegiate Team Championships featured the top 16 men's and top 16 women's college bowling teams in the country vying for national titles. All 32 teams competed in best-of-seven, double-elimination match play in the Baker format Wednesday and Thursday until the field was pared down to the finalists in both the men's and women's divisions.
XBowling is the title sponsor of the collegiate national championships. XBowling is a first-of-its-kind bowling app that empowers bowlers to connect and compete using their smart phone or tablet devices while bowling within XBowling enabled centers locally, across the country and around the world.  The XBowling platform allows bowlers to enter challenges, view live scoring, and compete remotely while bowling.
2014 XBOWLING INTERCOLLEGIATE TEAM CHAMPIONSHIPS
Friday's results
At Reno-Sparks Convention Center, Reno, Nev.MEN'S CHAMPIONSHIP
Lindenwood def. Urbana, 3-0 (204-202, 200-195, 201-167)
WOMEN'S CHAMPIONSHIP
Robert Morris-Illinois def. Pikeville, 3-0 (196-184, 192-167, 213-163)