Champions determined at 2015 XBowling ITC
April 18, 2015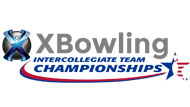 WICHITA, Kan. -
The Wichita State men and North Carolina A&T women were victorious at the 2015 XBowling
Intercollegiate Team Championships
on Saturday.
In the men's final, Wichita State swept Midland in the best-of-five title match, 3-0, to record the program's 11th Intercollegiate Team Championships win. On the women's side, North Carolina A&T bested defending champion Robert Morris-Illinois, 3-1, to raise the Kerm Helmer Cup.
CBS Sports Network will air the women's championship match May 18 at 7 p.m. Eastern, while the men's final will be shown May 25 at 7 p.m. ET.
The Wichita State men grinded out the opening game, 169-129, before starting the second game with seven consecutive strikes on their way to a 275-167 win. The Shockers grabbed the early lead in game three and never looked back despite back-to-back splits in the fourth and fifth frames, capping the title run, 210-166.
"We bowled unbelievable this week," Wichita State junior AJ Chapman said. "We stuck to our plan all week and just made awesome shots to get here. It's crazy. We all came to Wichita State for this moment. The feeling hasn't sunk in yet."
The win in 2015 also marks the second title captured by Wichita State at Northrock Lanes. The Shockers took home the 2008 ITC at the 48-lane center.
"It's great for our school and community to get to share this title," Wichita State head coach Gordon Vadakin said. "We feel so lucky to compete in this environment. We had such a great crowd and supportive bowling community behind us today, and to see so many of them rooting us on was an exhilarating feeling."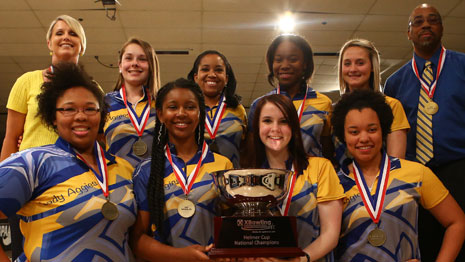 In the opening game of the women's title match, North Carolina A&T missed two single-pin spares as they fell to Robert Morris-Illinois, 202-201. The Aggies' spare shooting improved in the following games as they took the momentum with wins of 182-162 and 198-163.
"I told them to just be who they've been all year and that we got that one out of the way," North Carolina A&T head coach James Williams said. "The nerves were there the first game, but they started making better shots and taking care of spares from there."
In game four, Robert Morris-Illinois senior Leea Haworth posted three strikes in the 10th frame to force North Carolina A&T to mark with count to secure the title. Sophomore MacKenzie Robinson delivered a strike in her first offering, and sealed the program's first ITC win with a nine count, 195-190.
"That was amazing," Robinson said. "I was talking with coach before stepping up and he just kept telling me to give him 20 (pins). All of the girls were telling me to give them the first one. I owed it to them and myself. It was the best shot I threw all day. We get to go back with the trophy and showed that we can deliver on a big stage."
Daria Kovalova of Wichita State and Nick Pate of Midland were named the tournament's most valuable players.
Joining Kovalova on the women's all-tournament team was Haworth, Emily Strombeck of North Carolina A&T, Katelyn Simpson of Pikeville and Caitlin Hoffman of St. Francis-Illinois.
Pate was joined on the men's all-tournament team by Chapman, Mitch Katic of Calumet, Cristian Azcona of Lindenwood and Cameron Weier of Robert Morris-Illinois.
The XBowling Intercollegiate Team Championships featured the top 16 men's and top 16 women's college bowling teams in the country vying for national titles. All 32 teams competed in best-of-seven, double-elimination match play in the Baker format Thursday and Friday until the field was pared down to the finalists in both the men's and women's divisions.
For more information on the 2015 XBowling Intercollegiate Team Championships, visit
BOWL.com/ITC
.
XBowling is the title sponsor of the collegiate national championships. XBowling is a first-of-its-kind bowling app that empowers bowlers to connect and compete using their smart phone or tablet devices while bowling within XBowling enabled centers locally, across the country and around the world. The XBowling platform allows bowlers to enter challenges, view live scoring, and compete remotely while bowling.
2015 XBOWLING INTERCOLLEGIATE TEAM CHAMPIONSHIPS
Saturday's results
At Northrock Lanes, Wichita, Kan.

MEN'S CHAMPIONSHIP
Wichita State def. Midland, 3-0 (169-129, 275-167, 210-166)
WOMEN'S CHAMPIONSHIP
North Carolina A&T def. Robert Morris-Illinois, 3-1 (201-202, 182-162, 198-163, 195-190)