Champions determined in U20 division at 2023 Junior Gold Championships
July 13, 2023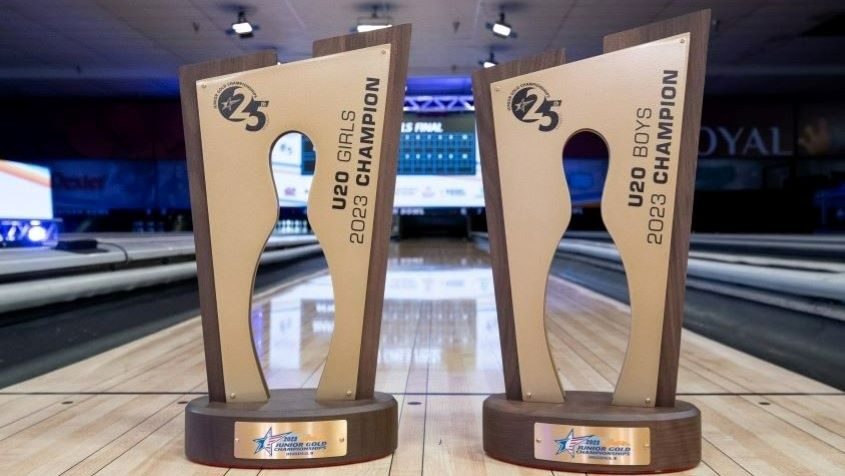 INDIANAPOLIS –
Carter Street and Jenna Stretch each collected their first titles in Junior Gold Championships competition by winning the boys and girls titles respectively in the 20-and-under division of the
2023 Junior Gold Championships
Thursday at Royal Pin Western.
Street of Dublin, Ohio, and Stretch of Auburn Township, Ohio, were the top seeds for the finals which were taped by CBS Sports Network and will air Tuesday, Aug. 29, at 7 p.m. Eastern.
Street won his title match over Julian Salinas of Richmond, Texas, 204-201, while Stretch defeated Jillian Martin of Stow, Ohio, 235-214.
Street's title match against Salinas pitted a pair of current Junior Team USA members against each other, and it ended in stunning fashion.
Salinas, a junior on the bowling team at Savannah College of Art and Design-Savannah, grabbed the early lead by starting the match with strikes in each of the first four frames. Both players suffered open frames in the fifth when each was unable to convert 4-6-7 splits.
Salinas would strike in the sixth frame and convert three consecutive single-pin spares in frames seven through nine. Street, who enters his sophomore season with the Wichita State University bowling team this fall, struck in the sixth, converted a spare in the seventh, then strung together three consecutive strikes in frames eight, nine and on his first shot in the 10th. He then left the 4-6 split on his second shot in the 10th and finished with 204.
That left Salinas needing a mark in the 10th to secure the win. He left the 10 pin on his first shot in the 10th and then missed the spare, sending his ball into the gutter before it reached the 10 pin. Salinas stood at the foul line with a look of disbelief and despair on his face as Street sat stunned in his seat, trying to process his victory.
"Julian is a great player and I feel like he bowled better than me in that match," Street said. "I can't speak as to what happened on that spare. I don't know. I just know that he's a great player and I never expected that he would miss in that situation."
Late in Thursday's match play competition, leading up to the finals Thursday night, Salinas had to replace his spare ball after it became damaged during competition, drilling up a new one right before his final match play round, which was just a couple hours before the telecast. Still, Salinas wasn't offering any excuses.
"The new spare ball had nothing to do with it," Salinas said. "It felt the same and I made plenty of spares with it. That miss was 100% on me. I'm not mad about it. I feel great about the week I had. I'll look back on the positives from the week and not just that one moment."
Salinas, who was the #3 seed for the finals, made it to the title match by defeating #2 seed Austin Grammar of Hamersville, Ohio, in the semifinal match, 237-172.
Grammar, who will bowl his senior season at Webber International University this year, was undone by open frames in the fourth after a 4-6 split, and in the sixth and ninth when he failed to convert the 3-6-10 and a 10 pin respectively. Salinas put the match away with a pair of three-baggers in frames four through six and eight through 10.
For Street, the way the title match ended didn't lessen the meaning of the win, especially after finishing fourth and second the last two years in the U18 division of this event.
"This win means everything," Street said. "Winning this event and making Junior Team USA, that's what I came here for. To have come so close the last two years makes winning it this year even better."
While the girls title match didn't offer as much drama as the boys, it did feature an impressive performance by Stretch, who had never finished higher than 57th in her three previous attempts at the Junior Gold Championships.
"I was way calmer on the TV show than I was expecting to be," Stretch said. "I thought I was going to be really nervous, but I was actually able to just dial in and focus my eyes on the lanes and just tried to treat it as another day bowling."
Perhaps adding to Strech's comfort level was the rough start endured by Martin in the title match. After looking comfortable and confident in a 233-181 semifinal victory over Brystal Beyer, who bowls collegiately at Stephen F. Austin State University, things didn't go as planned in the championship match.
Martin, who will be a sophomore on the bowling team at the University of Nebraska this fall, suffered three consecutive splits to start the final match (4-6-7 in frame one, 2-4-8-10 in frame two and a pocket 7-10 in frame three) and was unable to convert any of them.
"Lanes can change quickly on TV under the bright lights," Martin said. "Unfortunately, things started to change for me. I tried to move around and settle in, and thought I threw a good shot in the third frame, but happened to leave a pocket 7-10. For me, at that point, I had to make a ball change and I bowled well the rest of the way."
Martin did bowl well the rest of the way, striking on every shot except the seventh frame, when she converted the 2-8 combination, and on her fill ball in the 10th.
The problem for Martin was that Stretch never let her back in the match after those early open frames. Stretch struck seven times, including a four-bagger in frames three through six, never had an open frame, and threw a double late in the match that helped seal the win.
"I came into this week not knowing I would even get to this point," Stretch said. "I just focused on hitting the pocket, making my spares and just tried to remain calm. I think I did a really good job with all of that and I'm proud of myself for that."
For Martin, a Junior Gold Championships title remains about the only thing she hasn't accomplished in a decorated youth bowling career. Her second-place finish marked her sixth top-10 finish in this event and the fourth time she's finished in the top five.
"I'm really happy with how I performed this week," Martin said. "Obviously, this is the one tournament I haven't gotten under my belt yet, so I was really determined this week. I stuck to my game plan and did a lot of really good things. I can't be mad. I can't be upset. I just need to keep moving on and keep this mentality going forward."
Like Street, Stretch, who will be a sophomore on the bowling team at Mercyhurst University, said this win means "everything" to her, as does qualifying for Junior Team USA.
"I'm very humbled and grateful for that opportunity," Stretch said. "It's a once-in-a-lifetime opportunity that not many people get to have, so I'm just really grateful for that."
T
he U20 division also served as a qualifier for automatic spots on 2024 Junior Team USA. In the boys and girls divisions, the top four qualifiers after 26 games of qualifying, the event champion, and the event runner-up
qualified for Junior Team USA 2024.
Based on those criteria, the automatic qualifiers for 2024 Junior Team USA are:
Boys Division:
Nathan Smith, Noblesville, Indiana (first after 26 games of qualifying)
Ryan Speer, Beech Grove, Indiana (second after 26 games of qualifying)
Brendan Salo, Dayton, Ohio (third after 26 games of qualifying)
Justin Bohn, Jackson, New Jersey (fourth after 26 games of qualifying)
Carter Street, Dublin, Ohio (event champion)
Julian Salinas, Richmond, Texas (event runner-up)
Girls Division:
Jillian Martin, Stow, Ohio (event runner-up and first after 26 games of qualifying)
Jaelle Hamman, Jarrell, Texas (second after 26 games of qualifying)
Jenna Stretch, Auburn Township, Ohio (event champion and third after 26 games of qualifying)
Brystal Beyer, Ogdensburg, Wisconsin (fourth after 26 games of qualifying)
*Annalise Obryant, Ball Ground, Georgia (fifth after 26 games of qualifying)
**Brianna Rogers, Florence, South Carolina (sixth after 26 games qualifying)
*Since event champion Jenna Stretch also finished third after 26 games of qualifying, Obryant makes the team as the fifth-place finisher after qualifying.
**Since event runner-up Jillian Martin also finished first after 26 games of qualifying, Rogers makes the team as the sixth-place finisher after qualifying.
BowlTV.com
carried all of the action in the U20 division live leading up to the CBS Sports Network finals.
Defending boys champion Justin Bohn of Jackson, New Jersey, was eliminated in the first round of match play Thursday morning, and defending girls champion Anna Callan of La Crosse, Wisconsin, was eliminated one round later.
Complete U20 standings and bracket results can be found by clicking
here
.
Competition in the 2023 Junior Gold Championships continues Monday with qualifying in U18, U15 and U12.