Chesapeake Bay Strikers claim 2019 USA Bowling National Championships U15 title
August 27, 2019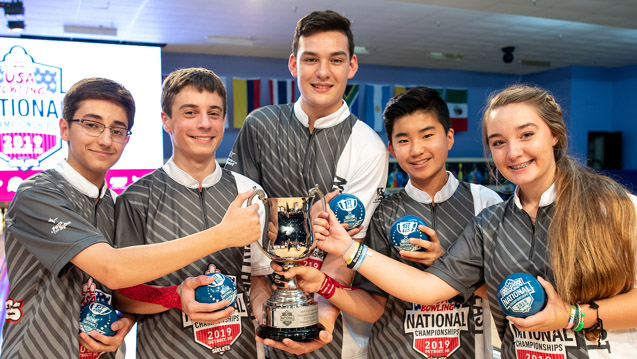 ALLEN PARK, Mich. –
A year after finishing second in their regional and missing the national tournament, the Chesapeake Bay Strikers rolled all the way to the U15 title at the 2019 USA Bowling National Championships presented by Sixlets.
CBS Sports Network
aired the best-of-five-games title match from Thunderbowl Lanes on Tuesday.
Though the Chesapeake Bay Strikers, the Northeast Region champion, swept the title match against South Central Region champion USA Bowl, Strikers coach Leo Menendez said the score  wasn't indicative of the match.
"That other team was awesome," said Menendez, who coached the team with Ed Starr. "But we have a great team, a really confident team. All of our kids can strike. I knew if we could just keep up with them, just wait for an open frame, we could capitalize on it. I knew we had a chance to win."
The Strikers bowled in the Northeast Regional last year and finished second. This year, the team went to North Carolina for the Southeast Regional and finished third, but then a few weeks later won the Northeast Regional in New Jersey.
"It's a dream come true," James Bennett said about winning the title. "We've been through so many highs and lows, ups and downs through two years, and it doesn't seem real that we are here now."
Laney Wells joined the Strikers this season after a team member aged out and said she was grateful for the opportunity.
"It honestly leaves me speechless," Wells said. "Bowling with all these guys has been amazing. They are like family and I wouldn't trade it for the world. I knew we had a shot, but I didn't know it would turn out this way."
In the opening game of the title match, each team struck on their first four shots and stayed clean through six frames.   
In the seventh frame, Wells was able to spare her 3-10 leave for the Strikers while USA Bowl's Bryant Griffith left the 6-8 split and could not convert. Griffith and Jacob Ballenger, the lead-off bowler for USA Bowl, also were teammates on the U12 runner-up teams at the 2016 and 2017 USA Bowling National Championships.
With a 10-pin lead heading into the final frame, Bennett struck out – he struck on all five of his shots in the game – to give the Strikers a 247-237 victory and a 1-0 lead.
In Game 2, open frames in the first, third and fourth by USA Bowl allowed Chesapeake Bay to build a 37-pin lead through six frames, but Wells and Nicholas Menendez had open frames for the Strikers in frames seven and eight, respectively, to give USA Bowl a spark.
USA Bowl's Ethan Gomez went strike-spare in the final frame to force Bennett to mark for Chesapeake Bay. Bennett delivered with strikes on his first two shots to give the Strikers a 2-0 lead with a 180-167 win.
Both coaches made lineup changes for Game 3, with Ellie Drescher stepping in for Matthew Reed for USA Bowl and John Banfield, who rolled the final shot of Game 2, taking over for Wells for Chesapeake Bay.
Banfield, who finished off the team's 300 game in qualifying, provided Chesapeake Bay a spark as his strike in the third frame started a string of eight strikes.
"The nice thing about John is that for 19 frames he was involved by just cheering on his teammates," coach Starr said. "He's supportive, then steps ups and gets it done."
Banfield admitted he was nervous entering the match.
"When I was needed, I got up there and made sure my hand fit in the ball because I was so sweaty," Banfield said. "I was very nervous."
Banfield, Menendez, Nate Trentler and Bennett each struck twice in the run as the Strikers took the title with a 249-207 victory.
"I love the atmosphere," Nicholas Menendez said of bowling in the Baker format. "Everybody picks each other up, everybody contributes. We bowl off each other. It's an exciting event."
Trentler said the support of the team's family and friends, and of each other, also was a key to their title run.
"That's one of our advantages," Trentler said. "We have so many people behind us. We get really loud and support one another, and it's a good advantage to have."
The USA Bowling National Championships brought together the champions from 16 regional tournaments in the U12 and U15 divisions. The 32 teams bowled 15 Baker matches in qualifying to determine seeding for the double-elimination match-play bracket. Teams bowled the best-two-of-three Baker matches to determine the teams for the national title matches.
BowlTV.com
provided livestream coverage of qualifying and the match-play bracket.
Visit
BOWL.com/USABowling
for more information on the USA Bowling program and the national championships.