Chicagoland pair takes lead in Classified Doubles at 2022 Open Championships
July 12, 2022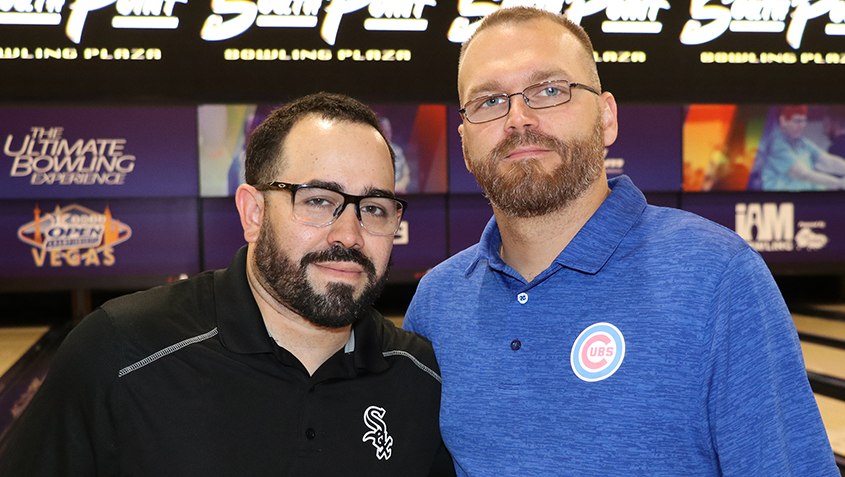 (pictured above: Miguel Sanchez of Oak Park, Illinois, and Joseph Costa Jr. of Chicago)

LAS VEGAS - If you're in Chicago or the surrounding suburbs, there's really only one question most want to know - White Sox or Cubs?

Whether there's a preference for the South Side and reminiscing about 2005, or your allegiance rolls toward the North Side and dreams of 2016, the baseball rivalry will continue to be a hot-topic conversation for family, friends and even doubles partners at the United States Bowling Congress Open Championships.

While Miguel Sanchez of Oak Park, Illinois, and Joseph Costa Jr. of Chicago proudly displayed their teams while competing together Monday at the 2022 event in Las Vegas, their alliances didn't stop them from working together to make their way to the top of the leaderboard in Classified Doubles with a 1,204 total.

The pair started quick at the South Point Bowling Plaza, combining for 490 in the first game Monday to put themselves in prime position to make a run at the leading total of 1,188 by the husband-and-wife team of Dennis and Melissa Burnham of White River Junction, Vermont.

They slowed down in Games 2 and 3, but each were able to mark in the 10th frame of the final game to secure the new leading score. Costa led the way with games of 258, 196 and 162 for a 616 series, and Sanchez added 232, 159 and 197 for 588.

"Our first game was great," said Costa, who made his 13th USBC Open Championships appearance. "We had to tough it out in our second and third game to take the lead. I didn't know the exact number, I just knew we needed to get close to 1,200, so that's what we were aiming for."


The pair had brought some momentum into doubles after helping TP's Pro Shop 10 of Cicero, Illinois, into second place in Classified Team with a 2,714 total. Alamo City PINs of Helotes, Texas, leads Classified Team at the 2022 event with a 2,788 total.

Sanchez had led the team effort Sunday with a 646 series, and Costa added 564. They were joined by David Luna (518), Roberto Rodriguez (513) and Alix Luna (473).

Both Sanchez and Costa recently have returned to the Open Championships after some time away from the event, but their last appearance together at the tournament in 2011 at the National Bowling Stadium resulted in the same type of excitement fans typically expect at the Crosstown Classic.

Sanchez captured the Classified All-Events title that year in Reno, while Costa finished in 12th place. Sanchez also collected top-10 finishes in Classified Singles (fifth) and Classified Team with Costa (ninth).

While it has been more than 10 years since that run, the pair still appreciates what it means to be back in that position at the Open Championships.

"We caught a lot of breaks, but we were able to capitalize on them," said Sanchez, who made his third tournament appearance. "It'd mean a lot (if we held on to win). Anytime you can do something like this is great, and it's good to do it with friends."

Costa also moved into third place in Classified All-Events, adding 605 in singles for a 1,785 total. Andrew Hall of Safety Harbor, Florida, leads with 1,857.

Sanchez slowed down in singles in the Standard Division, wrapping his event with 505 for a 1,739 total. Dustin Sword of Rittman, Ohio, leads Standard All-Events with 1,994.

Although both the White Sox and Cubs are performing below their early expectations this season, bragging rights always serve as a sweetener. Costa enjoyed joking about leading the way as they look ahead to see if their score will hold by the end of the 2022 event July 18.

"Not many people have won Eagles, so it'd be a big achievement," Costa said. "And, a Cubs fan had to carry the Sox fan to the lead."

Classified Doubles features pairs with combined entering averages of 310 and below. The Classified Division includes bowlers with entering averages of 155 and below, while the Standard Division features bowlers with entering averages of 156-175.

Visit us on Facebook at the official USBC Open Championships page.