Class of 2023 officially inducted into USBC Hall of Fame
April 27, 2023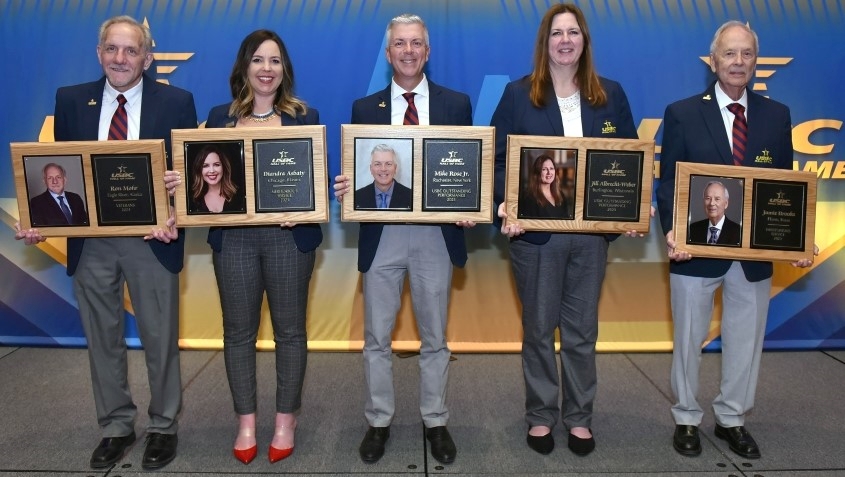 LAS VEGAS – The six members of the 2023 United States Bowling Congress Hall of Fame class were celebrated during their induction ceremony Wednesday at South Point Hotel and Casino.

Diandra Asbaty of Chicago and Dave Ferraro of Kingston, New York, were inducted in the Superior Performance category. Jill Albrecht-Weber of Burlington, Wisconsin, and Mike Rose Jr. of Orlando, Florida, were inducted in the USBC Outstanding Performance category. Ron Mohr of Las Vegas was inducted in the Veterans category and Jamie Brooks of Fort Worth, Texas, was inducted in the Meritorious Service category.

Five of the six members of the 2023 were in attendance for the ceremony Wednesday, with Ferraro unable to attend after coming down with an illness just prior to the event that prohibited him from traveling.

Asbaty, 42, excelled collegiately at the University of Nebraska, internationally with Team USA and collected wins on the professional level, including a victory in the 2012 USBC Queens.

The right-hander starred at Nebraska (1998-2002), where she was a two-time National Collegiate Bowling Coaches Association first-team All-American and helped her team win a pair of Intercollegiate Team Championships titles.

Asbaty is a two-time U.S. Amateur champion (1999 and 2006) and a 15-time member of Team USA (1999-2013), where she collected more than 50 international medals.

Success at the collegiate and amateur level led to the professional ranks and a career that was highlighted by her victory in the 2012 Queens in Arlington, Texas. That win made up for her second-place finish in the 2007 edition of the event and came at a very unique time in Asbaty's life.

"Winning the USBC Queens was really a turning point in my career," Asbaty said. "I had a 14-month-old boy at home, and I went to that event and proved to myself I could still do this on my terms. To be able to step up in the 10th and strike to win against a hall of famer – Carolyn Dorin-Ballard – that was obviously a highlight of my whole career. It proved to me that I could be a great mom and I could still be a great bowler."

Her second title on the Professional Women's Bowling Association Tour would come 10 years after her first when she captured the 2022 Professional Bowlers Association/PWBA Striking Against Breast Cancer Mixed Doubles in Houston, partnering with PBA star EJ Tackett for the win. Asbaty also collected a pair of professional titles in PBA Women's Series events while the PWBA Tour was on hiatus.

At the USBC Women's Championships, Asbaty has posted 19 top-10 finishes with a best finish of second place in the 2008 Classic Team event. She also had a fifth-place finish in Regular Team at the USBC Open Championships in 2007.

Her other accolades include winning the 1998 Alberta E. Crowe Star of Tomorrow Award, being named a two-time World Bowling Writers Bowler of the Year (2006 and 2007) and International Bowling Media Association Female Bowler of the Year (2012), and multiple Amateur Bowler of the Year awards from both the IBMA and Bowlers Journal International. She was inducted into the World Bowling Writers Hall of Fame in 2005.

Asbaty continues to inspire the next generation and serve the sport by providing lessons at her home center and as co-founder of the Elite Youth Tour.

"I imagine a little girl and her family walking through the hall of fame," Asbaty said. "And I imagine her seeing my picture, and the little girl stops and she says, 'That's the bowler that was a world champion, a mom, a change maker.' I want my legacy to be that I left bowling better than I found it."

Ferraro, a 63-year-old right-hander, left his mark during a career that saw him collect nine PBA Tour victories, including three majors.

Those majors included a pair of wins at the PBA Players Championship (1988 and 1991) and, in the most important win of his career, a victory in the 1990 Tournament of Champions at historic Riviera Lanes in Fairlawn, Ohio.

In addition to those major wins, Ferraro collected six additional PBA Tour titles between 1986 and 1994. His pair of wins in 1992, while also earning the George Young High Average Award and the Harry Smith Point Leader Award, propelled him to PBA Player of the Year honors.

Ferraro was inducted into the PBA Hall of Fame in 1997 and, in 2009, was voted 36th on the list of the PBA's 50 Greatest Players.

Although unable to attend in person, Ferraro passed along some sentiments that he asked to be shared.

"I'd like to thank the USBC for this prestigious award," said Ferraro. "When I looked at all the other nominees in my category, there wasn't anyone on that list that wasn't deserving of this award. Congratulations to all the other inductees, the honor is well deserved. For someone who grew up in the bowling business and has co-owned several bowling centers with my brother Steve, this award means the world to me. So, thank you."

Albrecht-Weber, a 54-year-old right-hander, is a three-time champion at the USBC Women's Championships.

Her first title came in 2002 when her team, High Roller-Cherry Hill, N.J., won the Classic Team title with a then-record score of 3,327. Albrecht-Weber contributed 741 to that total.

Two years later, the same team won the same title with a nearly identical total. This time, High Roller-Cherry Hill, N.J., totaled 3,320, with Weber contributing 706.

The last of Albrecht-Weber's trio of Women's Championships victories came in 2008 as she teamed with Gina Daroszewski to win the Classic Doubles title. Albrecht-Weber rolled a 697 series, while Daroszewski added 748. The team's total of 1,445 was 29 pins better than their nearest competitor.

"All the titles with my friends throughout the years, that's what's special," Albrecht-Weber said. "Those experiences were great. We had such good camaraderie. We were very honest with each other. We would help each other. We had such good experiences on the lanes and off the lanes. You need to enjoy the whole journey, the whole adventure. But then when the lights came on, we were there to bowl. We were there to win. We were all competitors."

In addition to her three Women's Championships wins, she owns 10 more top-10 finishes in her 27 appearances at the event. Albrecht-Weber also collected one professional title on the then Ladies Professional Bowlers Tour (now PWBA) and also finished sixth in the 1993 USBC Queens.

Although Albrecht-Weber has retired from competitive bowling, she continues to give back to the sport whenever she can and understands the importance bowling has played in her life.

"I feel like being part of bowling, and the successes and failures that I've had within the sport, helped me get to where I am now in so many different ways," Albrecht-Weber said. "I'm very proud of who I am and the people that I've become friends with because of bowling. This hall of fame is an accumulation of everything I've put into bowling."

Rose earned induction in his first year on the ballot on the strength of four Eagles won at the USBC Open Championships.

Rose, a 51-year-old right-hander, collected his first Open Championships victory in 2007, when he totaled 2,198 to capture the title in Regular All-Events. Rose shot 687 in team, 724 in doubles and 787 in singles (where he finished seventh).

Eagle No. 2 came in 2015 as part of Team NABR. The group captured the title in Regular Team with a 3,368 total. Rose's contribution to that was 697.

Rose's third and fourth wins at the Open Championships came in 2017, as Team NABR won titles in both Regular Team (3,266 with Rose contributing 602) and Team All-Events (9,957 with Rose adding 1,865).

"We've had such a great time together, bowling on these teams at the Open Championships," Rose said. "We're like brothers; we love each other. We talk all the time, and we have a text thread that we're on all the time with each other. So, everybody knows about each other's lives; we pay attention to each other's children. I had two sisters growing up, so it's like having a bunch of brothers now."

He owns a 219.1 average at the Open Championships over his 22 years of competition, good for second on the 20-year average list. In addition to his four Eagles, he owns 10 other top-10 finishes at the event and was runner-up for Rookie of the Year during the 1993 PBA Tour season.

For Rose, his induction represents the pinnacle of the sport.

"This is the highest honor I could receive," Rose said. "This is something I've worked my entire life for. For myself, I don't think there's anything better than this in bowling. I've always wanted to be in the hall of fame; I've dreamed about it since I was a little kid. I just kept working and practicing and was patient. I've tried to be diligent, and I've worked hard to get to where I am. Now, to get to the point in my career where I can say I'm a hall of famer, I can't think of anything better."

Mohr, a 66-year-old right-hander, owns two Open Championships titles, a senior major win at the 2011 Senior U.S. Open that is one of 11 PBA50 Tour titles, four PBA60 titles and a pair of Super Senior Classic titles.

In addition to his professional and Open Championships titles, Mohr owns numerous medals in international competition as a multi-time Team USA and Senior Team USA member.

Mohr talked about his time with Team USA being instrumental in his development as a bowler, especially the time he got to spend with legendary coach Fred Borden.

"Just to be around Fred Borden and his passion was tremendous," Mohr said. "It's not just about the game with Fred, it's about life once you get to know him. We would spend hours in the classroom with Team USA, and with Fred, and that was probably more valuable for me than the time I spent on the lanes."

Mohr's two Open Championships wins span more than 20 years, with his first win coming in 2001 as a member of Team USA Support No. 2. The group captured the Team All-Events title with a 9,807 total (Mohr's pinfall was 2,008).

His most recent win at the event came just last year as part of Storm Products Inc. 1. The team earned the championship in Regular Team with a 3,486 total. Mohr's contribution was 603.

From 2009-2019, Mohr collected 11 PBA50 Tour titles, highlighted by his win at the 2011 Senior U.S. Open where he defeated Walter Ray Williams Jr., 246-189, for his lone major title.

He is a two-time PBA50 and four-time PBA60 Player of the Year. Mohr was inducted into the Greater Anchorage Hall of Fame in 1993, the Alaska State USBC Hall of Fame in 2008 and was a 2018 inductee into the PBA Hall of Fame.

Mohr still competes regularly, and is still a threat to win, at the age of 67.

"I decided to try my career, for the most part, at a later age," Mohr said. "I did the best I could with what I had, and I think it's the greatest honor when someone says, 'What he did, that's impressive.'"

Brooks has left his mark on the sport as a bowling center proprietor, past president of the Bowling Proprietors' Association of America, tournament organizer and host, and accomplished bowler.

As a proprietor, he has put his creativity and ingenuity into action with a variety of formats and concepts. In Houston, he hosted the 1974 USBC Women's Championships at his 72-lane Stadium Lanes, and two U.S. Opens at his 74-lane Big Texan, as well as other PBA national and regional events.

He founded the Senior All-Star Bowling Association in 1990, and more than 30 events are held annually.

Brooks was recognized in 2010 as the USBC Proprietor of the Year for his longtime support of various programs, such as hosting charity events for Bowl for the Cure and developing SASBA.

In 2019, the BPAA recognized Brooks as its President's Award Winner.

"The one thing I learned after owning and running 44 bowling centers is customer service," Brooks said. "I talked to the league bowlers every night. I got to know them and made friends with them. That's what I do, I go and talk to the bowlers, and I make them my friends. And the funny thing about it is, your friends bring their friends."

Brooks has been very active at the local, state and national levels. He was one of the
founders of the Texas State Bowling Council, he supported the start of the Texas Grand Prix Scholarship Program, and he has served on countless task forces and committees.

As BPAA President from 1984-1986, he hosted numerous summit meetings to solve bowling's lane-conditioning challenges.

Brooks also is an accomplished bowler having won the 1961 Texas State All-Events title and earning a title at the 1973 Open Championships when he captured the doubles championship with partner Jimmy Paine. Brooks joined the 100,000 Pin Club at the Open Championships in 2021 and is one of 26 bowlers to accomplish the feat. He has 62 appearances at the Open Championships.

In addition to his USBC Proprietor of the Year Award and his BPAA President's Award, Brooks has been honored with the Joyce Deitch Award (2016) and the Flowers for the Living (2018) award. He was inducted into the Houston USBC Hall of Fame in 1974 and the Texas State USBC Hall of Fame in 1982.

But it's not the accolades that mean the most to Brooks.

"The best part of bowling is getting together with your friends," Brooks said. "I mean it's truly amazing. The friends that you meet from all over the world. It's great. I love it."

Now including the 2023 class, there are 452 members of the USBC Hall of Fame – 230 in Superior Performance, 126 in Meritorious Service, 54 in Veterans, 22 in Pioneer and 20 in Outstanding USBC Performance.

The USBC Hall of Fame was created in 2005 by merging the former American Bowling Congress and Women's International Bowling Congress Halls of Fame.

Visit BOWL.com/HallofFame for more information on the USBC Hall of Fame.