Johnson wins gold, Clemmer bronze in singles at 2023 Pan American Games
November 05, 2023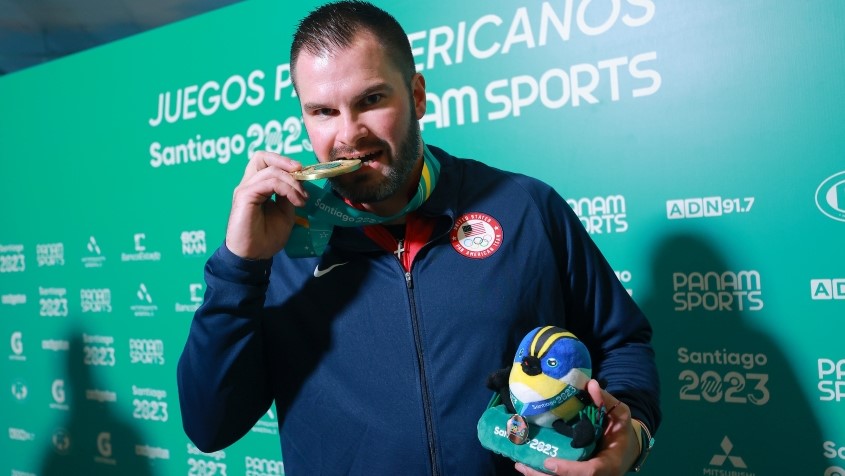 Photo courtesy of Marcos Dominguez / Panam Sports via Xpress Media
RESULTS AND INFORMATION
SANTIAGO, Chile –
A.J. Johnson of Oswego, Illinois, captured the men's singles gold medal, and Breanna Clemmer of Clover, South Carolina, took bronze for the women on the final day of bowling competition at the 2023 Pan American Games.
Johnson put on quite a show at Plaza Vespucio Centro de Bowling on Sunday, averaging 245.83 during his six games across the semifinals and finals.
He started his day with games of 204, 228 and 248 en route to a 680-666 semifinal victory over Costa Rica's Marco Moretti.
However, that was nothing compared to what the powerful right-hander had in store for the gold-medal match against No. 1 seed Mitch Hupe of Canada.
Johnson blistered the lanes during the battle for gold, shooting 239, 300 and 256 for a 795 series that included 28 of a possible 36 strikes.
He needed them too as Hupe did plenty of striking of his own.
In fact, the Canadian actually held the upper hand in the early going as he bested Johnson's opening 239 with a 269 of his own to establish a 30-pin lead after Game 1.
Hupe was nearly just as good during Game 2, striking 10 more times to post a score of 267 and run his two-game series up to 536.
But Johnson was even better, striking on all 12 of his deliveries to record the 300 – the only one of the 2023 Pan American Games – and take a 539-536 lead into the final game.
Both bowlers began that game with strikes, but the tide would turn in Johnson's favor shortly thereafter when the right lane began giving Hupe major problems.
The Canadian opened during each of his first three frames on the right lane in Game 3, leaving the 2-4-8-10 split in the second frame, the 4-6-10 in the fourth and then chopping the 6-10 in the sixth.
Johnson, meanwhile, remained firmly locked in, starting the final game strike, spare, spare, seven-bagger before a pocket 7-10 ended his string, and bid for an 800 series, on the second shot in the 10th frame.
The bad break was of little consequence, however, as Johnson had already salted away the victory, the Pan American Games men's singles title and the gold medal thanks to a Game 3 score of 256.
Hupe concluded his set with 191 to finish with a 727 total and earn the silver medal.
Puerto Rico's Cristian Azcona, who fell to Hupe, 673-665, during the other men's semifinal, and Moretti both took home bronze.
Johnson's victory, while impressive, was also unlikely, not because anyone doubted his ability to win on the biggest stage, but because he wasn't originally slated to make the trip to Santiago.
Brandon Bonta of Wichita, Kansas, and Jakob Buttuff of Tempe, Arizona, were Team USA's top two qualifiers for the Pan American Games, but Butturff withdrew due to injury, which caused his spot to fall to Johnson, who qualified third.
Once he was notified that he would be replacing Butturff at the Pan American Games, Johnson was intent on making the most of the opportunity.
"This feels absolutely incredible, especially since I technically wasn't supposed to be here in the first place," Johnson said. "I was extremely grateful for the opportunity, so I just wanted to take in the whole experience as much as possible and do whatever I could to help the team get where we wanted to be at the end of the week."
Where Team USA wants to be is up on the podium collecting medals, and that is somewhere that Johnson has already found himself multiple times during his international career.
Nevertheless, he doesn't consider the gold he'll take home from Santiago as just another medal.
"The Pan American Games is like the Olympics for us, so you can't take competing here for granted because you're not guaranteed to ever have the opportunity to come back," Johnson said. "This might have been a once-in-a-lifetime chance, so this win is special and will be near the top for me for a long time."
Even though Clemmer didn't walk away with singles gold, there was no denying that she made the most of her chance as well.
Bronze was the color of the medal secured by Clemmer, whose quest for gold ended when she fell to No. 1 seed Clara Guerrero of Colombia, 678-637, during the women's singles semifinals.
The pair began that match with a 219-219 tie in Game 1, but Guerrero kept the American at arm's length the rest of the way, taking the second game by a score of 246-225 and Game 3 by a final of 213-193 to end Clemmer's bid for a second gold medal at the 2023 Pan American Games – she won her first on Thursday when she teamed up with Jordan Richard of Tipton, Michigan, to capture gold in women's doubles.
Even though Clemmer would have liked to reach the top of the podium for the second time in four days, she was hardly disappointed with her performance on Sunday.
"I think the nerves got the best of me a little bit, which caused me to not take my time and execute a few shots poorly, but I'm not going to dwell on the bad shots," Clemmer said. "It doesn't matter that I won bronze instead of gold; I just feel excited and grateful for the opportunity to have competed here because this is probably the biggest bowling stage I've ever been on. This whole experience has just been great; it's awesome."
Awesome would be an appropriate word to describe the performances authored by Johnson, Clemmer, Richard and Bonta throughout the 2023 Pan American Games.
The Americans left the competition with three of a possible six medals and gold in two of the four events that were contested.
Even though winning is hardly new for the Team USA bowling program, that doesn't mean that this week's successes will be taken for granted, especially not by head coach Bryan O'Keefe.
"We try to stress to our players that the lane never changes; it's still 60 feet from the foul line to the head pin regardless of where we are or what we're bowling," O'Keefe said. "However, in the back of your mind, you realize that the Pan American Games is a really big event, one that only happens every four years, so to be able to walk out of here with a couple golds and three medals overall is really great.
"The Pan American games isn't a bowling-specific event, so what we accomplished this week didn't just add to the Team USA bowling medal count, it added to our country's overall medal count here in Santiago, and with a couple extra golds at that, which is really special."
After topping Clemmer, Guerrero went on to win the women's singles gold medal thanks to a 687-640 victory over Team Colombia teammate Juliana Franco, who earned silver.
The reamining bronze went to Mexico's Sandra Gongora, whom Franco topped 655-605 in the other women's semifinal.
For more information on Team USA, visit
BOWL.com/TeamUSA.