Clemmer makes history, leads 2022 PWBA St. Petersburg-Clearwater Open
June 03, 2022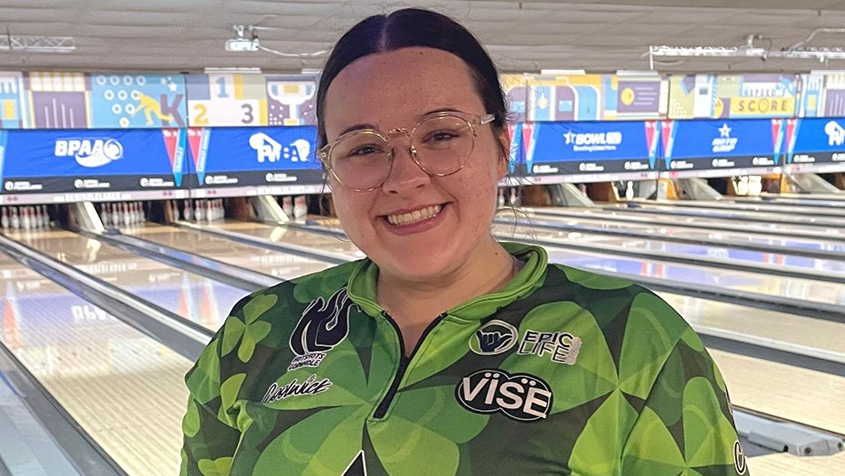 SEMINOLE, Fla.
- Breanna Clemmer of Clover, South Carolina, averaged more than 238 for 12 games Friday to take the lead at the 2022
Professional Women's Bowling Association
St. Petersburg-Clearwater Open and made history in the process at Seminole Lanes.
The 24-year-old right-hander fired games of 237, 190, 289, 300, 300 and 279 for a 1,595 six-game total during Round 2, which nearly broke the PWBA record for highest six-game block. Jackie Mitskavich set the record in Van Wert, Ohio, in 1997 with 1,630.
Clemmer had a chance to become the first woman to roll a 900 series but settled for 879 in her final three games, which was enough to set the PWBA record for highest three-game set. Mitskavich also held the three-game series record of 877 as part of her six-game record.
The United States Bowling Congress national record for highest three-game series by a woman is 890, which is held by two-time PWBA Tour champion Liz Kuhlkin of Schenectady, New York.
Clemmer began the second game of the evening with three consecutive splits, followed by a gutter and spare in the fourth frame. Despite not being comfortable, she managed to roll 190 after a helpful tip from her ball rep, Mike Wolfe, who simply encouraged her to "get the ball to two," which meant the second board on the right side of the lane.
"Honestly, I was just trying to get nine and make my spares because I was throwing it so bad," said Clemmer, who finished third at the season-opening PWBA Rockford Open. "I was not comfortable. It was very evident. When Mike said just throw it to two and settle in, I did just that and was able to get 190 out of it."
Following the 190, Clemmer took every spectator inside Seminole Lanes, including her grandparents who were in attendance, on a ride they may never forget. The rest is history, as they say.
"I just felt so comfortable," said Clemmer, who is a four-time member of Team USA. "When I'm able to just be Bre, and just do what I am known to do, everything else fades away and nothing else matters. And, that happened today. It's like I had blinders on. Nothing else mattered, but me in that moment, and I was allowed to be selfish on the lanes in that moment. It was amazing. Everything just faded away, and I was able to just settle in and be myself."
Clemmer added 1,271 in Round 1 for a 12-game total of 2,866, which moved her into the lead. Latvia's Diana Zavjalova is second with a 2,817 total, and Shannon O'Keefe of Shiloh, Illinois, is third with 2,764.
Erin McCarthy of Elkhorn, Nebraska, is fourth with 2,739, while Danielle McEwan of Stony Point, New York, rounds out the top five with 2,722.
The 93-player field was cut to the top 31 players after Friday's second round, with Kara Mangiola of Spencerport, New York, claiming the final spot with a 2,574 total, a 214.5 average.
Saturday's third round will consist of an additional six games starting at 11 a.m. Eastern, with the top 12 returning to the lanes for one more six-game round to complete qualifying. The top five players, based on total pinfall for 24 games, will advance to the stepladder finals.
The stepladder will be Sunday at 1 p.m. Eastern and broadcast live on CBS Sports Network. All qualifying rounds are being streamed live at
BowlTV.com
. The champion will earn $20,000.