Clutch finish helps team into top spot at 2015 Open Championships
April 20, 2015
EL PASO, Texas -
Former Team USA member Rob Gotchall of Clarksville, Tennessee, got to live out every bowler's dream Monday night as he delivered two clutch strikes in his final frame to catapult his team to the top of the leaderboard at the
United States Bowling Congress Open Championships
.
The 37-year-old right-hander put the finishing touches on a 783 series, the highest individual set in team competition this year at the El Paso Convention Center, to lead Team NABR of West Henrietta, New York, to a 3,368 total. Junior Team USA Support 1 of Las Vegas previously held the lead in Regular Team with 3,359.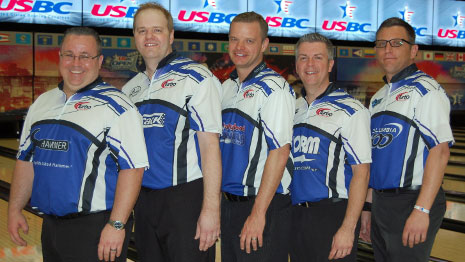 Team NABR had no room for error with three bowlers to go in the finale. Professional Bowlers Association regional standout Brian Waliczek and 2007 Regular All-Events champion Mike Rose Jr. both doubled to give Gotchall a chance to secure the lead.
"All of us have some big accomplishments and success, but to have Rob up in the 10th and knowing he has to double, you know he's going to make great shots," said Adam Barta, who recently set a Guinness record for pinfall in an hour by an individual. "He's one of the best clutch players there is, and we had all the confidence in the world in him stepping up with a shot to take the lead and potentially win an eagle."
The group finished with games of 1,057, 1,123 and 1,188, and Gotchall was followed by Rose (697), Waliczek (659), Barta (636) and former Team USA member Scott Pohl (593).
After a strong start Monday, Team NABR was in position for a huge second game. All five players struck in the ninth frame, but none of them were able to capitalize on that in the 10th frame. While the loss of momentum was disappointing, it also was motivating.
"It deflated us a little, but we knew we were where we wanted to be after two games," said Gotchall, who is one of 28 bowlers in USBC Open Championships history with more than one 300 game on the tournament lanes (2002 and 2010). "By the end of the last game, I knew we were close, and I just wanted a chance. We put this team together because thought we could have a shot to win at this tournament, and it means a lot that they had the confidence in me to throw it in that situation."
Team NABR quickly has become a proven contender at the Open Championships. The group is comprised of five bowlers with pages of individual accomplishments, but they've worked hard as a team to improve in the standings each year they've been together.
In 2013, they turned in a 3,361 performance on the way to a 33rd-place finish. Last year at the National Bowling Stadium in Reno, Nevada, they made a run at the lead and eventually finished 11th with a 3,495 total.
Now, they find themselves in an enviable position in 2015 but know they still have six games and a lot of work to do before their time in El Paso is complete.
They will be back on the lanes for doubles and singles Tuesday afternoon at 3 p.m. EDT with their sights again set on Junior Team USA Support 1, which leads Team All-Events with a 10,064 total. The Team All-Events crown goes to the team with the highest combined (all five players) all-events total.
"We are friends, we love to compete and I know we have the ability to win at the most prestigious tournament there is," Gotchall said. "We'll enjoy this a little bit tonight, but we'll definitely be ready and focused tomorrow. We know there's still six more games to go, and our job isn't finished."
Visit us on Facebook at the
official USBC Open/Women's Championships
page.