Collegiate bowler rolls 300 at the 2022 USBC Open Championships
May 01, 2022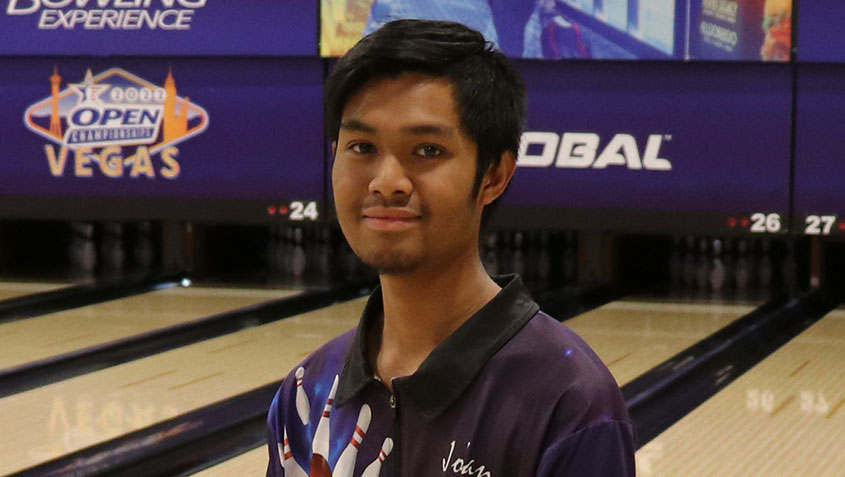 By Nick Bonsanto
USBC Communications

LAS VEGAS
- The 20th perfect game of the 2022
United States Bowling Congress Open Championships
was rolled Sunday by 20-year-old Johann Gamo of Clifton, New Jersey.
Gamo, who also is a student-athlete at William Paterson University in Wayne, New Jersey, rolled 300 during the third game of team competition at the South Point Bowling Plaza to help Matthews and Company of Yardley, Pennsylvania, to a 1,084 finish and 3,079 total in Regular Team.
Storm Products Inc. of Alva, Florida, leads Regular Team at the 2022 USBC Open Championships with a 3,486 total.
Stepping up in the 10th frame of his 300, Gamo gave himself a couple things to focus on as he looked forward to his final deliveries.
"Make a good shot," said Gamo, who made his second Open Championships appearance. "Take a few extra breaths and really just throw the best ball I can."
Gamo credits much of his recent bowling success to his college coach, Greg Hatzisavvas.
During the 2021-2022 collegiate season, William Paterson finished as the top-ranked club program in the men's division and earned a spot in last month's Intercollegiate Team Championships.
Gamo made two all-tournament teams during the regular season as well, which included an individual win at the Suffolk Tournament.
"I have to thank my coach for getting my game to where it is now," Gamo said. "After our recent collegiate tournament, coach gave me a nice accommodation. It was nice hearing from him that I improved as the season went on."
During his team event Sunday with his Matthews and Company teammates, Gamo started slow with an opening game of 142. The right-hander made the adjustments in Game 2 to finish with the final four strikes for 217 before rolling 300 in Game 3 for a 659 series.
Gamo now looks forward to bowling doubles and singles Monday at 9 p.m. Eastern and continuing his tournament career at the 2023 Open Championships in Reno, Nevada.
Teams in the Regular Division at the 2022 Open Championships have a combined entering average of 876 and above.
Visit us on Facebook at the
official USBC Open Championships page
.