Collegiate Ticker - Feb. 11, 2015
February 11, 2015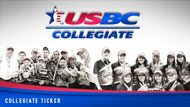 The Morehead State men and Emmanuel women picked up victories at the Norse Collegiate Classic at Super Bowl Erlanger in Erlanger, Kentucky, over the weekend.
Finishing with a total of 7,798, the Morehead State men took the title. Lindewood took second with 7,607, while Martin Methodist was third with 7,374.
On the women's side, Emmanuel finished with 6,601 to take the top spot. Lindewood was second with 6,454 and Ursuline took the third position with 6,334.
Cristian Azcona of Lindenwood paced the men's individual standings with a five-game total of 1,161. Jarden Joseph of Lindenwood was second with 1,127, Eli Haddock of Martin Methodist was third with 1,077 and Joshua Fennell of Emmanuel was fourth with 1,076.
Lindenwood's Emily Huddleston topped the women's individual standings with 1,081, while Rachael Albright of Ursuline was second with 1,001. Emmanuel teammates Ashley Crowder and Destiny Harper finished third and fourth with 990 and 988, respectively.
In other USBC Collegiate action over the weekend:
- At the Mid-South Conference Championships, the Pikeville men and women swept the titles.
- At the Wildcat Invitational in Ormond Beach, Florida, Alabama State finished with the highest pinfall in the event with 8,826.
- At the Capital Classic in Dover, Delaware, host Delaware State topped the standings with a pinfall of 11,701.
- At the Wolverine Hoosier Athletic Conference Championships, the Aquinas men and Concordia women came away with the titles.
- At the Nassau Tournament in Garden City, New York, the Nassau men and Suffolk women finished atop the standings.
- At the Eastern Intercollegiate Bowling Conference in Manalapan, New Jersey, the William Paterson men topped the seven-team field.
- At the Southwestern Intercollegiate Bowling Conference Championships in Shawnee, Oklahoma, the North Texas men and West Texas A&M women won the conference titles.
- At the Crusader Open in Dubuque, Iowa, the Ashford men and women swept the titles.
- At the South Florida Bulls Country Classic in Zephryhills, Florida, the Webber International men and women easily topped the standings.
- At the Wisconsin Collegiate Bowling Conference #4 in Madison, Wisconsin, the Whitewater men and Milwaukee women took the top spots.
- At the Trailblazer in Terre Haute, Indiana, the Calumet men and Marian came away with victories.
- At the Eagle Classic, the Lindenwood men and Emmanuel women marched to the titles.
- At the Suffolk Tournament, the Suffolk men and women swept the top spots.
For complete results,
click here
.