Collegiate Ticker - Sept. 27, 2023
September 27, 2023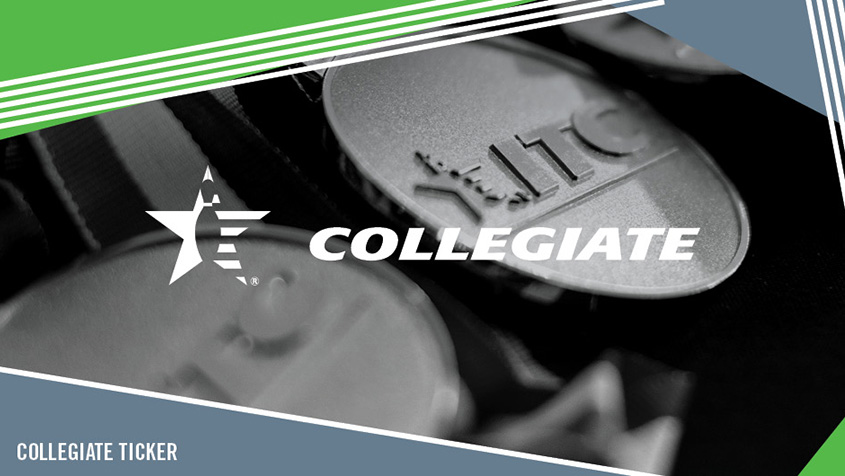 The 2023-2024 United States Bowling Congress Collegiate season continued last weekend with the Dirty Bird Classic in Jackson, Michigan, and Warrior Open in Omaha, Nebraska.
The Dirty Bird Classic featured 11 varsity teams in the men's division and 10 teams in the women's division, with the format featuring three traditional games and 20 Baker games for qualifying and a bracket for the top six teams determining the winner in each division.
On the men's side, Concordia led the way with a 7,115 total after qualifying, with Lawrence Tech right behind them at 7,068. Both universities earned an automatic bye in the bracket. The first two rounds of the bracket were best of three, while the finals were best of five.
The quarterfinals saw No. 6 Indiana Wesleyan take the match over No. 3 Spring Arbor, 2-1, while No. 5 Aquinas beat No. 4 Madonna, 2-0
In the semifinals, Indiana Wesleyan continued to win, upsetting No. 2 Lawrence Tech, 2-1, while Concordia swept Aquinas, 2-0.
The finals saw Concordia end Indiana Wesleyan's run, 3-0, to take home the win.
Jeffrey Lizewski of Concordia was the top individual performer, rolling a three-game series of 673, with Lawrence Tech's Michael Weber (651) and Spring Arbor's Caleb Tate (629) rounding out the top three.
On the women's side, Spring Arbor took a commanding lead going into the bracket, with a 6,419 total, while Concordia placed second with a 6,147 total for both teams to earn their bye.
In the quarterfinals, No. 6 Alma took the match over No. 3 Lourdes, 2-1, while No. 5 Aquinas beat No. 4 Lawrence Tech, 2-1.
The semifinals saw Spring Arbor knock off Alma, 2-1, while Concordia swept Aquinas.
Spring Arbor then swept Concordia in the finals to take home the win.
Aubrie Svilar of Lawrence Tech was the top individual performer, with a three-game total of 608, while Spring Arbor's Mikayla Ponce (600) and Concordia's Kyla Peterson (595) rounded out the top three.
In the Warrior Open, nine men's varsity teams and seven women's varsity teams competed for the tournament title, bowling five traditional games and 16 Baker games, with total pinfall determining the winner.
On the men's side, Midland started Day 1 strong, leading with a 5,264 total, with Hastings not far behind with 5,182.
Logan Gear of Midland would take top individual honors with a 1,151 total, with teammate Isiah Bautista right behind him (1,142). Blake Paulhamus of Nebraska (1,141), Kenneth High of Hastings (1,118) and Anthony Morella of Hastings (1,073) rounded out the all-tournament team.
Day 2 saw the Midland men continue to stay ahead of the pack as they rolled a Baker total of 3,341, averaging over 208 as a team, for an overall total of 8,605 and the win, with Hastings coming in second place with 8,385.
Over on the women's side, Coe ended Day 1 in the lead with a 4,666 total, as Hastings (4,467), Midland (4,445) and Avila (4,444) were all fighting for second.
Coe would also have the top two individual performers, with Lauren Bodman (1,022) and Shelby Logston (1,017). Madison Henderson of Hastings (1,005), Kaylee Bergstrom of Midland (987) and Marissa Ruiz of Hastings (978) also took all-tournament team honors.
On Day 2, the Coe women continued to outpace the field, rolling a Baker total of 2,912 to end up with a tournament total of 7,578 to take the win. Hastings took second with 7,281, edging out Midland (7,255) and Avila (7,252).
A trio of events are on the schedule for the third week of the season – the Hammer Golden Eagle Invite in Loves Park, Illinois (women), and Rockford, Illinois (men), the Bulldog Bash in Louisville, Kentucky, and the Warrior Classic in Flint, Michigan.
For the full schedule of collegiate events, results and more, visit BOWL.com/Collegiate and CollegeBowling.Bowl.com.