Collegiate Ticker - Sept. 28, 2022
September 28, 2022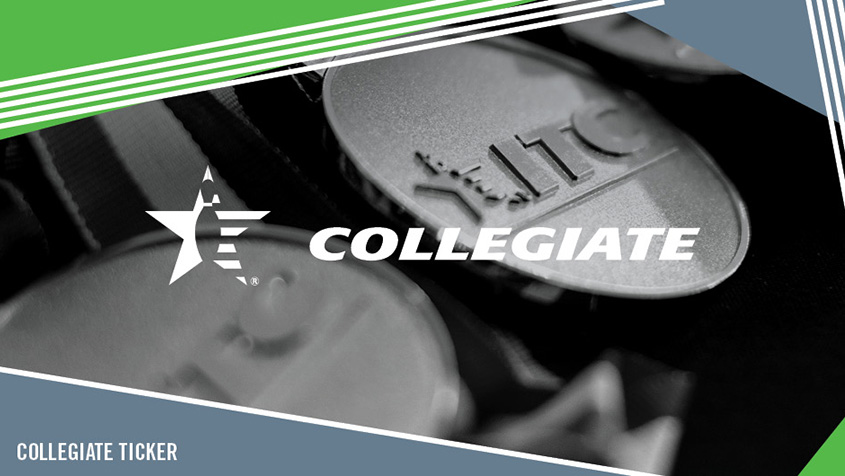 Temperatures have already started to fall, but the collegiate bowling action inside centers all across the country is heating up with each passing weekend as more and more teams take to the lanes to kick off their 2022-23 seasons.
That was certainly the case last weekend at Galaxy Lanes in Richmond, Kentucky, where 17 men's varsity teams and 14 women's varsity teams battled it out at the 2022 MSC Baker Bash.
The event featured an all-Baker format with teams rolling 20 games on Saturday and 20 more on Sunday with total pinfall determining the winners.
In women's action, University of Tennessee Southern took home the top spot, breaking 200 during five of its last six games to come in with a winning total of 7,666, which was good enough for a 191.65 average over the course of 40 games.
University of the Cumberlands finished in second place with 7,516 (187.9) thanks in large part to a 245 in Game 12 and a 241 in Game 22.
Pikeville (7,403 - 185.08), Campbellsville (7,389 - 184.73) and Cumberland University (7,211 - 180.28) rounded out the women's top five.
Some of the same schools found themselves fighting for the top spot in the men's standings, but, in the end, it was Pikeville that walked away with the victory.
Some teams faltered as they approached the finish line, but the Bears only got stronger as the competition wore on, breaking 200 during nine of their final 10 games to cruise to victory with a 40-game total of 8,299, a 207.48 average.
Tennessee Southern was the only other men's varsity team to average over 200. The Firehawks averaged 203.38 en route to a second-place total of 8,135.
Midway (7,970 - 199.25), University of the Cumberlands (7,684 - 192.1) and Bethel (7,596 - 189.9) authored strong showings as well, grabbing the remaining spots in the men's top five.
Hammer Golden Eagle Invite
The Cherry Bowl
Rockford, Ill.
After five team games and 20 Baker games, St. Xavier stood atop the women's varsity team standings with a total of 8,046.
Grand View was close behind with 7,965. Calumet - St. Joseph was third with 7,802 while Coe (7,783) and Judson (7,734) finished in fourth and fifth, respectively.
St. Xavier's Olivia Daujatas claimed the women's individual crown with a five-game total of 965. Calumet bowlers Piper Plautz (964) and Law'ren Betterson (961) were close behind while rounding out the top three.
Calumet also found a great deal of success in men's competition where the Crimson Wave finished atop the standings with a winning total 9,094.
St. Xavier was second with 8,888, and Marian was third with 8,817.
Calumet's Joseph Ocello topped the men's individual standings; he finished with a five-game total of 1,080 that included a 267 during Game 2. Marian bowlers Ryan Dreikosen (1,070) and Rylee Schwartz (1,068) captured the remaining spots in the men's individual top three.
RU Warrior Fall Classic
Bowl One Lanes
Troy, Mich.
Five team games and 12 Baker games were used to determine this year's champions at the Rochester University Warrior Fall Classic, and it all ended with Lawrence Tech walking away with the women's varsity team title with a total of 6,709.
Concordia (6,477) and Spring Arbor (6,424) finished in second and third, respectively.
Lawrence Tech's Daniella DeCruydt was tops in women's individual action. DeCruydt broke 240 three times - 243 in Game 1, 247 in Game 3 and 243 in Game 5 - and averaged 221.8 per game while establishing the winning total of 1,109.
Concordia's Brooke Binder (1,009 - 201.8) finished in second place while Michigan-Dearborn's Jessica Ludwick (977 - 195.4) was third.
Concordia also found success in the men's team competition, where the Cougars breezed to first place with a winning total of 7,497. Lawrence Tech was second with 7,343, and Aquinas placed third with 7,212.
First place in men's individual competition went to Lawrence Tech's Jarin Kurashige, who used a 256 during Game 2 to propel himself to a winning total of 1,089 (217.8).
Concordia's Jeffrey Lizewski was just behind at 1,083 (216.6). Spring Arbor's Caleb Tate secured the final spot in the men's top three with 1,077 (215.4).

For the full schedule of collegiate events, results and more, visit BOWL.com/Collegiate and CollegeBowling.Bowl.com.