Coté Claims Go Bowling PWBA Challenge Title
June 28, 2018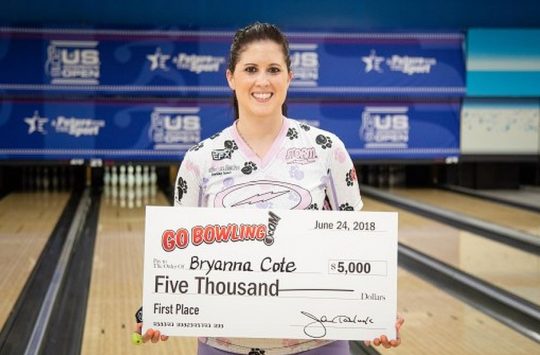 ORLANDO, Fla. – Bryanna Coté nudged her way into the four-player field for the Go Bowling Professional Women's Bowling Association Challenge, taking the final spot with a fourth-place finish at last week's PWBA event.
She then proceeded to take full advantage of the opportunity in the special event.
Coté defeated Josie Barnes, 248-233, in the title match of the Go Bowling PWBA Challenge to pocket the $5,000 top prize. Go Bowling, the consumer-facing brand of the bowling industry, sponsored the special competition for PWBA Tour competitors. The finalists were determined based on PWBA points earned in the first six PWBA standard events.
Coté, of Red Rock, Arizona, edged Colombia's Maria Jose Rodriguez by 50 points to make the Go Bowling PWBA Challenge semifinals. Coté knew heading into last week's PWBA Greater Harrisburg Open that she needed several pieces to fall into place if she was going to make the field.
"I knew it was close, that I needed to make the show or the top five and other things had to happen (at the PWBA Greater Harrisburg Open)," Coté said. "It was close – I thought I was in, but I wasn't celebrating until I saw it was official. I was excited. We all want to be a part of the special events."
The Go Bowling PWBA Challenge title match also went down to the wire. Coté needed to strike on her fill ball to close out Barnes, of Nashville, Tennessee, and did exactly that.
"Since my TV shows have not gone the way I've wanted them to go, and though this was more of a fun event, there's still that pressure of performing," Coté said. "I told myself I want to bowl the best two, hopefully, games that I can. I did and was fortunate to come out on top.
"That final against Josie was high scoring; you can never count her out. You just have to keep doing what she's doing and try to do a little better."
As the fourth-seed for the event, Coté first had to get past top-seed Danielle McEwan of Stony Point, New York, in the semifinals. Coté took the match, 222-187, while the third-seeded Barnes took a 228-171 victory over No. 2 seed Shannon O'Keefe of O'Fallon, Illinois.
The semifinals and finals of the Go Bowling PWBA Challenge were live streamed on Xtra Frame, the online bowling channel of the Professional Bowlers Association.
Visit GoBowling.com for information and bowling deals.
Visit PWBA.com to for the complete PWBA Tour schedule, news, player biographies and much more.
GO BOWLING PWBA CHALLENGE
At Boardwalk Bowl, Orlando, Fla.
SATURDAY'S FINAL STANDINGS
1. Bryanna Coté, Red Rock, Ariz., 2-0, $5,000
2. Josie Barnes, Nashville, Tenn., 1-1, $3,000
3. Danielle McEwan, Stony Point, N.Y., 0-1, $1,000
4. Shannon O'Keefe, O'Fallon, Ill., 0-1, $1,000
Semifinals
Coté def. McEwan, 222-187
Barnes def. O'Keefe, 228-171
Final
Coté def. Barnes, 248-233