Coté wins 2023 U.S. Women's Open for first career major title
June 20, 2023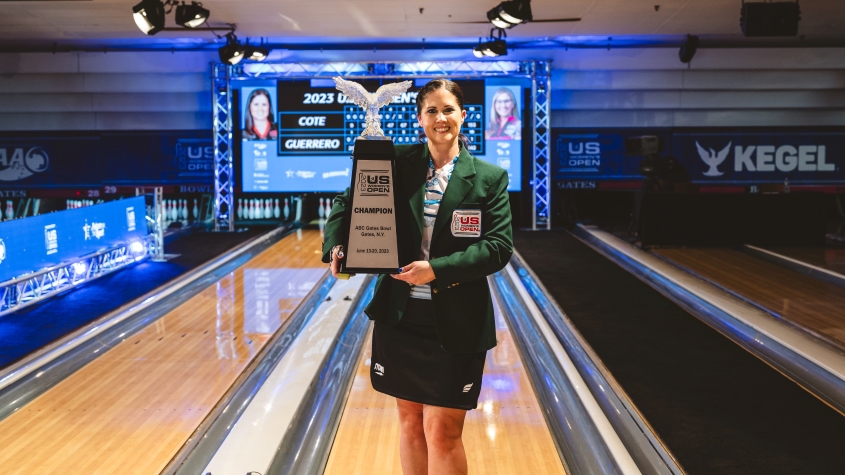 FULL RESULTS

GATES, N.Y.
– Bryanna Coté of Tucson, Arizona, doesn't consider herself a particularly goal-oriented person; nevertheless, she created a list of things she wanted to accomplish during her Professional Women's Bowling Association Tour career.
Not surprisingly, two of the items on that list were to win a major championship and to one day be named PWBA Player of the year.
She checked the second goal off the list after being named Player of the Year at the end of the 2021 PWBA Tour season, and she secured the first Tuesday night by defeating Colombia's Clara Guerrero, 153-142, at ABC Gates Bowl to win the 2023 U.S. Women's Open and capture her first career major title.
The victory earned the 37-year-old right-hander the coveted green jacket, the iconic trophy and the $60,000 first-place check. Guerrero earned $30,000 for finishing second.
The U.S. Women's Open was broadcast live on CBS Sports Network, and despite the modest scores, the title match definitely provided the at-home audience and capacity crowd in attendance with plenty of excitement as the bout featured four lead changes and wasn't decided until the 10th frame.
Coté stepped up in the 10th needing nine pins on her first ball to secure the win.
That may seem not seem like very much to ask of a world-class player like Coté, but as anyone who watched this year's U.S. Women's Open could tell you, players were just as likely to get four as they were to get nine on the extremely challenging 41-foot oil pattern used during Round 4 of qualifying, match play and the stepladder finals.
Coté's potential game-winning delivery drifted high on the head pin; she didn't get four, but she didn't get the nine that she needed either; instead, her count was seven as her shot left the 3-6-10 standing.
That meant that the outcome of the 2023 U.S. Women's Open would come down to spare shooting.
If Coté could take two or more pins on the conversion attempt, she'd be a major champion; anything less, and the box next to "major championship" on her list would have to remain unchecked.
Unwilling to let the opportunity to reach that goal slip through her fingers, Coté covered the spare and then counted eight on her fill ball to put the finishing touches on an 11-pin victory.
Like many first-time major champions, Coté struggled to find the right words to describe her feelings in the moments immediately following the match; however, after taking a little bit of time to decompress, she made it quite clear what the win meant to her and to whom it was dedicated.
"This tournament win is beyond special to me, and I dedicate it to my grandfather, Ray Munguia," Coté said. "He was the person who taught me how to bowl and was always the first person I'd call after I won. We lost him recently, which was really heartbreaking, but I know that he was there with me and that he'd be proud of me. This win is for him."
Coté should be plenty proud of herself as well; after all, at this point, she's established quite the bowling resume.
Tuesday night's victory was the fifth of her PWBA Tour career. She's also the reigning International Bowling Federation World Cup women's singles champion and a 12-time gold medalist for Team USA.
Nevertheless, a bowler's first major title will always be special, and Coté's U.S. Women's Open victory is no different.
"You're an "it person" when you win a major title, especially the U.S. Open because it's so hard," Coté said. "This ranks up there with anything that I've ever accomplished. I'm grateful, and this is a win that I'll cherish for a very long time."
Coté earned her spot in the title match by stopping the run of No. 5 seed Danielle McEwan of Stony Point, New York, who was attempting to run the stepladder to collect her second U.S. Women's Open title – she won the 2019 event in North Las Vegas.
McEwan opened Tuesday night's stepladder finals with a hard-fought 212-201 victory over No. 4 seed Liz Johnson of Niagara Falls, New York, who was seeking her seventh title at the hallowed tournament.
The win gave McEwan the opportunity to take on two-time United States Bowling Congress Queens champion Diana Zavjalova of Latvia in Match 2.
McEwan got the better of that matchup as well, downing Zavjalova 227-192 to collect her second win of the night and punch her ticket to the semifinals.
That's where McEwan's ride would end, however, as she fell to Coté by a final score of 248-199. That sent Coté through to the title match while sending McEwan home with third place and $22,00.
Zavjalova and Johnson took home $17,000 and $13,000, respectively.
All 108 competitors at the 2023 U.S. Women's Open bowled 24 qualifying games over three days to determine the 36 players advancing to Round 4. After eight additional games, the field was cut to the top 24 bowlers for round-robin match play.
The five finalists were determined by total pinfall, including bonus pins, for 56 games.
For more information about the U.S. Women's Open,
click here
.