Curtis and Booker take lead in Regular Doubles at 2023 Open Championships
July 24, 2023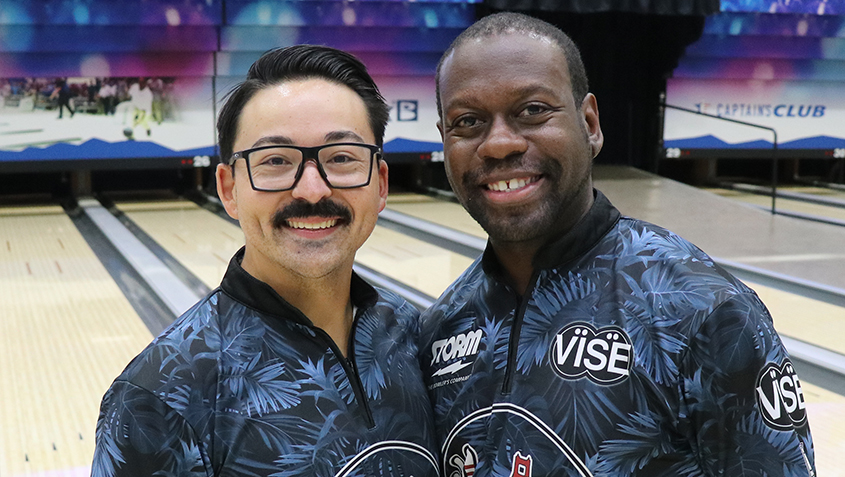 Pictured above (from left): Mark Curtis Jr. and DeeRonn Booker

RENO, Nev. –
An appreciation for friendship before bowling became the working motto for Mark Curtis Jr. of Chattanooga, Tennessee, and DeeRonn Booker of Albuquerque, New Mexico, and the positivity paid dividends Saturday at the National Bowling Stadium as the pair took over the lead in Regular Doubles with just two days left to go at the 2023
United States Bowling Congress Open Championships
.
Booker, a 32-year-old right-hander, looked about as sharp as any bowler can hope for stepping onto the championship lanes, putting together games of 213, 289 and 258 for a 760 series.
Curtis, also a 32-year-old right-hander, bounced back after a 168 start to finish off the set with 274 and 280 for a 722 series, giving the team a 1,482 total.
After posting a 381 combined score for Game 1, Booker and Curtis tallied totals of 563 and 538 in their final two games.
Nick Kruml of St. Peters, Missouri, and Christopher Wiley of Bettendorf, Iowa, had led Regular Doubles since June 3 with a 1,438 total.
Curtis was not happy with his performance after Game 1 and was trying to shake off the nerves and frustration that came along with his 168 start.
"I was upset beyond belief and just trying to calm down when DeeRonn came up to me right before we started Game 2 with a couple words that changed the entire vibe of the moment," said Curtis, making his eighth appearance at the USBC Open Championships. "He said, 'Friends first, bowling second. Whatever we do these next two games is going to be OK no matter what.'"
The phrase was able to help the pair refresh and refocus for the last two games. Curtis and Booker have been bowling together for around 20 years, going back to their junior league days in California and know each other's games extremely well.
"We have been bowling together for nearly 20 years, and I knew we'd be OK if we could just come together and focus on trusting our games the way we know how," said Booker, who made his ninth tournament appearance.
As Booker and Curtis were able to get back on the same page, they started striking at an unmatched pace during their final two games.
They combined to throw 40 strikes in their last 47 deliveries to take the lead by 44 pins and now find themselves in position for a very short wait to see if they'll each claim their first win at the Open Championships, which comes to a close Tuesday.
They're not ready to jump to any final conclusions just yet, however.
"I am not going to celebrate a thing until I get that phone call," Booker said. "Records are meant to be broken and scores are meant to be beat, and we both have been around long enough to know we shouldn't celebrate a win too soon."
While they wait for the final ball of the 2023 event, though, the thought of what it would mean of potentially winning an Eagle started to sink in for both players.
"This would mean everything to me, and it's a goal everyone has when they come out to bowl nationals," Curtis said. "Being that this is a team win would make it that much sweeter. It's just something you always want to share with a friend that makes it much more meaningful."
For Booker, winning a title at the Open Championships would be a dream come true.
"Years of hard work and dedication coming to this tournament, and to finally be able to say I, along with one of my best friends, were able to win an Eagle is just everything you wish for as a bowler coming here," Booker said.
Booker finished his 2023 appearance with sets of 697 in singles and 643 in team for a 2,100 all-events total, which is just outside the top 10 for Regular All-Events. Curtis added 654 in singles and 593 in team for 1,969, and their performance also was able to help Bay Area Pro Shop of San Jose, California, into fourth place in Team All-Events with a 9,767 total.
Dallas Leong was able to take over seventh place in Regular All-Events with a 2,123 total for Bay Area Pro Shop, and they were also joined by Ceejay Godizano (1,836) and Joshua Tajiri (1,739).
Kruml leads Regular All-Events with a 2,242 total, and K and J Finishing 1 of Carpentersville, Illinois, leads Team All-Events with 10,394.
Regular Doubles features bowlers with combined entering averages of 351 and above.
The 2023 Open Championships kicked off March 4 and will conclude July 24. The 143-day tournament will feature more than 9,700 five-player teams and nearly 50,000 bowlers making their way to compete in The Biggest Little City in the World.
Visit us on Facebook at the
official USBC Open Championships page
.