Dakota Lennen Shoots 298 Game and 803 Series at 2022 Junior Gold Championships
July 12, 2022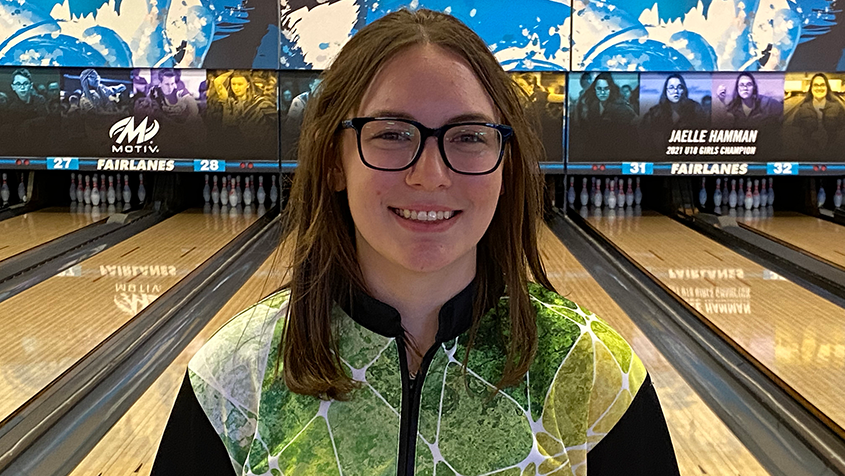 GRAND RAPIDS, Mich. – The first three rounds of the Girls 20-and-under division of the 2022 Junior Gold Championships had not gone the way Dakota Lennen had hoped and it was starting to take a toll on the 19-year-old from Wichita, Kansas.
So, prior to the start of the fourth round of qualifying, Lennen decided to have a heart-to-heart talk with her grandma, Dee Ballard, who had traveled with her to attend the event.
"I could feel myself struggling and I told her I felt like I was letting her down," said Lennen, who shed tears as she spoke with her grandma. "We drove all this way here from Kansas and I just wanted to make her proud. Then she told me that no matter what she was always proud of me and that she was just glad she could be here with me and that she has me all to herself."
Those words calmed Lennen and she proceeded to have the round of her life. It began with a 298 that featured an unusual interaction prior to her 12th and final shot. Standing on the approach before delivering that last shot, Lennen was overcome with emotion as tears welled up in her eyes.
"I grabbed my ball and it was a feeling that I've never felt before," said Lennen. "I wanted to laugh, but also cry."
It was at that time that some of her fellow competitors noticed what was happening and went up to her to try to help settle her emotions.
"I was so thankful that all those girls just came up and hugged me and I felt so much better," said Lennen. "They were just giving me words of encouragement and good affirmations and telling me to take all the time I needed."
Lennen ended up leaving the 2-8, but that was just the start of an incredible round. Lennen, who will be a sophomore on the Newman University bowling team, followed her 298 with games of 226 and 279 for an 803 series. Her previous best three-game series was 799. She rolled 247 in her final game of the four-game qualifying block at Fairlanes Bowling Center for a total of 1,050 (262.5 average).
Her performance moved her from 37th place prior to the start of the round into sixth place. Lennen had never made it past the first cut in any of her previous three times bowling at Junior Gold, but now finds herself bolstered by a new-found confidence heading into the advancers rounds on Wednesday.
"I know that I'm good enough to be here now, when I didn't know that before," said Lennen. "So now I want to make sure that I focus on every shot and do the best I can and stay above the cut."
When asked to summarize her feelings about everything she had accomplished, Lennen found words difficult to come by.
"I can't describe my feelings right now," said Lennen. "I don't know how to explain it. I'm just very, very grateful and thankful to all the people who helped me get here."
Like her grandma.
The U20 divisions have cut to the top 89 boys and 48 girls for Wednesday's advancers rounds. The first advancers round will feature five games before a second cut is made, and a final five-game block will determine the athletes in the boys and girls divisions advancing to the double-elimination match-play bracket.
Bracket matches will consist of two games, with total pinfall determining the winner. Three players will emerge from bracket play to compete in the stepladder finals to determine the champion. The two finalists in the match-play bracket will bowl to determine the No. 1 and No. 2 seeds for the stepladder, while the winner of the Elimination Bracket will be the No. 3 seed.
With the finals in each division being broadcast on BowlTV.com, the top overall seed for the stepladder would have to be defeated twice in the true double-elimination format.
The championship rounds in the U20 division will be held July 15 at 9 a.m. Eastern.