Dates, Site Set for 2018 Turbo Collegiate Expo
December 07, 2017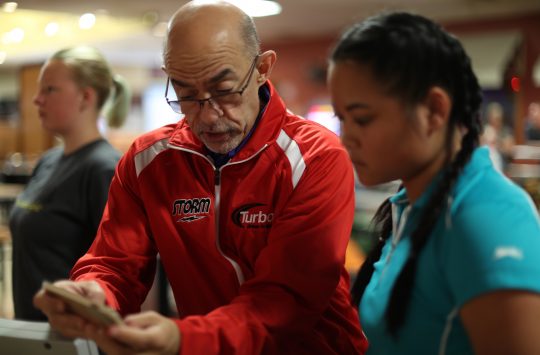 A move from the Midwest, new seminars and new coaches highlight the changes for Turbo Tech Collegiate Expo XIII, presented by Turbo Bowling Accessories.
The program of bowling education, coaching and recruiting for high school bowlers and coaches will visit North Texas for the first time in 2018. Cityview Lanes in Fort Worth will host the event July 8-11. The Expo is traditionally held prior to the Junior Gold Championships, USA Bowling National Championships and Youth Open, and has consistently drawn students from more than 35 states and more than 40 collegiate programs.
Online registration began Dec. 1, with final registration ending on April 30. As in previous years, a full field of 210 is expected to attend.
On-lane instruction and in-class seminars will be presented by Turbo Bowling's Pro Staff, along with other invited guests. Presenters will include PBA and PWBA Hall of Famers, major title winners, and certified USBC Bronze, Silver and Gold-level coaches.
One of the new presenters is Brad Hagen, Coach of the Sam Houston State University Women's Team. Hagen built the program from scratch, and immediately made it a national power. In six seasons, his teams qualified for five NCAA championships and won an NCAA national title.
"The Collegiate Expo is an event that has become a staple of any collegiate coach's summer planning," said Hagen. "The amount of quality information that is provided to all athletes and coaches, as well as their families, is first class. To have the opportunity to give back to our bowling community and be a presenter is something special."
Hagen says his session will be a presentation of objective reality at the next level.
In addition, representatives from USBC will present seminars on the Junior Gold program, as well as Junior Team USA and the USBC Collegiate Bowling program. Gary Brown, Managing Director of the International Bowling Campus Youth Department, said the Turbo Tech Collegiate Expo is an added benefit to the Junior Gold experience.
"Incorporating IBC Youth in the Turbo Tech Collegiate Expo is a great way for us to share more information about High School, Collegiate and Junior Gold programs," said Brown. "Events like this allow youth bowlers to learn more about the great opportunities our sport can provide."
The culmination of the Collegiate Expo is the Audition Tournament, which allows the student-athletes to perform in a six-game tournament, competing for both scholarship funds and the attention of college coaches looking for players. An Open House follows, giving players a chance to meet with coaches and gather information on colleges offering bowling scholarships.
The Expo also provides valuable insight and education to coaches and parents of the bowlers. Seminars and programming is set up for coaches who seek to expand their knowledge, so they can enhance a current program or provide the basis for establishing a new program.
"The Collegiate Expo holds a unique position in the bowling industry that focuses on the development of youth bowling," said Turbo President Lori Mraz. "Through the sharing of this information, the Collegiate Expo will help bowlers, coaches and parents, and continue to have a major impact on our industry."
Sponsors for the Expo include Ballard's Bowling Academy, Bowl4Life, Bowlers Journal, Bowlingball.com, Brunswick, BVL, Classic Products, Columbia 300, DV8, Dexter, Ebonite, 900 Global, Hammer, Kids Bowl Free, Kegel, KR Strikeforce, Logo Infusion, Motiv, On the Ball Bowling, Professional Bowlers Association, Roto Grip, Storm, Track, Turbo, Metro Detroit USBC and XBowling.
For more information and to register online, visit turbogrips.com.