Defending champion Castillo leads after first round at 2023 USBC Senior Masters
June 07, 2023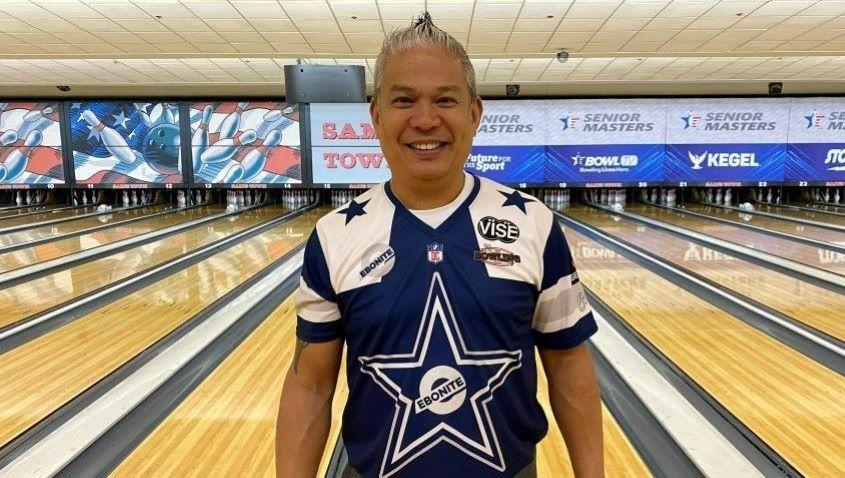 LAS VEGAS –
Defending champion Dino Castillo of Highland Village, Texas, used a quick start to take the lead after the first day of competition at the 2023 United States Bowling Congress Senior Masters.
Castillo shot 788 for the first three games of his five-game qualifying round en route to a 43-pin lead at Sam's Town Bowling Center Tuesday. Castillo posted games of 249, 277, 262, 240 and 237 for a 1,265 total and 253.0 average.
"During practice yesterday I didn't really have a great look," said Castillo, whose victory in this event last year was his first on the Professional Bowlers Association 50 Tour. "I talked to my guys and they talked to me about slowing my feet down and then we drilled up a couple balls after practice that allowed me to see the lane a lot quicker today than I thought I would."
USBC Hall of Famer Lennie Boresch Jr. of Kenosha, Wisconsin, who was third at last week's Super Senior Classic at Sam's Town, is second with 1,222. Boresch's best finish in this event came in 2013 when he was runner-up to Pete Weber.
Holding down the third spot is Blaine Weninger of Clackamas, Oregon. Weninger started his block a little slowly with a 204 game, but finished strong with games of 256, 248, 237 and 246 for a total of 1,191.
Rounding out the top five are PBA champion Brad Angelo of Lockport, New York, with 1,190 and Walt Blackston of Hawthorne, California, who started his block with a 799 set (278, 243, 278) and finished with 1,189.
For Castillo, coming back to Sam's Town as defending champion has both advantages and challenges.
"I've always loved bowling here and have always felt comfortable coming to this center," Castillo said. "But it is harder coming in as defending champ because now I've got a target on my back. My anxiety was a little high even during practice, but once I got in motion everything smoothed out."
Castillo is bowling on A squad, which means he will bowl the last of three squads on Wednesday.
"I'll relax a little during the day," Castillo said. "Then I'll come in during the squad before ours to get an idea of how they're playing and get myself mentally prepared."
All 309 competitors at the 2023 USBC Senior Masters will bowl three five-game blocks over three days, and the top 63 will join Castillo in the tournament's double-elimination bracket after 15 games.
Castillo is guaranteed a spot in the bracket as the defending champion and can improve his seeding through qualifying. If he qualifies outside of the top 63, he will enter the bracket as the No. 64 seed.
Bracket matches will be contested in a three-game total-pinfall format, until the field is cut to the top five for the stepladder finals June 11 at 1 p.m. Eastern on
BowlTV
.
Since the stepladder will be broadcast on BowlTV, the top seed will have to be defeated twice in the true double-elimination format. The winner of the 2023 USBC Senior Masters will take home a major championship on the PBA50 schedule and the first-place prize of $20,000.
For scores and information about the 2023 USBC Senior Masters, visit BOWL.com/SeniorMasters.