Defending champion Cotie Holbek continues hot streak at USBC Open Championships
June 12, 2021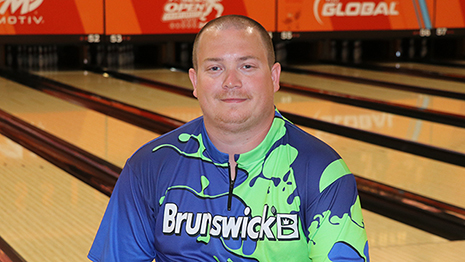 LAS VEGAS -
Halfway through his first game Saturday at the South Point Bowling Plaza, Cotie Holbek of Burlington, Wisconsin, had four open frames and a strike.
Those who had just witnessed his special march to the lanes and the presentation of his championship watch from 2019, or heard he was looking to become the third bowler in 117 years of
United States Bowling Congress Open Championships
history to win an Eagle in three consecutive events, may have wondered if the announcement was a mistake.
But, anyone who knows Holbek, or has access to the scoresheets from his first three appearances on the tournament lanes, would've known he actually was right on pace and it only would be a matter of time before things fell into place.
The 28-year-old right-hander didn't wait as long to find the spotlight this year, however, and he finished his team event with the 16th perfect game of the 2021 USBC Open Championships.
Holbek started the day with a 156 game, which actually was 19 pins better that his opening game in 2019, when he was the defending champion in Regular Singles. He then changed to a ball he was comfortable with, though he didn't think it was the right ball at the time, and he improved to 244.
At that point, he knew he had a good look, and it was a matter of executing shots and having the pins fall in his favor, which they did.
"I'm still at a loss for words," Holbek said. "I missed in and got really lucky on the 11th one. We created enough hold in the middle where it was able to hold, and I'm thankful for that. I don't even know what to say. It's amazing, especially after starting with 156."
There's no question the fanfare that comes with being a reigning champion on the biggest stage in bowling can be as distracting as it is rewarding, but it's a situation Holbek is fortunate to be familiar with.
He admits the moment got to him in 2019 and played a small role in his slow start, but it was less of a factor this time after he and Steven Fisher of Winthrop Harbor, Illinois, were introduced as the defending Regular Doubles champions for the first time.
"Last year, it definitely was the excitement and nerves of the whole presentation, but this year was a little better, and those feelings weren't as bad," Holbek said. "I think I just didn't have the right ball in my hand to start. We transitioned the lanes a little bit, and once I made the ball change, I got better results."
Holbek and his Towne & Country Lanes teammates have enjoyed success on the tournament lanes before, due in part to their great communication and strategy.
This time around was no different, and they know performing well at the Open Championships is as much about patience and teamwork as it is about talent and experience.
Towne & Country Lanes 1 kicked off the 2021 tournament with games of 964 and 983, before Holbek's perfect game helped the team to a 1,237 finish, the second-highest game of the year, behind Regular Team leader Bowlers Headquarters of Muskego, Wisconsin, which shot 1,253 on Thursday.
Holbek's 700 series also led the overall effort, and he was followed by David Gajewski (693), Robert Milbrath (620), Anthony Buss (597) and Jerry Riemer (574) for a 3,184 total. Bowlers Headquarters holds the top spot with 3,368.
"We talk a lot while we're bowling, and it's the same thing we say every year, which is just wait, it'll come to you," Holbek said. "We tried to transition the lanes into what we wanted, like we had the last game. We just made some mistakes along the way, and that shows in the earlier scores. It could've been better to start, but it could've been worse. Overall, we ended up bowling very well as a team."
Previously in the team event, Holbek posted opening games of 182, 170 and 137. His average in team competition at the Open Championships is 187.8, while he is averaging 216.9 in doubles and 224.7 in singles.
Since 2013, the tournament has featured two Sport-compliant lane conditions - one for team competition and another for doubles/singles. In 2021, for the first time, the event is being held across two venues.
Saturday's 300 was the latest accolade in Holbek's whirlwind tournament career, which includes an 802 series and the pair of Eagles, in just three previous appearances. The perfect game also made him the 38th bowler in history with a 300 and 800 at the event.
"It's another notch in the belt, and it's amazing," Holbek said. "To have one of the few 800s in tournament history is special, and now to add a 300 is an incredible feeling."
Holbek made his debut at the 2015 tournament but didn't bowl again until 2018, when he tossed the year's only 800 series on the way to the singles title.
He enjoyed the championship experience so much he wanted to share it with Fisher in 2019. Holbek led the doubles performance with a 776 series, and Fisher added 702 for a 1,478 total. They bowled in late March and had to wait more than three months to see if their score was enough to win, and it was, by 55 pins.
The reminiscing and celebrating will be short for Holbek and Fisher, who will be putting their doubles title on the line at the South Point Bowling Center on Sunday at 4:45 p.m. Eastern.
Chris Pierson of West Bend, Wisconsin, and David Labinski of Milwaukee, who also were Open Championships titlists in 2018 (Team All-Events), lead Regular Doubles this year with 1,466.
"Today is done and over with, and now it's time to focus on tomorrow," Holbek said. "I'll do what I can, make the best of shots and see what happens."
Only USBC Hall of Famer Les Zikes of Palatine, Illinois (1962-1964), and Anthony LaCaze of Hoffman Estates, Illinois (2013-2015), have won Eagles in three consecutive events.
Visit us on Facebook at the
official USBC Open Championships Facebook page
.