Dennis Lane celebrates 100,000 pins at the USBC Open Championships
May 20, 2023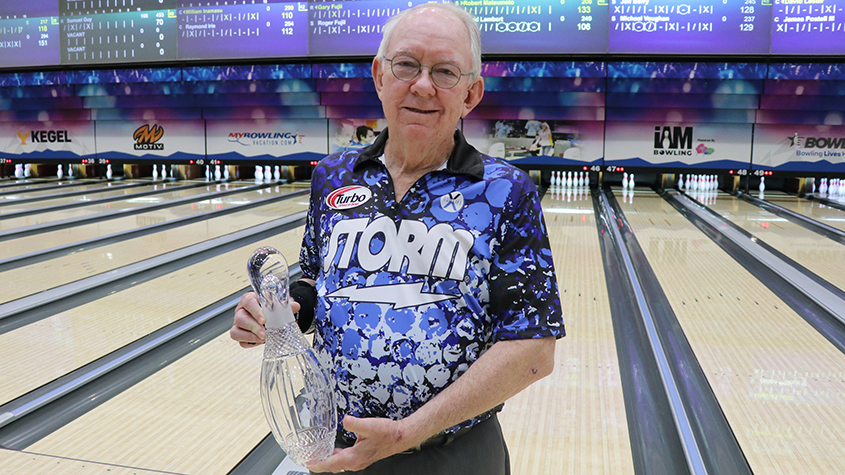 RENO, Nev. –
Dennis Lane of Kingsport, Tennessee, describes himself as a steady and consistent bowler, but the list of accomplishments he's accrued across more than 50 years suggests he's consistently striking and performing to his best alongside many of the top names in the sport's long and storied history.
Lane added two more major milestones to his resume this week at the
United States Bowling Congress Open Championships
, as he became the 28th bowler in the 119-year history of the event to reach 100,000 pins while also making his 55th consecutive tournament appearance.
The 75-year-old right-hander entered the 2023 event at the National Bowling Stadium with 99,320 pins knocked down through his first 54 appearances, and after a 548 set in his team event Thursday, he needed just 132 pins in doubles and singles Friday to earn the coveted crystal pin awarded to those who reach the mark.
In the eighth frame of his first game of doubles, Lane officially surpassed the number with an eight count on his first delivery. He finished his doubles set before electing to drop out of singles due to an injury to his right arm he had been battling during the week to bring his career pinfall at the event to 100,336.
Lane also entered the 2023 event as the tournament's all-time average leader for bowlers with at least 50 years of participation at the USBC Open Championships, and he now holds a 203.5 average at the event through 55 years.
Starting at the 2024 Open Championships, his name will be added to the banners hanging at the tournament venue recognizing those who have been able to join the 100,000-Pin Club at the event.
"It's going to be there for everyone to see from now on, and that's a big thing," Lane said. "To accomplish that and know it's going to be there makes me feel good. Just to know a lot of the people that accomplished this – it's amazing to be able to join them.
"I had set the goal of reaching 20 consecutive years, and then it was just one more year – add another to it. I tried to be consistent, and I felt like I was. I never had any gigantic years, but we finished second in Tampa (1979), and I had a couple other top 10s. Even the first year I bowled in Cincinnati (1968), I shot 690 in singles, which was a big score back then. That kind of inspired me. I could bowl out here and do this. I was a consistent bowler and could adjust pretty well."
Lane's love of the sport started at an early age, and he feels fortunate to have been able to compete against many of the sport's biggest names, from a match against Dick Weber at 14 years old to bowling doubles with Buzz Fazio in Las Vegas and drawing Bill Lillard Sr. in his first match-play appearance at the USBC Masters.
One of the biggest moments for Lane, which eventually led him to the Professional Bowlers Association Tour and claiming the title at the 1977 PBA Portland Open, was watching USBC Hall of Famer Therman Gibson's $75,000 win on television.
"The first time I ever said I wanted to really be a bowler was watching Therm Gibson win big money on 'Jackpot Bowling,'" Lane said. "He'd throw that ball and clap those hands when he knew he threw it well. I saw that, and there was just something about it. That's what I wanted to do, and I worked toward that. I've been fortunate over the years to meet all the guys I got to grow up watching. Bowling has been a blessing for me."
As Lane made his way across the country to compete on the PBA Tour and at Open Championships, he often made the journey by driving and has primarily traveled in a motorhome, including his excursion this week to Reno.
The festivities started this week with an honorary march down Center Aisle at the National Bowling Stadium for his 55th consecutive appearance, and he was joined by his wife, Beverley, as he received a plaque, chevron and watch to commemorate his longevity at the event.
The moment also was amplified as Beverley also celebrated her 25th consecutive appearance.
"It meant a lot to share all of this with her, especially since it was her 25th, too," Lane said. "She had started when my father couldn't bowl – she ended up bowling for him – and from there, she started bowling and made it every year. So, we just make the journey together. To be able to do that with her, for her milestone, too, it was special."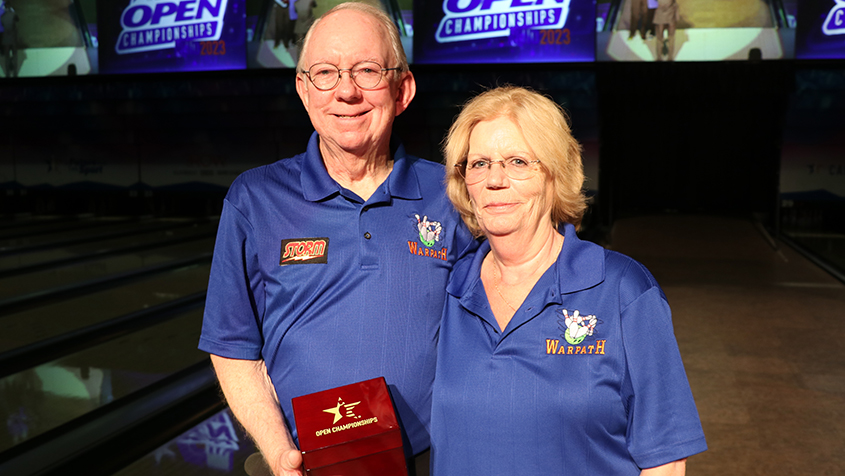 Dennis and Beverley Lane
Lane's road to surpass the 100,000-pin plateau Friday also featured a special guest and longtime friend in USBC Hall of Famer and 1996 Team All-Events champion Bill Spigner of Vernon Hills, Illinois, making his way to Reno a couple days early to be part of the moment.
Spigner also will be making his 55th appearance at the Open Championships this year on Saturday, and he's expected to join Lane in the 100,000-Pin Club on Sunday. Spigner enters the 2023 event with a career pinfall of 98,885 and needs 1,115 pins to collect his crystal pin.
Lane will be parking his motorhome in Reno for a few extra days to make sure he can watch his friend join him in one of the sport's most exclusive clubs.
"We already had our dates and I checked with him to see when he was bowling," said Lane, a member of the Kingsport USBC and Tennessee State USBC Halls of Fame. "He said they were going to fly in early to be here. I believe I met Bill for the first time in Windsor Locks, Connecticut, in 1974, and we've been friends ever since. I'm going to stick around and watch him achieve his goal. He's a very accomplished bowler and a great coach that has helped me with my game at times. He and Barb (Spigner) have been really great friends."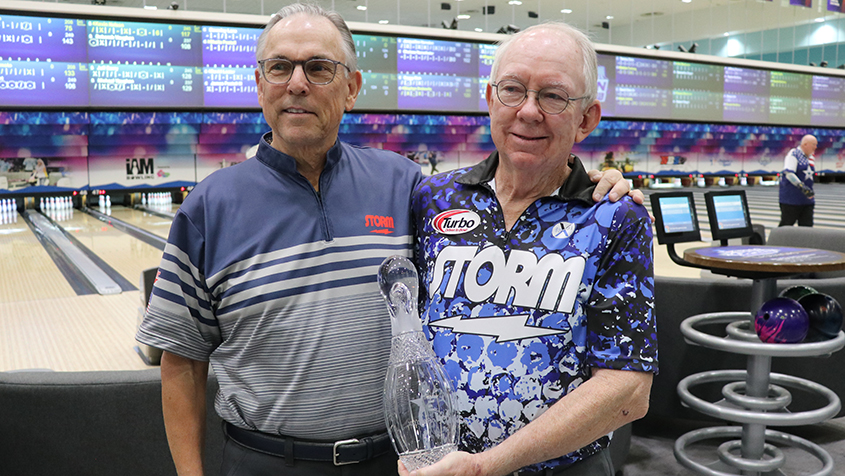 Bill Spigner and Dennis Lane
Lane was the third bowler to reach 100,000 pins at the 2023 event, and Spigner is expected to be the fourth and final competitor to achieve the feat this year.
USBC Hall of Famer Bob Chamberlain Sr. of The Villages, Florida, earned his crystal pin March 15, and Robert Brissette of Petersburg, Michigan, reached the milestone May 11.
The 2023 Open Championships kicked off March 4 and will conclude July 24. The 143-day tournament will feature more than 9,700 five-player teams and nearly 50,000 bowlers making their way to compete in The Biggest Little City in the World.
Visit us on Facebook at the
official USBC Open Championships page
.